Mike Pence Rallies Minnesotans During Visit
Before Vice President Mike Pence took the stage at the Minneapolis Convention Center Wednesday morning, the Minnesota Republicans in attendance were already enthused. The policy director for America First Policies kicked off the event with a rousing speech highlighting the successes and goals of the Trump administration. Although the America First Policies event was advertised primarily as a discussion on taxes, the organization's chairman commented on everything from regulations to social values.
Among the achievements he hailed was "getting rid of health coverage [Obamacare] that we didn't want and couldn't afford," eliminating "needless, useless, counterproductive regulations" (alluding to the Paris Climate Accord from which Trump withdrew) and seeing black unemployment dip to a historic low.
He declared that he would not apologize for wanting "legal citizens" who "speak our language." According to him, Americans have values that we are passing onto our children and to the rest of the world – and we must do so to the exclusion of others. As he repeatedly intoned, the preamble to the Constitution is "we the people, not them the swamp creatures." The crowd of roughly 650 affirmed his comments with cheers and standing ovations.
He then spoke to congressmen Erik Paulsen (3rd district), Tom Emmer (6th district), Jason Lewis (2nd district), as well as Mike Lindell, famous for the creation of My Pillow. All spoke highly of Trump's recent tax bill. Lewis pointed out that the average tax cut in the 2nd congressional district was $3,000, and Paulsen recalled meeting a couple who just hired the first employee for their business thanks to the tax cuts.
The panel lamented that "we were taxed more than any other developed nation." Trump is clearly aiming to change that. His tax bill included a provision for the repeal of the death tax, which will help family businesses and prevent a net job loss. The panel's mantra perfectly summed up their sentiments: "These people here know how to use their money much better than the bureaucrats in Washington, D.C."
When Pence finally greeted the crowd, he started by commending the men who spoke before him, the supportive crowd of Minnesotans, and President Trump, who he described as a friend. Unsurprisingly, Pence spoke highly of Trump's first year in office, describing it as "a year of action; a year of results; a year of promises made and promises kept."
National security has been one of Trump's main focuses during his campaign, and Pence gave a glowing review of its progress. According to Pence, Trump initiated the "largest investment in our national defense since the days of Ronald Reagan," adding that the President gave troops the biggest pay raise they'd seen in almost a decade.
As expected, the infamous wall also came up. Pence reported that under Trump, illegal crossings have been reduced by almost fifty percent, and that just last week the President approved $1.6 billion in border wall funding. "Make no mistake," he chanted, "we're gonna build a wall!"
Given the recent school shooting in Parkland, Florida, Pence made sure to point out that Trump recently signed a bill calling for tighter background checks. "We'll continue to make school safety a top national priority," he emphasized. Another apparent priority for Trump is opioid use; he plans to allocate 6 billion dollars to battle the opioid crisis.
Finally, Pence mirrored his colleagues' sentiments by extolling the virtues of Trump's tax bill. Following the tax reforms, 22,000 new jobs were created in the Twin Cities area and Minneapolis unemployment fell by nearly twenty percent in 2017. In the years ahead, Pence claims that Minnesota workers will see yearly raises of $4,500.
Still, Pence is hungry for more change. "America is back," he declared, "and we're just getting started."
About the Writer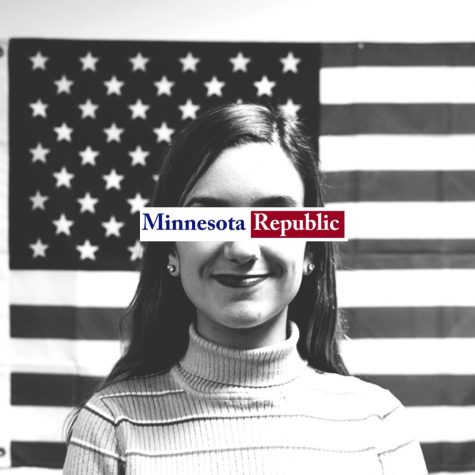 Marissa Huberty, News Editor
Marissa Huberty, News Editor and a member of our senior team, is a junior at The University of Minnesota - Twin Cities, studying economics. Huberty is...