Hypocritical Hollywood Rears its Head at the 2018 Golden Globes
At every Golden Globes ceremony, the fashion is lauded as much as the nominees. However, at this year's Globes, the celebrities' style choices took center stage, as both men and women wore black to show solidarity with victims of sexual assault and harassment.
The awards show coincided with the introduction of Times Up, a movement to address "the systematic inequality and injustice in the workplace." Actresses such as Emma Watson, Meryl Streep, Shailene Woodley, and Emma Stone even brought gender and racial justice activists as their plus-ones. Their aim was to keep the media's questions focused on the issues at hand. However, the Hollywood elites utilized this on a chance to pat themselves on the back and insult those who disagree with them.
A night dedicated to curtailing harassment was the perfect night to harass actress Blanca Blanco for her deviant dress choice. Rather than blindly following the crowd and wearing black, Blanco donned a bright red gown with a high slit and partially exposed torso. Feminist keyboard warriors were quick to pounce on the actress. To them, her cleavage- and hip-exposing dress was inappropriate for an awards ceremony focusing on ending sexual harassment.
What's ironic is that one of the most common feminist mantras goes something like, "Women can wear whatever makes them feel sexy. They should be able to dress how they want without fear of unwanted advances. Wearing a sexy outfit is not an invitation for harassment." By telling Blanco that her revealing outfit sets the Times Up and #MeToo movements back, they are being hypocritical.
As Blanco explained on social media following the backlash, wearing red do not make her a supporter of sexual abuse by any means. Wearing black and "showing solidarity" does not help anything. Wearing a black dress is not going to end sexual assault. Instead of shaming a fellow female for not following the crowd. Feminists should be doing some self-reflecting. Many of the men and women who wore black were the same people who never came forward about Harvey Weinstein and other sexual predators. Some knew that someone was a predator but did nothing. Blanca Blanco deserves no more criticism than they do.
Rather than being criticized, Natalie Portman was rewarded with laughter and social media praise when she quipped "here are the all male nominees [for Best Director]". Rather than considering the possibility that male directors simply did the best job that year, Portman and the public viewed the nominee list as a sign of discrimination. While Greta Gerwig's Lady Bird and Patty Jenkins' Wonder Woman were notable hits, a first-time director (Gerwig) and the director of a superhero film are no match for the dramas crafted by Christopher Nolan or winner Guillermo del Toro. It's all part of the committee's politics, but it has nothing to do with gender.
Another highlight of the evening was Oprah Winfrey's speech upon accepting the Cecil B. DeMille award. She expressed gratitude to "all the women who have endured years of abuse and assault" while of course ignoring that one in ex boys experiences abusive sexual encounters before age 18 (1in6.org).
She also made sure to thank the HFPA because "we all know the press is under siege these days." Quite the opposite is true. The press holds all the power in America, using its headlines to twist the facts and turn people against those they disagree with (i.e. Donald Trump).
Oprah emphasized that "speaking your truth is the most powerful tool we all have." Calling it "your" truth is problematic; there is no "your" truth, only the truth. Nobody has ownership of truth. Orations like this are what make women think it's okay to twist sexual encounters they regret into stories of sexual assault.
All in all, the black-clad celebrities achieved their goals that night. They bashed the president, buried their past of concealing sexual abuse, painted themselves as heroes, and even took home some golden trophies.
About the Writer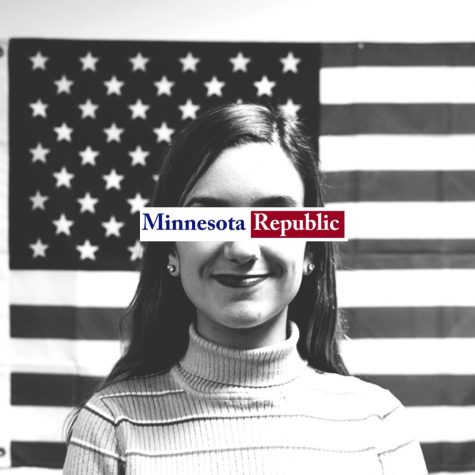 Marissa Huberty, News Editor
Marissa Huberty, News Editor and a member of our senior team, is a junior at The University of Minnesota - Twin Cities, studying economics. Huberty is...