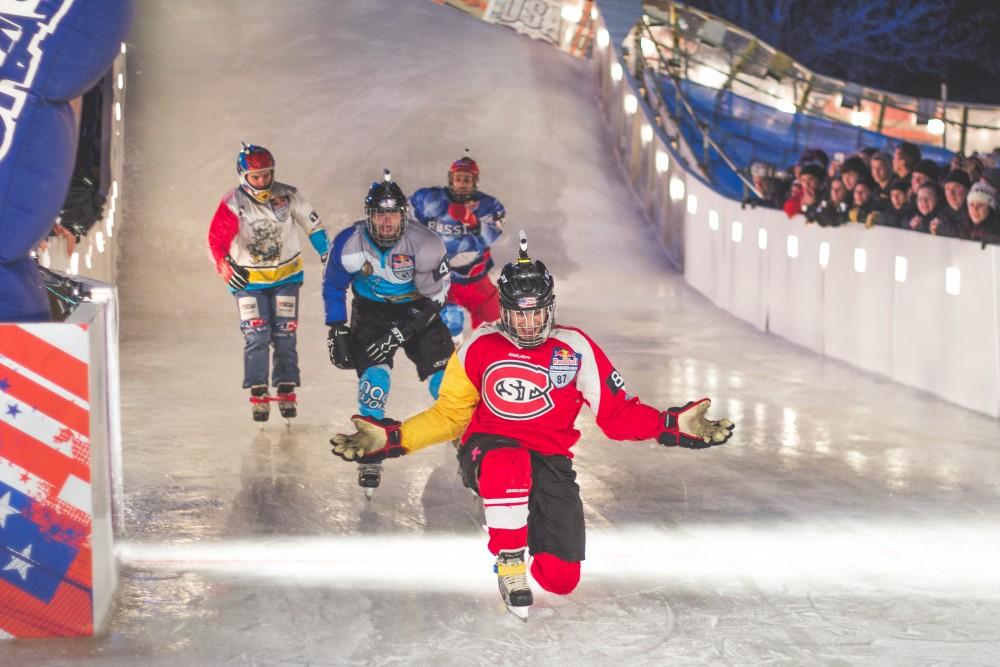 On Jan. 25 St. Paul hosted the Red Bull Crashed Ice event for the fourth year in a row. It was a record-breaking year for attendance, as students from the Xcel Energy Center, where Minnesota men's hockey lost two to one versus Minnesota Duluth, came to watch the event. In total, organizers estimated that 140,000 spectators attended the 1,4
00-foot-long obstacle course that began at the Cathedral of St. Paul. This was also the first year that the competition hosted an official women's division.
The athletesome from a variety of disciplines including hockey, downhill skiing, speed skating, and boarder cross. Having advanced from one of the tryouts in the prior months, the athletes raced in heats of four skaters, with the top two advancing from each heat. Since the introduction of the sport in 2001, Crashed Ice has quickly become one of the most popular winter sporting events to attend. "It is known by many as the fastest sport on skates, but dictated by one goal: first to the bottom wins. It's challenging, fast, cold, hard, unique, and action-packed," said the Red Bull Crashed Ice press release.
Spectators waved American flags, drank Red Bull, and cheered "U-S-A." Blake Hudak, a senior at the University of Minnesota, attended the event for the first time. "Besides the Red Bull concession stands running out of their energy drinks, Crashed Ice was a fun time," Hudak said.
After many rounds of nail-biting finishes, Kyle Croxall came out on top, followed by his fellow Canadian, Dean Moriarity, and local rider Dan Witty of New Prague, Minnesota. Croxall was the 2012 and 2013 champion and has tied with Finland's Arttu Pihlainen for the most wins in Ice Cross Downhill history.
"I had such a rough season last season, but I got my hat-trick of wins in St. Paul here today," said Croxall. "I've worked my butt off in the offseason, and I'm happy to be here and to win."
In the Women's Finals, Salla Kyhala of Finland took first place, with Canadians Jacqueline Legere and Tamara Kajah in second and third, respectively.