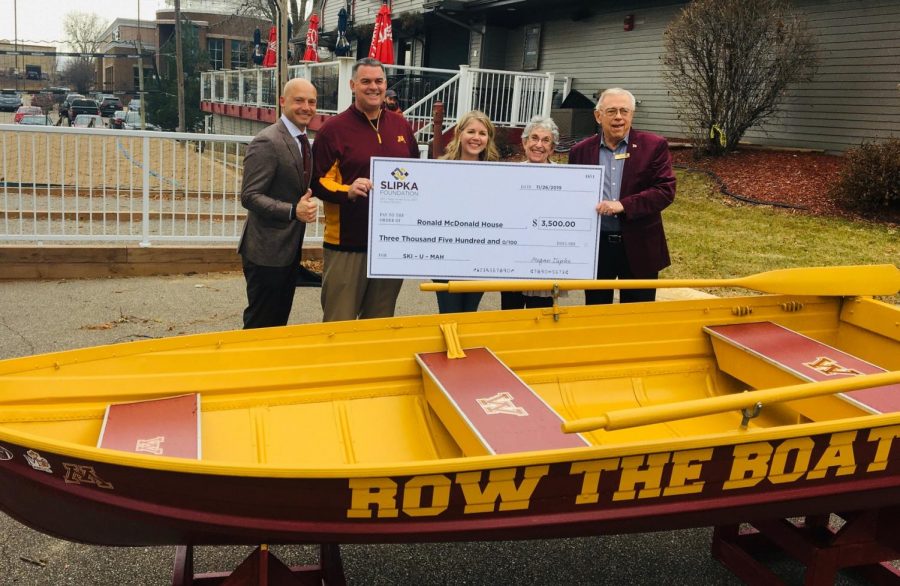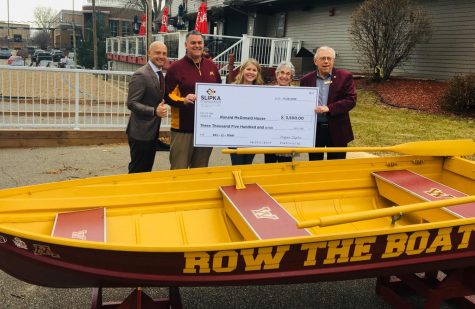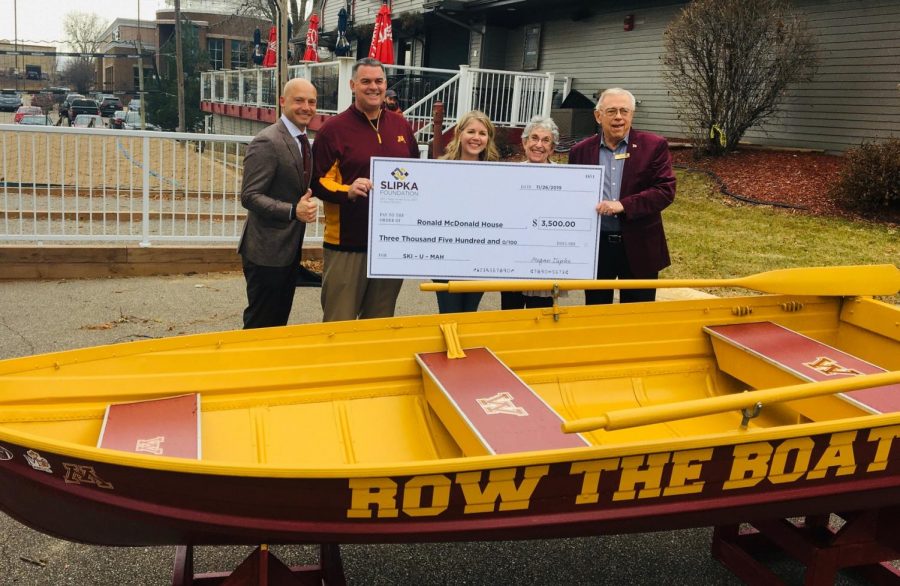 On November 24, 2019, Brian and Megan Slipka, co-founders of the Slipka Foundation,  presented a check for $3,500 to the Ronald McDonald House Charities as part of a "Row the Boat" rally held at RidgePointe Senior Living in Minnetonka. RidgePointe resident Don Eckenrode remodeled a small boat for charity and adorned it with a Minnesota Gophers "Row the Boat" maroon-and-gold theme.
The Slipka Foundation purchased the boat and gave the funds to the charity chosen by none other than the University of Minnesota Head Football Coach P.J. Fleck and his wife Heather: The Ronald McDonald House Charities. Maxine Simon, a RidgePointe resident who is one of the original founders of the Twin Cities Ronald McDonald Houses, was on hand to accept the check.
"This rally brought generations together in support of the University of Minnesota Golden Gophers Football Team," said Brian Slipka. "We're pleased to be able to join in the enthusiasm surrounding the Gophers this fall and to have it result in a donation to a great cause."
"We are especially pleased to be able to give this check to the Ronald McDonald House Charities because Coach Fleck and Heather Fleck chose it," said Slipka. "We're fortunate to have a Golden Gophers head coach who shares the values and priorities of the Slipka Foundation—we appreciate that more than we can express."
Though the boat didn't stop rowing there, when the traditional rivalry for the axe against the Wisconsin Badgers came to town, College Gameday came with it. Hosted by ESPN, it was the first time in history the University of Minnesota Twin Cities hosted this highly sought-after experience. Bringing thousands of people to the University's campus, College Gameday also heard and reached out about the boat for charity. The boat was featured next to the stage and was on display for all of the gopher fans to enjoy as they cheered on the team and Coach Fleck.
During the College Gameday show, Coach Fleck found time to stop by and meet the crowd and get a quick interview with the boat. As the hype for the Minnesota Gopher Football program continues to increase, it brings more to the table than just football. This goes to show that support will continue to increase as well, and how communities can come together to do amazing acts of kindness on and off the field.