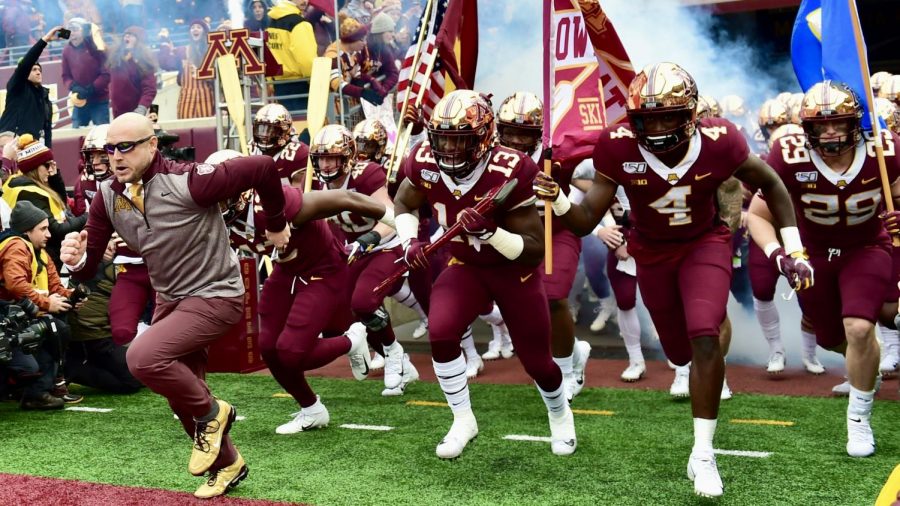 The 2020 NFL Draft was unique for many reasons. For starters, the draft was completely virtual because of the COVID-19 pandemic. NFL personnel, prospect players, and fans all watched as the NFL Commissioner announced draft selections from his home. Despite the unusual circumstances, the University of Minnesota set a school record for most players drafted in a single class. Antoine Winfield Jr., Tyler Johnson, Kamal Martin, Carter Coughlin, and Chris Williamson were all selected to play in the NFL. Rodney Smith and Sam Renner also signed to NFL teams after going undrafted. Let's see what these rookies bring to their new teams.
Antione Winfield Jr. was a fan favorite during his football career at the University of Minnesota. In his sophomore season with the Gophers, Winfield intercepted 7 passes, racked up 83 tackles including 3.5 sacks, and was the Big Ten Defensive Back of the Year in 2019. Winfield was ranked in the top five free safeties going into the draft. His outstanding 2019 season mixed with a strong showing at the NFL Combine encouraged the Tampa Bay Buccaneers to select Winfield with the 45th overall selection in the draft. Chris Trapasso of CBS Sports says that Winfield, "flies downhill in run support, is a reliable tackler, and will be a difference maker in the secondary for the Bucs. His speed certainly makes up for any lack of height. At the NFL Combine, Winfield put up a 4.45 40-yard dash, one of the best in his safety class. It seems that the Minnesota Gophers safety has a bright future ahead of him in Tampa Bay.
"
But Tampa Bay was not done with Minnesota standouts. With the 161st pick in the draft, the Buccaneers selected wide receiver Tyler Johnson. Johnson, who was born and raised in Minneapolis, broke almost every receiving record for the University of Minnesota. This included 3,305 receiving yards, 33 touchdowns, and First Team All-Big Ten Honors. CBS Sports lists Johnson as, "a receiver with running back instincts who creates separation at the short and intermediate level." Despite productivity from Buccaneers receivers in 2019, the season ended with injuries to both Mike Evans and Chris Godwin. Johnson will be a solid option for the Buccaneers later in the season if not earlier.
The next Gopher was selected only 14 picks later. Linebacker Kamal Martin was selected 175th overall by the Green Bay Packers. The Packers had a very odd 2020 draft and were listed among the biggest losers. However, the Packers did add needed depth to the linebacker position. Martin had a very successful senior year despite a team suspension and a knee injury. He ended his senior year with 66 tackles including a sack, 2 interceptions, and a Big-Ten Honorable Mention. Martin is a big hitter and is one of the best downhill runners in his linebacker class. Green Bay will likely use Martin as a special teams player and substitute for starters in his first year. But watch for his name in the years to come. He is a play maker by nature.
Minnesota linebackers were in high demand in the draft. With the 218th pick in the draft, the New York Giants selected Carter Coughlin. Coughlin had an outstanding career with the Gophers raking up 159 tackles including 22.5 sacks. He is fourth all-time in school history with 40 tackles for a loss and is third all-time in school history for sacks. Coughlin was named second-team all-conference in his junior and senior year and Minnesota's Most Outstanding Defensive Player in 2018. Like Kamal Martin, Coughlin will likely start as a special teams player. But his high motor, strength, and quality coverage will make him a valuable player on defense. Coughlin meets an immediate need for the Giants by filling the position for a quality, young backup linebacker.
Like the Buccaneers, the Giants were doing their research on Minnesota players. With the 247th pick, the Giants also selected Chris Williamson. Williamson transferred from Florida after his freshman year which made him sit out the entirety of his sophomore season due to NCAA regulations. However, once Williamson was eligible, he brought productivity to the secondary. Williamson finished his career at Minnesota with 90 tackles including 7.5 sacks, an interception, and a defensive touchdown. He has excellent speed with an average of a 4.43 40-yard dash time. Williamson's speed mixed with his ability to get to the quarterback will make him a valuable blitz safety for the Giants. Though most of his time will likely be on punt coverage and kickoff, make sure he is on your radar for the 2020 NFL season.
Rodney Smith and Sam Renner also signed contracts with NFL teams. Running back Rodney Smith signed a deal with the Carolina Panthers. Smith rushed for 4,125 yards and 29 touchdowns in his career with Minnesota. He is second all-time in rushing yards in school history. He also received Third Team All-Big Ten Honors in 2016 and Second Team All-Big Ten Honors in 2019. Defensive Lineman Sam Renner signed a contract with the Los Angeles Rams. Renner recorded 56 tackles in his career at Minnesota including five sacks. Renner is a natural athlete who can think on his feet. He received numerous NCAA academic honors and is graduating with a Master of Accountancy. Despite going undrafted, both Smith and Renner will be valuable for their respective teams.
The Minnesota Gophers football community will miss the players who moved onto the next level. We also wish the players who have not received an offer from NFL teams the best of luck going forward. Just because a player doesn't get drafted or signed right after the draft doesn't mean they will not make an impact in the league. Hall of Fame Quarterback Kurt Warner worked in a grocery store before getting a legitimate chance in the NFL. Minnesota players Shannon Brooks and Thomas Barber, to name a few, continue their hard work to receive NFL offers. Meanwhile, we should watch for the seven new NFL players who were part of the 2019 Minnesota team as well as the Minnesota players who hung up their cleats for the last time. These athletes truly made a name for Minnesota in the Big Ten and worked to "row the boat."