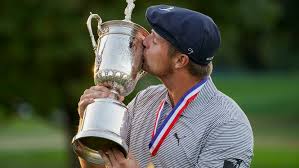 "I don't really know what to say because that's just the complete opposite of what you think a U.S. Open champion does… whether that's good or bad for the game I don't know, but it's not the way I saw this golf course or this tournament being played. I just can't really wrap my head around it."
In 58 words, 4-time major champion Rory McIlroy managed to illustrate both the staggering play of Bryson Dechambeau while, at the same time, grappling with the fallout from the performance that will reverberate through the game of golf down to its lowest levels.
Since its inception, golf has always rewarded power players handsomely. Ted Ray, "Long" Jim Barnes, Bobby Jones, Sam Snead, Jack Nicklaus, Tiger Woods- these are all players that reaped the rewards of the long ball in their respective eras.
But the tug-of-war between the importance of accuracy vs. distance has never been more one-sided. History will ultimately identify the moment that delicate balance shattered, but for now, the 2020 U.S. Open serves as a helpful interim inflection point.
On October 7th, 2019, Dechambeau told reporters, "I'm going to come back next year and look like a different person… You're going to see some pretty big changes in my body, which is going to be a good thing. Going to be hitting it a lot further."
At the time ranked 8th in the world, Dechambeau's plan to put on 40 pounds of weight over a single offseason for the sole purpose of chasing distance was a shocking move. However, the fruits of his hard work and unwavering self-belief have been on display all year, and never more starkly than on Sunday at Winged Foot.
Now, accuracy has not been rendered irrelevant in golf. Bryson Dechambeau is not a long drive champ devoid of finesse and touch. On the contrary, his putting and shot-making skills shone through at the U.S. Open like never before.
But seeing the 235-pound Dechambeau find immense success while cartoonishly wailing away at the ball with his driver makes one wonder where the game of golf is headed. A lot of junior golfers were watching Sunday night, and it's a virtual certainty that many of them came to the same conclusion I did: "Man, I gotta start hitting the ball further"
The scariest thing for the rest of the PGA Tour is not just that Bryson played so well, but that he played so well at Winged Foot. When the course last hosted the U.S. Open in 2006, winner Geoff Ogilvy limped home with a winning score of +5. Winged Foot is widely regarded as one of the most difficult courses in the world, a place that neutralizes distance as much as any tournament venue in golf.
None of this fazed Dechambeau, who bested Ogilvy's winning score by 11 shots. And if the "bomb-and-gouge" strategy that Dechambeau employed at the U.S. Open works at Winged Foot, it is certain to work doubly well at golf courses more lenient on wayward tee shots. Most notable among those courses is the one in Georgia that happens to host the next two major championships: Augusta National.