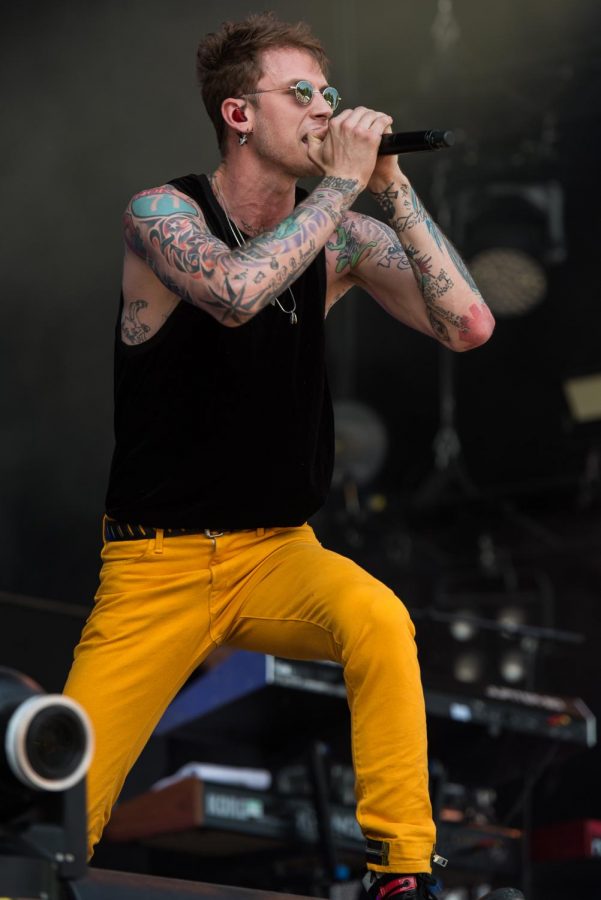 On September 25th, 2020 Machine Gun Kelly, stylized "MGK" released his fifth full-length studio album titled Tickets to my Downfall. The album, consisting of 15 tracks with a total of 13 true songs and two interludes, has a total runtime of 36 minutes and features appearances from Halsey, Blackbear, Iann Dior, and fellow Ohio native Trippie Redd. Prior to the album's official release three of the songs were already available to fans as they had been released as singles to generate hype for the project. The songs "Bloody Valentine," "My Ex's best friend," and "Concert for Aliens" were released in the months prior to the album, with the first of the singles released, "Bloody Valentine," doing some serious numbers, garnering over 41 million views to date on the official YouTube music video. The video for the rock-pop hit featured MGK's newest heartthrob Megan Fox and went viral on TikTok. The song was so popular that Machine Gun Kelly eventually released an acoustic remix at the request of fans.
When it comes to analyzing Tickets to my Downfall, it is essential to recognize that this is MGK's debut rock album and features live instrumentation on every single track, with the drums performed live by Travis Barker of Blink-182. The first song on the project, "Title Track," is a demonstration of MGK's new punk rock approach with him singing, "I sold some tickets to come see my downfall, it sold out in minutes, I saw friends in the front row, they'll leave when I'm finished," over a soft soothing guitar. As MGK finishes the soft intro the hardcore guitar roll starts opening his first rock project. Although I was not personally impressed with the first track on the album, I persevered and was pleasantly surprised by the second track, "Kiss Kiss."
"Kiss Kiss" is a fast tempo jam that makes me want to get up and bang my head to the beat. Although the song is undoubtedly a tale of alcoholism with MGK belting on the chorus "kiss kiss, kiss kiss the bottle all night," it is also a tale of leaving one's romantic feelings unsaid, with the rocker singing "there is a lot I want to say, but that's for another day." "Kiss Kiss" is a personal favorite of mine from the project, and exemplifies perfectly how Travis Barker and Machine Gun Kelly's musical talents came together to make this project a hit.
Following "Kiss Kiss," is the appropriately named "Drunk Face." On this track MGK opens up to his fans a little more with the 30-year-old MC stating on the chorus "I'm still young, wasting my youth I'll grow up next summer, I'm back on those drugs I quit, I kept my dealer's number." Drug abuse, a familiar theme in today's rap world, is explored throughout "Tickets to my Downfall," and is certainly a major issue facing today's hip-hop community. Another major theme explored throughout the project, and highlighted on the track "Drunk Face" is heartbreak. "I'm overcompensating for heartbreak, I swallowed a pill that wasn't a heart shape," croons MGK on the first verse of the track, highlighting the connection between drugs and emotional self-medication.
Following "Drunk Face" is "Bloody Valentine," a track with which we were all familiar prior to the release of Tickets to my Downfall. For the sake of brevity, I will skip this track, and instead encourage you to take a look at the official YouTube video online. After "Bloody Valentine," comes one of my favorite tracks on the album, "Forget me too," featuring Halsey. I personally think this is the best feature track on the album, as the interplay between Machine Gun Kelly's nasally rock lyrics and Halsey's siren-esque voice come across as pure gold. On "Forget me too," Halsey and MGK give us a look into both sides of a failed relationship and how substances played a role in the death of the romance. "It's eating me alive, we'd both be better off alone, still think I'd get you on the phone, with one last breath in me, I'd die before I'd let you leave," croons Halsey on her verse. The duo both make reference to this shared narrative singing in turn, "I left before you woke up, I don't feel right seeing you sober," and, "you left before I woke up, why don't I ever see you sober?"
A few tracks and a whole lot of hearing Travis Barker killing the drums later, we are brought to the saddest song on the album "Lonely." "Lonely," written by Machine Gun Kelly, real name Colson Baker, and Nicholas Alex Long, is a lament to the passing of MGK's father in July of this year on the one year anniversary of his album "Hotel Diablo." "Lonely, lonely, even when the room is full, I'd trade it, trade it, I would trade it all for you," Kelly sings on the chorus to the song. Of all of the tracks on the album, this one hit the closest to home, as the depressing lyrics are none too specific, and invite the listener to think back on what truly makes them feel alone.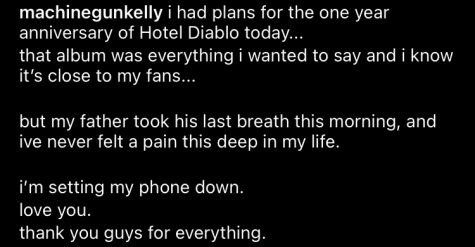 The next track on the project that drew my attention was "concert for aliens." Although the track was released prior to the album, I think that it is still worth discussing as the fast tempo punk-rock hit hides plenty of gems underneath the wailing guitar. "I heard you never graduated from high school, the food sucked and the kids were awful, I know you wanted me to go to law school, I dyed my hair, pierced my nostril," sings MGK on the track underlining the new grunge aesthetic of the project. In stark contrast to "Lonely," "concert for aliens" is one of the most upbeat, happy, and energetic tracks on the album. I think it's important to also appreciate the level to which Travis Barker's skill on the drums contributes to making this track the masterpiece that it is.
Coming in at track number 12 on the setlist is my personal favorite, "Jawbreaker." This song reminds me of something that would've been released at the turn of the millennium by a group akin to Blink-182, which is what makes this song, and Travis Barker's performance on it so special. MGK is a self-proclaimed Blink-182 fan, so I can only imagine the kind of energy that they had going on in the studio when they recorded this track. "Jawbreaker, she tastes like candy, star chaser, and she's not landing LA ex is in Miami, Jawbreaker, Jawbreaker," croons MGK over the pulsating rhythm of the guitar underlining the sexual and emotional tensions present throughout the album in light of his recent split from then-girlfriend Sommer Ray, and the kindling of a new relationship with "Midnight in the Switchgrass" co-star Megan Fox. According to The Daily Telegraph, Kelly has reportedly credited the starlet and the pandemic for drastically influencing his new musical direction.
All in all, I think that Machine Gun Kelly's Tickets to my Downfall is an incredibly good album and deserves an honest listen. I think that it pushes the envelope in relation to the crossover of new-school hip hop production and style with traditional rock and roll live instrumentation. This type of music is undoubtedly popular right now as the late XXXTentacion released posthumous work featuring live instrumentation by Travis Barker, and fellow Ohio native Trippie Redd will soon be releasing his upcoming album "Pegasus" which according to the 21-year-old MC will be a "rock" album. Tickets to my Downfall was undoubtedly a significant commercial success with the album clearing an estimated 126,000 album-equivalent units in the first week alone and earning MGK his first number one album debut on the Billboard 200 chart, making him the first Cleveland based artist to do so in the past 15 years according to cleveland.com. Tickets to my Downfall is not a show to miss and I am excited to see how MGK continues to develop and refine his new sound in the years to come.