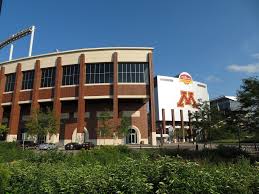 With the return of Golden Gopher football just days away, University of Minnesota students are scrambling to find ways to celebrate this momentous occasion. However, students will be without at least one option with the university putting a strict ban on tailgating for this 2020 football season.
In an attempt to cut down on large gatherings due to Covid-19, there will be no tailgating outside of TCF Bank Stadium at all this season, according to Gopher Athletics. There will only be roughly 800 fans in attendance for each game, made up of family members and other individuals close to our athletes.
"Tailgating is so important to the freshmen and underclassmen, I feel like it's going to have a negative impact on them," said Molly Miller, a junior at the University of Minnesota.
Yes, tailgating has been an important tradition on college campuses across the country for generations. The vibrant aroma of grilled hotdogs and beer accompanied by the sheer glee from students screaming the M-I-N-N-E-S-O-T-A chant is something that all students here at the U should experience in their time in Minneapolis. But now may not be the time.
"I'm still nervous," said Roger McCoy, a sophomore at UMN. "You can't control what every student is doing on game day and a lot of them are going to take it into their own hands."
The number of new cases of Covid-19 in Minneapolis has steadily increased since September 1, launching from 491 new cases to 1,627 on October 19, according to the Minnesota Department of Health. But for some across campus, as long as football is back those numbers don't really matter.
"You can't control other people. Is it a great idea? No, but college kids are going to do what they want to do," said Max Jarvis, a junior at UMN.
Amidst the controversy, University of Minnesota President Joan Gabel has stated her support in resuming Big Ten football, with plenty of precautions in place to prevent the spread of Covid-19 as much as possible.
"I support restarting the Big Ten football season," said President Gabel. "The health and safety of our student-athletes and the community that surrounds them was and has always been our top priority. We have continued to listen to medical professionals and follow their expert advice during the past month. With the additional research, enhanced safety protocols, and a commitment to work closely together as a conference on research and safety for student-athletes, we are now ready to play football."
Some of these precautions include daily antigen testing required by all Big Ten football programs, with the consequent data being shared into a pool for medical professionals at all 14 Big Ten universities to continue studies on the virus.
"I think what the universities are doing is very good with them using the player data for Covid-19 research," said McCoy. "If they could make some kind of breakthrough with that data then it would definitely be worth it."
Regardless of all the conditions surrounding this Big Ten season, the Golden Gophers currently sit 21st in the AP top 25 poll and look to be in prime position to defend another top 10 finish, with sights on the Rose Bowl in the early months of 2021. Likewise, Gopher fans are prepared to celebrate their team, no matter the cost.
"This Gopher game day is going to be wild, I don't know how it will be the whole season but this weekend is going to be something else," said Jarvis.
Gopher game day is always a special occasion, especially when College Gameday comes to town like they are this weekend. The excitement has been building for weeks since the Big Ten first announced its return, and students are ready to be unleashed whether it is safe or not.
If you're in the mood to celebrate some Gopher football, no one can blame you. It has been months since the campus has had a buzz around it the way it does right now. But it is still important to reflect on the time we are currently in and realize that there are more important aspects to life than enjoying football.
Celebrate, but stay safe. Row the Boat, Ski-U-Mah, Go Gophers.