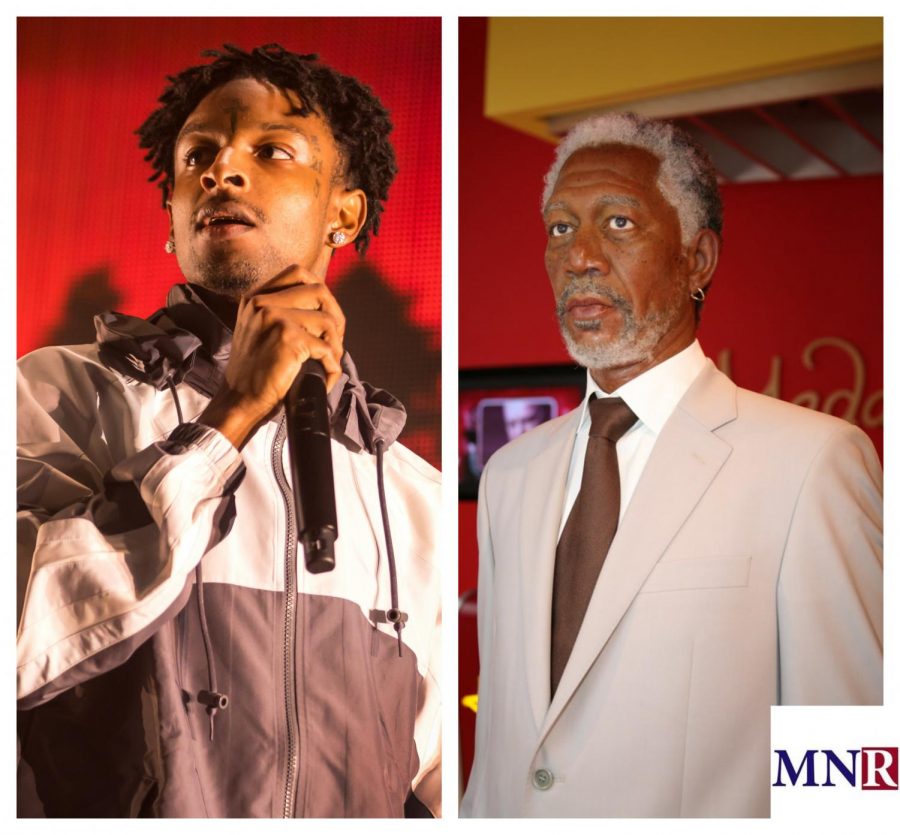 On October 2nd, 2020, 21 Savage and Metro Boomin released the highly anticipated follow up to their 2016 collaboration Savage Mode. Savage Mode II is the third project brought to us by 21 Savage and Metro Boomin with the duo first linking up in 2016 on Savage's break out hit "X." In addition to being executively produced by Metro Boomin, Savage Mode II features appearances by Drake, Young Thug, Young Nudy, and surprisingly Morgan Freeman. According to an article published by XXL magazine, Freeman was excited to take up a role that broke the nice guy mold into which Freeman believes he has been pigeon holed. Freeman also commented that he liked the script and found hidden wisdom scattered throughout the project.
In the intro to the album, Freeman opens the project with the words, "great men with great ideals can be separated by hundreds or even thousands of miles and still be in the same place," in reference to 21 Savage, an Atlanta native, and Metro Boomin who hails from St. Louis. Throughout the intro Morgan Freeman lends his baritone voice to underline the idea that Savage and Metro have "become one" on this project, combining all of their skill and swagger to bring us a modern masterpiece.
Following "Intro" we are greeted by the first true song on the project, "Runnin." "Runnin" was released just hours prior to the official release of Savage Mode II in order to generate hype, and the song did just that with the official YouTube video for the song boasting over 10 million views in just 13 days since its release. On the track "Runnin" Metro Boomin samples Diana Ross' 1976 hit "I Thought It Took a Little Time" which provides the eerie backtrack over which Savage delivers ludicrous trap bars like "I ain't with no rap beef, Draco pedophile all my opps get touched, (straight up)." "Runnin" is a prime example of 21 and Metro's ability to create hits, as the infectious beat and outlandish lyrics have caused the track to chart at number 9 on the Billboard hot 100.
As Morgan Freeman's remarks at the end of "Runnin" draw to a close we are introduced to the slow and menacing vibrations of the track "Glock In My Lap." On this track, 21 reminds us that although he is a Grammy-winning, platinum-selling artist, he is still a full-time fixture of the streets with the 27-year-old MC chiding, "all black tux I'm a businessman, millionaire still shakin killers hand." In addition to the standard themes of drugs, violence, and sex that run rampant throughout this trap album, just like any, Savage Mode II takes a very strong stance on "snitching" or collaborating with law enforcement. This theme is accentuated for the first time on the project on the chorus of "Glock In My Lap" with Savage stating, "Chuck E. Cheese, rat, we get rodents whacked."
Coming in at track number four is "Mr. Right Now" featuring Drake. This song in particular created a lot of buzz online when the album was first released due to one particular Drake lyric where the Toronto rapper says, "said she wanna f*ck to some SZA, wait, 'cause I used to date SZA back in '08." Wherever there is Drake drama, people will pay attention so although it helped to draw attention to the project, I think that it subtracted from people's ability to appreciate the song as a whole. I personally really liked the intricate and thoughtful musical references that Savage weaves throughout the track. One notable instance at the opening to "Mr. Right Now," is when 21 sings, "ima slide anytime you want, put you in Channel Ima teach you how to stunt, slip and slide like a waterfall, you need some TLC we can creep if you want." In this clever bar 21 references the band TLC or the "Tender Loving Care" that his lover needs, as well as two of the groups more popular hits, "Waterfalls" and "Creep."
Following "Mr. Right Now," and coming in at track number five is "Rich N*gga Sh*t" featuring fellow Atlanta native, Young Thug. "Rich N*gga Sh*t" can be understood simply as a massive flex on the rest of the rap industry with Savage and Thug showing no mercy with their numerous references to high fashion and the duos sexual allure to the female gender. One of my personal favorite bars on this track comes from the Saint Laurent Don himself, with Savage stating, "Saint Laurent the only thing I put on my back, Off-White jeans look like cooked crack," in reference to the designer drip shared by himself and Thug. "Rich N*gga Sh*t" is outlandish and hilarious for a variety of reasons one being the extravagance of wealth the two claim to share, and a lack of political correctness with Savage rapping, "this supercharger whine like the car mad, Savage got a whole lotta hits dawg, I be dropping bombs like Baghdad."
As the project continues into track number six, "Slidin," we are greeted by yet another pounding Metro beat, and more 21 Savage spinning lyrical tales of murder and revenge. Although Savage's affinity for firearms is well known due to his 2019 arrest at the hands of ICE during which the rapper was found to be in the possession of a loaded handgun, Savage furthers his gun-slinging image on the track "Slidin." With bars like "savage keep a token John Wick, shot him in the back like he Rick," comparing 21 to both the Keanu Reaves action movie hero, and the triggerman who killed high school football star Ricky Baker in John Singleton's 1991 Oscar nominated classic "Boys n the Hood," this track serves as another reminder of Savages track record in the streets.
An obvious homage to 50 Cent, and coming in at track number seven is one of my personal favorites on the album "Many Men." An obvious reference to 50's 2003 smash hit "Many Men (Wish Death)," 21 takes the opportunity on this track to compare himself and his crew to 50 and the old G-Unit with lines like, "when there's smoke we pull our stickies and they call the PD, many men wanna kill me dawg I feel like 50." In a similar fashion to 50 Cent on his album "Get Rich or Die Tryin," "Savage Mode II" serves as a message to 21's competitors and opposition. On 50's version he says "I walk around, gun on my waist, chip on my shoulder, till I bust a clip in your face, p*ssy, this beef ain't over." In almost the exact same fashion 21 addresses those who stand against him warning, "east side n*gga bout gunfire, pull up in a van and the door slide, we ain't never throwing no white flag, gotta get smoke when the bros die." Before 21's take on "Many Men" draws to a close we are once again offered words of wisdom from Morgan Freeman. This time the Oscar-winning actor reminds listeners that "evil men envy the good in others," and that "all hatred is really born from hatred of self."
Following Morgan Freeman's wise words on "Many Men," and coming in at track number eight, is the one and only interlude on the album, "Snitches & Rats Interlude." On this interim track, we are offered more words of wisdom from Morgan Freeman himself, addressing the issue of "snitching," or reporting criminal activity to law enforcement that has become a hot button topic in the hip hop community following 6ix9ine's controversial court case. On the interlude, Freeman introduces the theme of the following song, appropriately named "Snitches & Rats" featuring Young Nudy. "Snitches and rats are not the same thing" says Freeman, "let me break it down to make sure yall see what I mean, a "snitch" is someone minding other folks business to find information they can sell for a price," on the flip side Freeman defines a rat as, "a traitor, a conceiver, planner, or physical participator." At the end of the interlude, Freeman summarizes 21 and Metro's message in one eloquent phrase, "at least a snitch is human, but a rat is a f*ckin' rat, period."
As the backing track to Morgan Freeman's ominous message blends into the thumping 808's and high-hats of "Snitches & Rats" featuring Young Nudy, it becomes apparent to the listener that they are about to hear one of the better songs on the project. As the tempo of the instrumental begins to build, Savage begins the chorus with the simple chant, "snitches and rats, snitches and rats, they all get whacked," underscoring 21's distaste for assisting law enforcement. I personally found the combination of Nudy, Metro, and 21 to be not only sonically pleasing in the sense that it sounds good, but also aesthetically pleasing with respects to who Savage chose to feature on the project. On "Savage Mode II" there are only three features, two of which, Young Thug and Nudy are well-known members of the Atlanta gang scene and are affiliated with an ATL set of the nation-wide gang the "Bloods." On Savage's recent projects he has included features from artists far-flung from his origins in the streets of Atlanta, so I personally thought it was really cool that for an album as highly anticipated as "Savage Mode II" that 21 would go back to his roots and focus on sourcing local talent as well as perfecting his style.
"Savage Mode II" is a distinguished album for the fact that it contains the first words 21 Savage has spoken on a track regarding his 2019 arrest and deportation by ICE. In 2019, Savage's arrest was big news and revealed to the world for the first time that 21 was not a U.S. citizen, and was in fact a citizen of the United Kingdom. On the song "My Dawg," 21 addresses this incident and the subsequent memes that resulted in light of this newly disclosed history rapping, "n*gga keep talking that U.K. sh*t like I don't got AK's." Although Savage was clearly displeased by the reaction to his arrest online, he has remained lighthearted about the situation with 21 taking to Instagram three days following the release of SM2 posting a series of photos with the caption "I'm from Atlanta where even da J's Hustle!! (drop your UK jokes below)."
For the sake of brevity my analysis of Metro Boomin and 21 Savage's "Savage Mode II" will end here, as the themes of violence, retribution, paranoia, and heartbreak are prevalent throughout the entire album. I invite readers to listen to the entire masterpiece, front to back with no skips as I truly believe that this is one of the better projects to be released in the trap genre in 2020. As of October 8th, "Savage Mode II" sold 171,000 album-equivalent units, with every single song charting on the Billboard 200 chart according to Nielsen Music data. Congratulations to 21 Savage and Metro Boomin, and "until next time, stay in savage mode, because anything else would be too damn civilized."