Minnesota Governor Targets College Students With Harsh New Restrictions
November 19, 2020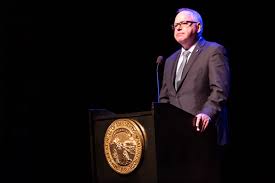 Governor Walz has come out to speak twice now in the month of November, trying to explain that now that winter is coming and the temperatures are dropping, our cases seem to be rising again. He said the other day, "I feel like the guy in 'Footloose.' No dancing, no fun, no whatever. That is not my intention. My intention is to keep you safe so that you can all dance a lot longer." Unfortunately Mr Walz, you can't dance if you're dead.
"
I feel like the guy in 'Footloose.' No dancing, no fun, no whatever. That is not my intention. My intention is to keep you safe so that you can all dance a lot longer."
Businesses who barely braved the 'storm' of his first economic shutdown are now standing on their last leg, and gasping for air. Thanksgiving is on the horizon and one would imagine people would like to be able to sit with family rest assured that they'll have somewhere to work for the rest of the year.
This is the time for businesses who need cash flow and revenue streams to get it before they close their doors for good. His first restriction was announced on November 10th, and took place the night of November 13th, causing all bars to be forced to shut at 10pm, the time that most bars start to ramp up and start generating an actual profit. The Minnesota Licensed Beverage Association Executive Director, Tony Chesak, had a few things to say about these new rules. 
"Unfairly singling out every bar and every restaurant in Minnesota is not a scalpel – it's a hatchet targeting one of Minnesota's hardest hit industries this year. Bars and restaurants are only affiliated with 2% of the cases, but these new blanket rules across the state will cause more businesses to close, leaving more people unemployed and unable to support their families. We have yet to see real empirical data from state leaders showing how these regulations could help."
Statistical data is unable to prove any COVID-19 outbreaks due to people playing amusement games – and yet Walz is taking those from us too. 
Also, if you are a parent and have kids at college and are planning to have a nice thanksgiving dinner, think again, Governor Walz doesn't want you to see your family. "It's very risky right now to get together with friends," Kris Ehresmann, the state's infectious disease director said. "We strongly discourage travel over Thanksgiving break, especially if you plan to return to campus."
We should thank Governor Walz for his consideration, but the American people need to be given their opportunity of choice to live how they want. Does he know children better than their own parents? Why are we not given a choice here.
Governor Walz waited until elections passed to come down on us with more restrictions, and let us have it easy from November 10th until about a week later he comes right back out and doubles down, though he knew he was going to do that all along. He targeted the 18-35 year old demographic, though students are already in their own bubble. Restaurants will now be forced to have to hopefully grind through another phase of having people order takeout only, when most people go to restaurants for the experience, not just the food. 
It became very clear that Governor Walz doesn't look at any statistics when considering which industries he wants to shut down, because if he were to look he would see that gyms have an extremely low rate. Life Time Fitness sent out an email to all of its members on November 18, giving some statistics and explaining how they are trying everything in their power to stay open for their members and employees.
Life Time "has experienced 21.5 million member visits to its clubs across North America since May with 962 reported cases of  COVID-19, equating to a rate of 0.00004." In terms of Minnesota specifically, there has been 237,000 total cases of COVID-19, and 48, no, not 48,000, 48 outbreaks have been reported across all state gyms, studios, and clubs in the state resulting in just over 700 cases- an infection rate of 0.003%.