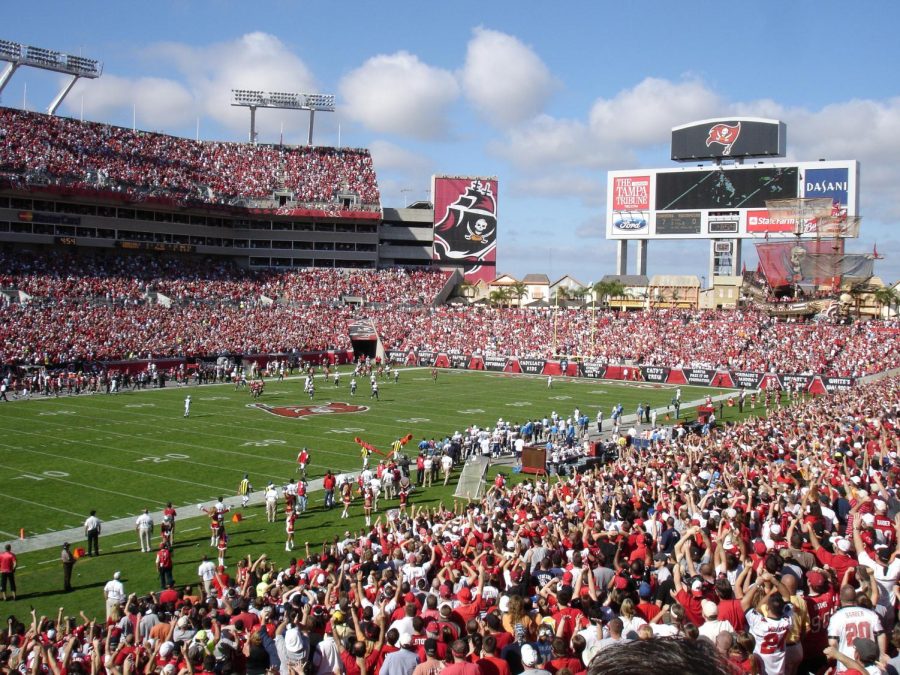 Minneapolis-born, rookie wide receiver, Tyler Johnson made headlines for his game-deciding play in the NFC Championship game on Jan. 24, although it was for all the reasons that one wouldn't expect.
In the dying embers of the NFC Championship game, frigid Lambeau Field was rocking, even though there were roughly only 6,000 fans in attendance. The defense needed a stop on third down with four yards to go and just 1:46 left in the game in order to give Aaron Rodgers and the high-flying Packer offense a chance to win the game and send the Packers to the Super Bowl. Johnson had other plans, ones that involved a trip back to Tampa Bay and the Super Bowl in two-weeks time.
With this once in a lifetime opportunity on the line, Johnson took his route about six yards upfield, dug his left foot hard into the ground, made a tight cut left in the center of the field, and with that Johnson was the play of the game… A wide, incomplete pass from Tom Brady covered up by the haunting yellow handkerchief that hit the ground when Packer cornerback Kevin King grabbed a fistful of Johnson's undershirt.
The free yardage from the pass interference penalty was enough to secure the Buccaneers a trip back to Tampa and the title of the only team (so far) to play in a Super Bowl in their own stadium. Johnson himself only had a single catch for 16 yards in the Championship game but that's all he really needed to do except be in the right spot, at the right time to be a headline. Fellow Buccaneer and Golden Gopher, Antoine Winfield Jr. didn't play against the Packers due to an ankle injury suffered in practice but it turned out that they wouldn't need the defensive rookie of the year candidate.
Winfield Jr. finished the regular season with 94 total tackles, three sacks, two forced fumbles, and one interception, a very promising rookie campaign that looks destined for honors and one that perhaps outshines that of Tyler Johnson, although he did muster 12 catches, 169 receiving yards and two touchdowns as the fourth and even fifth receiver at times in an offense that also features three-time Super Bowl champion Rob Gronkowski, 2017 All-Pac 12 running back Ronald Jones and the 2017 fourth-overall pick, Leonard Fournette.
There is, of course, a third Gopher involved in this year's Super Bowl, 27-year-old linebacker Damien Wilson. The six-year pro out of Gloster, Mississippi joined the Kansas City Chiefs in 2019, and in his first season on the team, he became the first Gopher since Matt Spaeth (2009) to win the Super Bowl. Now, just one year later Wilson is back at the final step to another ring and on a team that looks like no one can slow them down. After the Buccaneers beat the Packers 31-26, the Chiefs beat the Bills in an AFC showdown that led to the defending champions winning comfortably, 38-24.
Wilson played a valuable role in the Chief's defense this year, starting all 13 games that he played in and this was a sight for sore eyes after a rough start to Wilson's NFL career. In 2017 while on the Dallas Cowboys, Wilson was arrested and charged with two counts of aggravated assault with a deadly weapon after intentionally backing his car into a woman while parking, then brandishing a rifle, according to the Frisco police report. Wilson found himself in a new light shortly however and has not been involved in any off-the-field incidents since, becoming a formidable linebacker and a Super Bowl Champion.
Regardless of the result of Super Bowl LV, at least one Gopher will be triumphant and will be able to hold the coveted Vince Lombardi Trophy in February. It will be scintillating to see so many alumni in a top-tier matchup such as this and seeing a Gopher victorious will surely make the Golden Gophers back in Minneapolis rejoice because it is forever: Row the Boat, Ski-U-Mah, and Go Gophers.