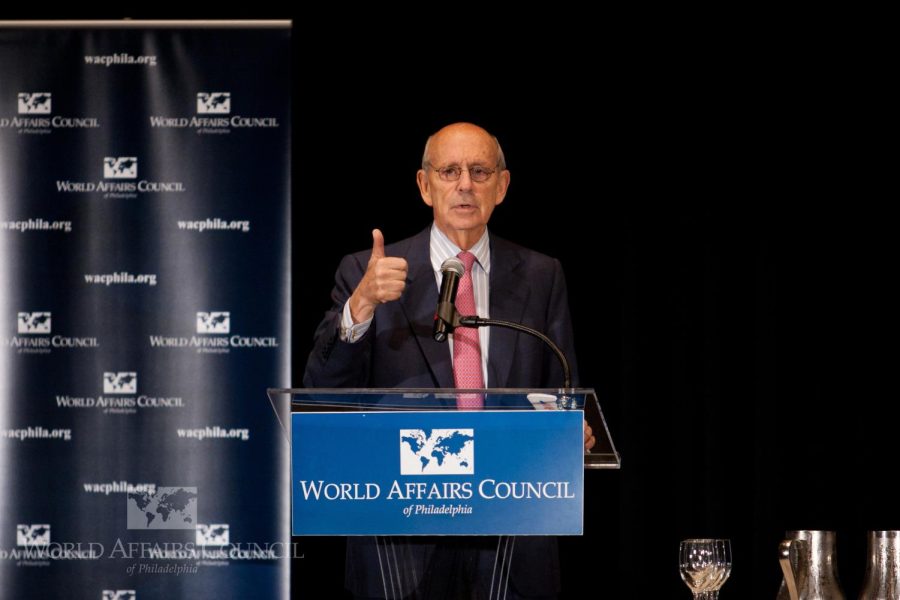 On January 27, Supreme Court Justice Stephen Breyer submitted a letter to President Biden informing him of his plan to retire from his position as Associate Justice on the court. Later, the two spoke at the White House and the President opened by commemorating Breyer, who is now 83, and detailing the long history they've had together, as they have known each other since the 1970's. He went on to thank Breyer for his years of public service.
"I'm here today to express the nation's gratitude towards Justice Stephen Breyer for his remarkable career in public service and his clear-eyed commitment to making our country's laws work for its people," said President Joe Biden. 
About eight minutes later, the President gave Breyer the podium. He began by explaining how he feels America is so lucky to have so many unique people with so many different viewpoints and perspectives. He then pulled a small copy of the Constitution out of his jacket and commented on how beautiful it is that, "People have come to accept this Constitution, and they've come to accept the importance of a rule of law." He went on to say he believes that our country is an experiment, and that President George Washington and Abe Lincoln thought the same thing.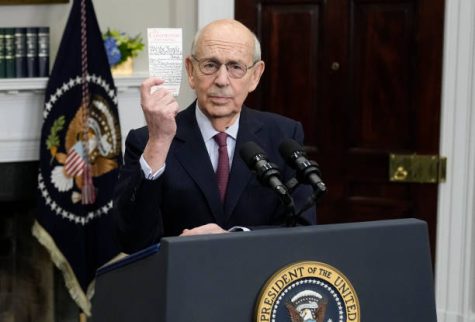 Stephen Breyer's retirement comes at a precarious time for the Biden Administration and Democrats in general, and there are a lot of elements that could cause either help or harm to the two. For one, midterm elections are in November this year. This means Democrats need to use the current senate majority to confirm the successor to Breyer in time, or risk losing their majority. If Democrats lose the senate majority, it could prove difficult for Biden to get the senate to confirm his nominee. Additionally, along with shrinking approval ratings, the party of current presidents typically loses seats during midterm elections, so the chances of Republicans gaining majority seats in either of the two bodies of congress is even higher. 
However, President Biden could utilize this vacancy very effectively, and kill a few birds with one stone. One of President Biden's campaign promises was to appoint the first black, female Justice to the Supreme Court. This gives him a chance to do exactly that. 
Additionally, Justice Stephen Breyer leaned democratic, meaning the Democrats don't lose even more of their representation in the Supreme Court. This happened during President Trump's term, during which active Justice Ruth Bader Ginsburg passed away. She was also left-leaning, so republican President Trump was able to replace her with a more republican justice. This tipped the ratio of parties within the Supreme Court even further in favor of the Republican party. This is not the case with Breyer. He retired during a Democratic presidential term, allowing him to be replaced by a member of the same party as him. He often disagrees with assigning political stances to justices but, if he is truly neutral, Biden and the Democrats lucked out. Biden and his majority in the Senate now have a great opportunity to replace Breyer with a young, democratic justice. This way, seeing that justices are able to serve for as long as they want, the new, young justice can serve for decades to come. 
The White House has not released an official list of potential nominees to succeed Breyer, however a few names have been brought up and circled around. The most talked about name is Judge Kentanji Brown Jackson. She was confirmed to the U.S. Court of Appeals for the D.C. Circuit last year by all 50 Democrats of the Senate, along with a few Republicans. She is only 51, and would be the youngest justice of the Supreme Court besides Trump-nominated Amy Coney Barrett, who was the second successful nomination of his term.