Tacos Locos Review
I have always been a fan of Mexican food. My family would always go out to eat at Mexican restaurants whether it was eating at Chipotle, Teresa's, Fiesta Cancun and many more options. There are many Mexican Foods that I really like such as burritos, tacos, enchiladas, and quesadillas and they can be played during lunchtime or dinner time and are very diversifiable. 
Going into Tacos Locos I was delighted at what I was seeing. First impression is that it is just like a chipotle. They had the glass windows grading the food and all the food just sitting down there. You then look up at the menu and they have many different options on there ranging from any kind of tacos such as shrimp, steak, chicken to burritos in all kinds of flavors to platters. The restaurant is also very clean, I didn't see any spillage on the floors and the tables were also very clean, and it had that classic Mexican restaurant smell which was very nice. 
"
Quality food, and it's cooked fresh in front of your eyes, it was authentic and it reminded me of a traditional Mexican restaurant but it came quicker
— Ben Peterson
From the time that I went in there they had interesting stuff on the TV. What they had was bare knuckle boxing, so it was boxing with no gloves on. I found it to be very fun to watch while eating my burrito and very entertaining. 
What I got was the Dinkytown Grande Burrito (pictured below). What they do is make the burrito and then put it into a bowl with all of the fixings on the side which are: lettuce, pico de gallo, guacamole, sour cream, and they pour queso on top of the burrito. I loved how the burrito was warm and the warm queso on top made it very tasty. I also liked how they did not put the lettuce and other fixings into the burrito because sometimes, like with chipotle it gets soggy.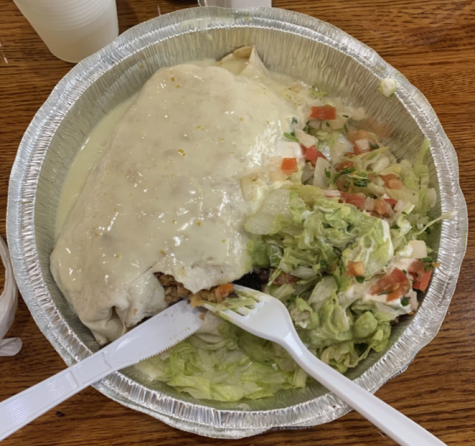 When eating this burrito I was thinking how everything is very fresh and you can tell. The chicken is cooked fresh and is raw when they cook it so it is juicy and seasoned very well. I also really like the rice they had in the burrito. It wasn't hard and it was warm unalike times at chipotle where you can tell the rice has been sitting out and gotten cold. 
A couple things they could add to their menu or things that could be added as options to be put onto a burrito is corn, pinto beans because they only have black beans and refried beans. I also think that they should add classic Mexican desserts to their menu, such as churros and chocolate. I think that would be really good for their business as they could have people go there just for their desserts. 
Another thing that I really like about this restaurant is that their portion size is huge. When I ate the Dinkytown Grande burrito I couldn't even finish it. I was able to get 2 meals out of it which is a huge plus and when it is re-microwaved it still tasted just as fresh the next day. You can also get free refills as they give you a cup when you buy a meal and they have tons of pop options and lemonade if you're into that.
Overall, I would rank Tacos Locos a 9.5 out of 10. They have what seems like unlimited options for different kinds of food, and they have many sauces you can put onto your food to spice it up and add even more flavor to a flavor packed burrito. I would highly recommend going to Tacos Locos if you are a fan of traditional Mexican food.