Giving Back: Charities to consider this coming holiday season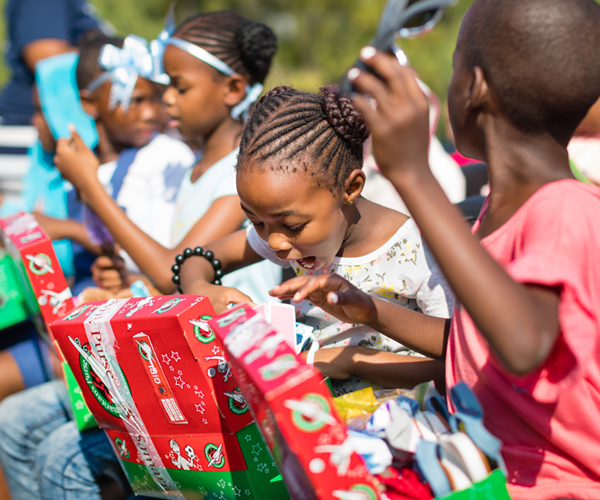 As the holiday season approaches, it is important to reflect on all that we're thankful for. In that we see how fortunate we are and why it's important to give back. Especially as the weather gets colder, there are countless organizations out there helping those in need. Below are 6 charities to donate to during this coming holiday season.
Operation Christmas Child
Their mission is to demonstrate God's love in a tangible way to children in need around the world. Samaritan's Purse partners with local churches all over the world to accomplish this. Since it started in 1993, over 198 million children in more than 170 countries, have received an Operation Christmas Child shoebox. More than 9,000 year-round volunteers in addition to 80,000 short term, serve more than 4,000 drop-off locations. In 2021 alone more than 10.5 million shoeboxes were collected. Each of these boxes is filled with quality toys, school supplies, and personal care items. They put heavy emphasis on the Good News and God's love. The third week of November is collection week each year and when boxes are built and sent in to be shipped and inspected. Those who donate can even track their boxes as they travel to those whom this may be the first ever received present.
Feeding America
This is the nation's largest hunger-relief program. They provide domestic hunger relief for impoverished people, seniors, children, college students, and rural communities. The mission is to advance change through partnerships with food banks, policymakers, supporters, and local communities. Donations can be made through their website and any time they are present at events. As Thanksgiving approaches and families gather, this is an easy and important organization to keep in mind.
Covenant House
In over 31 cities throughout the US, the Covenant House is a youth homeless shelter. This organization provides safety and resources for runaways and victims of human trafficking. Their goal is to achieve a world in which every young person has access to safe housing, support, healing, and opportunity. November is Youth Homelessness Awareness Month so they're looking for any donations and help people are willing to give so they can transform lives and put them on a path to independence.
Kids in Need Foundation
For every $25 donated, the Kids in Need Foundation provides one backpack with 3 folders, 2 notebooks, a package of pencils, and other essential school and are supplies. Boxes of supplies also go to teachers, schools, and school districts that need the support. In 2021, an estimated 7.8 million students served and over $162 million distributed nationwide. Volunteers work in shifts at any various location and are always looking for people to give some time and donations.
KIND, INC.
This organization focuses on immigrant children safety and provides legal protection. It stands for Kids in Need of Defense and is dedicated to assisting unaccompanied immigrant and asylum-seeking children. Services such as policy-making and advocacy, family separation assistance, and social services for children. With a focus on children's needs, they provide high quality of legal representation. There are multiple ways to get involved. This includes donating, advocating, learning through the latest news and information, and fundraising.
Together We Rise
During the holiday season Together We Rise helps children in foster care through multiple initiatives such as providing gift-filled holiday stockings and presents. Not only do they help out during the holidays but year-round through back-to-school supplies, bikes, skateboards, STEM toys, etc. They have a national presence and are looking for any donations willing to be offered. They participate in an event called Giving Tuesday which is a global generosity movement. Anything from service activities, starting a fundraiser, or simply donating a dollar are welcome. The end goal is to bring dignity and respect to foster youth nationwide.