More Anti-Semitism in Minnesota – Resolution to Remove Rep. Ilhan Omar from Foreign Affairs for Remarks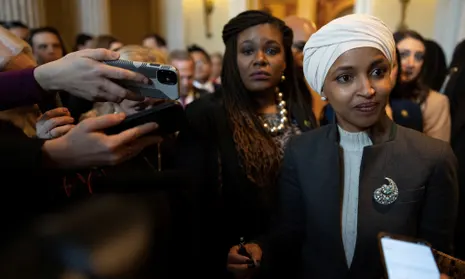 Over the course of the past few years, the University of Minnesota – Twin Cities campus has been noted across multiple sources for their anti-Semitic views. With her being located right in Minneapolis, it serves as no surprise that Ilhan Omar, the U.S. representative for Minnesota's 5th congressional district since 2019, spoke out with her own words against Jewish people. Due to her comments and remarks, a resolution was made on Thursday, February 5, 2023, to remove her from serving on the foreign affairs committee.
"Omar has attempted to undermine the relationship between the United States and Israel," said the author of the resolution, Republican congressman Max Miller.
Alternatively, left-wing politicians claimed that Ilhan Omar was targeted and silenced by conservatives solely because she was the only African immigrant of Islamic faith serving on the congressional committee. While minorities are targeted in the United States due to outdated biases, her own anti-Semitic remarks exemplify that not all minorities are protected or held to equal value in this country either.
"Congresswoman Omar clearly cannot be an objective decision-maker on the foreign affairs committee given her biases against Israel and against the Jewish people," stated Miller.
In March of 2019, the Democratic-controlled House passed a resolution that condemned "anti-Semitism, Islamophobia, racism, and other forms of bigotry." Ironically enough, Rep. Ilhan Omar voted for it.
Although Omar has apologized for her recent remarks made about Israel, saying: "It's all about Benjamins, baby," this isn't Omar's first time speaking out with anti-Semitic opinions and statements. Even Nancy Pelosi, the 52nd speaker of the United States House of Representatives, stated that tweets from Ilhan Omar were deeply offensive back in 2019.
In response to previous comments made by Ilhan Omar in 2019, Nancy Pelosi stated the following: "We are and will always be strong supporters of Israel in Congress because we understand that our support is based on shared values and strategic interests. Legitimate criticism of Israel's policies is protected by the values of free speech and democratic debate that the United States and Israel share. But Congresswoman Omar's use of anti-Semitic tropes and prejudicial accusations about Israel's supporters is deeply offensive. We condemn these remarks, and we call upon Congresswoman Omar to immediately apologize for these hurtful comments."
Despite her claim that she is being targeted, she has already experienced past issues related to anti-Semitism. Logical people learn from their mistakes. Rep. Omar instead chose not to learn from her previous actions and continue speaking in ways that were offensive to Jewish people.
Keeping an irrational and unsound politician in office is not what we need in the state of Minnesota. With our largest public institution, the University of Minnesota, being named one of the most anti-Semitic in the United States after facing backlash from pro-Israel students, Minnesota needs to do a better job of punishing anti-Semitism instead of praising prejudices.
In an ideal world, this wouldn't be an issue. We have our societal standards of what right and wrong are and we follow and abide to those standards; however, we focus to heavily on politicizing these standards. Instead of separating the person from the problem, we throw more factors into issues when they don't turn out our way.
Yes, Ilhan Omar along with other African-Americans will face racism in the United States and that needs to be corrected, yet blaming racism, after getting caught for her own antisemitic comments, creates a double standard. As a Democrat who prides herself on actively working to get rid of unjust biases in the United States with her experience in a refugee camp, it is hypocritical to talk poorly about other groups, in our country or not.