Survivor's legendary fortieth season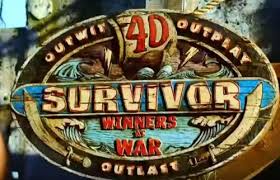 The best of the best return for Survivor's fortieth season, as 20 former winners are competing for the largest prize offered in reality game show history: 2 million dollars. What better way is there to commemorate 20 years of being on the air than having these legends play again? For a super fan like me, it is surreal to see characters I love from many different seasons compete against one another. I would equate the fortieth season of Survivor to being the Super Bowl of reality game shows.
One thing unique about an All-Star season is that all the contestants know each other, at least by name. In fact, this season features winners from as early as season 3 to as late as season 37. Rob and Amber, who met on the eighth Survivor season, have been married for 15 years. While Amber won that eighth season, Rob came back to play and win season 22: "Redemption Island". Although no one else is married on the cast, several winners have played together in past seasons. This is only possible because Survivor frequently invites former contestants to play again.
Moreover, some past winners enter this season with huge targets painted on their backs. This is important because strong relationships result in voting blocks. Voting blocks are groups of contestants that work together because they have mutual interests. Comparatively, those voting blocks are much more dangerous than free agents who don't have connections because those free agents each only have one vote.
Besides preexisting relationships, many winners have targets on their backs due to their reputations. For example, Sandra is the only person in Survivor history to win two seasons: season 7 and season 20. Even though she isn't known for masterful gameplay, her simple strategy of "anyone but me" succeeded two times. Survivor requires contestants to not just survive 39 days in the wilderness but also to convince the people they voted out to vote for them to win the million-dollar prize.
Furthermore, due to the wide age span of Survivor winners, this season features both players who won the game when it was still primitive and players who won the more modern Survivor. Over the years, Survivor's format has evolved to become more fast-paced, strategic, and twist-heavy. It'll be captivating to observe how the older winners adapt to the new style of game.
"
Over the years, Survivor's format has evolved to become more fast-paced, strategic, and twist-heavy. It'll be captivating to observe how the older winners adapt to the new style of game."
To incentivize past winners to play in the fortieth season, the Survivor executive team brought back a twist from season 38: the "edge of extinction." This means that when a contestant is voted out, they go to an island where they will have a chance to return to the game. It is worth noting that Survivor is a huge commitment and to be voted early is certainly not worthwhile for many of the winners participating. However, the "edge of extinction" opens up the possibility of a contestant being voted out early, re-entering the game at a late stage, and still winning. Adding this wrinkle in such a stacked season raises some concerns for me, but hopefully, the contestants that return from the "edge of extinction" don't spend too much time away from the main action.
Fire tokens are another new element added to this season's game. Each player starts with one token and has the opportunity to earn additional tokens throughout the game. Those who are voted out pass their tokens to a player of their choice. This currency can be used to buy food, supplies, or other advantages in the game. The addition of fire tokens adds yet another layer of complexity to this year's game.
All in all, I encourage those who have never watched Survivor to tune into this season. You'll get the opportunity to watch the best players try to outmaneuver each other to win a grand prize. This season's gameplay is bound to be legendary and will keep you on the edge of your seat every Wednesday night. Survivor: Winners at War is certainly going to be a season like none other.
Leave a Comment