High school football returns to Minnesota
October 21, 2020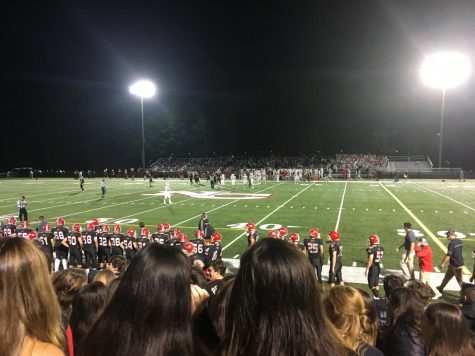 After a super tough decision by the Minnesota State High School League, it was confirmed that football in the state of Minnesota was not going to have a fall season. The decision to do this affected every high school in Minnesota. One thing that was for certain was that one of the greatest pastimes for high schools in the fall was to be taken away. No Friday night lights meant no school pride for some, however high school was already very different due to the COVID-19 pandemic. 
This did not stop most people from fighting this decision. Although it was the safest decision at the time, there were methods to increase the health and safety of the players. Taking away the football season was not ending the world, but it was evident that it took away some light for seniors and their families to watch them strap up the pads for their hometown and represent their town with pride. 
The MSHSL's decision to postpone the season was not final. Due to many upset people, the members of MSHSL heard the complaints and started revising their plan for the football season. After many weeks of tough decisions being made, MSHSL came up with an announcement. They had announced that the season was to be reinstated and the boys of fall would finally get the season they had been hoping for. 
With the first few weeks of games underway, things started to feel a little bit more normal for Minnesota high schools. It was great to hear that my hometown of Waconia, Minnesota, would be playing football games again. I sat down with former Waconia Wildcat Will Koppi to discuss his thoughts on the 2020 high school football season. He is now a wide receiver for the Mankato Mavericks, in his second season. 
How did you feel about MSHSL's decision to originally not have a football season in the Fall?
Koppi: First of all I understand where the MSHSL is coming from, but I did not agree with the original decision. If you look at states like Iowa and the Dakotas, they were playing from the beginning and they were doing it safely, so what difference would it make for Minnesota. 
Do you feel they made the right decision to reinstate the football season this Fall?
Koppi:  I agree they made the right decision reinstating it because for a lot of the kids, they are playing their last football games for probably the rest of their lives. 
"
I agree they made the right decision reinstating it because for a lot of the kids, they are playing their last football games for probably the rest of their lives.
— Will Koppi
Lastly, do you think there will be any more future challenges for high school football in the near future in regards to the COVID-19 pandemic?
Koppi: In the future as well, I'm concerned about teams that have players testing positive because once a few teams get it and games have to get canceled, the MSHSL might shut down the season again. 
With the high school football season finally getting their late start, it is safe to say that the boys of fall are back. The MSHSL approved for the football season to last 10 full weeks, with no less than six games for the regular season. This gives high schools four weeks to schedule more games or take weeks off due to positive COVID-19 tests or an extra week of practice. I think this was a safe decision by the MSHSL. 
Playoffs will be discussed in later October in regards to if they will have them or not. As of right now, I think they will approve of playoffs for high schools. The one downside to this decision is that it will not be a full 3-4 weeks of playoffs. It will most likely be just a two-week playoffs, however this will still be up for discussion with the weeks to come. 
With the COVID-19 pandemic still in full swing, there will still be a risk of teams and high schools getting exposed to COVID-19. Due to the limited number of fans that will be able to attend high school games, this should not be a huge risk for people who are not at a high risk of being exposed to COVID-19. 
I think that this is a huge breakthrough for all of Minnesota high schools. For the seniors to be able to have the experience of playing one more year with the kids that they grew up with, I think that this was a great decision by the MSHSL.