France and Italy Dive Back into Lockdown
November 4, 2020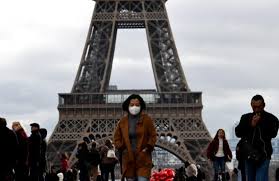 On the dawn of the election in the United States, a resurgence of the coronavirus strikes in Europe. France and Italy have started seeing cases and death rates rise again, prompting their governments to impose a strict lockdowns on their citizens. The question that is starting to be asked is whether the United States follow in France and Italy's footsteps and lockdown the country again. Since the beginning of the pandemic, U.S. experts have looked abroad, specifically at Europe, to anticipate what will come to our country. As these two countries have started their second lockdowns, let's see what rules and precautions are put into place that could potentially creep into the United States.
France entered into its harsh lockdown on the evening of October 30. Many of the regulations put in place have been seen before. The people of France are allowed to leave their home only to go to work, buy essential goods, or seek medical help. Unlike what we experienced, everyone found outside during this lockdown must have a written note saying where they were going and the reason for going; without that, people could face fines or jail time. All non-essential shops, restaurants and bars are shut down while schools and daycares can remain open. Like what we have seen in the United States, social gatherings have been put to a stop, with a pending 9 p.m. curfew. All these restrictions are to remain in place until at least December 1, causing some unrest in France. France's President, Emanuel Macron, issued a statement: "People were excited to do this together [the first time around], but the consensus is that people are fed up and a bit sad to go through it again." The worry this time around is when will it end, and will people follow the government's mandates.
"
People were excited to do this together [the first time around], but the consensus is that people are fed up and a bit sad to go through it again."
— Emanuel Macron
Italy's lockdown restrictions look much different than France's and are set to go into effect on November 4. The country will be divided into three different zones, depending on the severity of cases and death rates. In the red zones, all bars and restaurants and most shops will close their doors to contain spread of the coronavirus, but essential services such as grocery stores and pharmacies can remain open. The orange zones are almost identical with the exception of salons and beauty parlors to remain open. Green zones allow bars and restaurants to stay open until 6 p.m. and highly discourage social gatherings such as weddings and funerals. Italy already has a mask mandate in place, saying masks are to be worn both indoors and outdoors with the exception of private homes. One major difference in Italy's new measure was the decision to close schools and to switch fully to remote learning.
Now the focus switches to what is going to happen to the United States as we come into the opening months of winter. With the five-month lockdown in most of the U.S., people missed human contact through isolation from the rest of society. We have seen demonstrations across our country and numerous others, protesting the economic, social, and cultural feasibility of these lockdowns. People suspect that in Biden's America, the country will dive back into lockdown as well, as U.S. cases are starting to surge again. However, rising cases do not mean the virus is winning. It is strictly parallel to the increasing testing infrastructure that the U.S., France, and Italy have ramped up in the past months.
Since the start of the pandemic, Europe has been one step ahead of the U.S. in making decisions. Europe has set the precedent for containing the virus and for the most part, America has followed suit. As Americans become more and more frustrated with the continuous lockdowns, what will happen next is up in the air.