Big Ten Football playing through Covid-19
November 4, 2020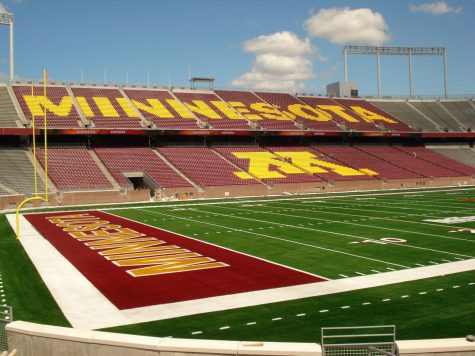 It was a really great sight to see Big Ten Football starting back up this college football season. Although it does not quite feel the same, seeing the Maroon and Gold taking the field representing our great University was uplifting to watch. Evidently, the whole nation is still battling Covid-19, so for the University of Minnesota there are small amounts of people that actually get to watch Big Ten Football in person. It is evident that the football season is not the same, and that there are many difficulties that are still holding football back from that authentic college football feeling. 
There are still many things besides the fans that pull that authentic feeling away from this year. Head coaches wearing masks, socially distanced meetings and practices, and a fixed schedule that does not allow games between two different conferences. After the first two weeks, we have seen that there have been more upsets and close games than the average college football season. This has been a positive aspect of this year's football season, but there are many more downsides to this year's season.
The University of Minnesota's football team is off to a struggling 0-2 start after their first two games. The Gophers football team is facing two 0-2 teams in their next battles. These next two games will not come easy, but I think it will be a positive difference from the first two games. The Gophers did not expect their first two games to go as planned, but the good thing is that there are still a lot of games to be played. With no fans being able to attend games, the Gophers will have to find other ways to channel their energy into a Gopher win.
With there being no official end in sight at the moment in regards to Covid-19, championship football teams will have to find new ways to become victorious. This could be the way college football is for the next few seasons, so things will have to change in many ways. Recruitment will have a whole new challenge with Covid-19 being present as well. With high schools around the country having different playing policies,the recruiting process will be different for all players and coaches in college football. 
"
Minnesota Gopher football has other challenges on top of a different look to recruiting."
Minnesota Gopher football has other challenges on top of a different look to recruiting. With socially distanced player meetings and practices, preparing for the next opponent can also be tough. With the football team complying with university, state, and national guidelines, practices can be tougher due to the reduced level of contact. This can be seen as a hardship because the football team can not practice like they did in the past. 
There is one issue this year in college football that has affected teams and players more than anything else this year: members of the team testing positive for Covid-19. This is quite possibly the biggest impact on college football teams this year. When a member of the team tests positive for Covid-19, that person has to go through many protocols before being cleared to practice, play, and rejoin the team in their usual manner. 
The biggest name to test positive for Covid-19 in the Big Ten is Wisconsin's quarterback Graham Mertz. He was not the only member of the Wisconsin Badgers football team to test positive for the virus, however, Wisconsin had to cancel their second and third game of the season due to players testing positive for Covid-19. In Mertz' first game with Badgers, he threw for five touchdown passes in a major blowout to Illinois, with a score of 45-7. 
Due to the Badgers cancelling two games this season (so far), not only does this affect them, but this affects the entire Big Ten conference. That is two teams that did not get to play against them. This probably will not be the only two Big Ten games to be cancelled this year, but there is one thing that I know for sure: College Football this year and for possibly years to come will see new changes and we will have to do our best as viewers to understand and comply with Universities and the NCAA.