Borat Subsequent Moviefilm
November 5, 2020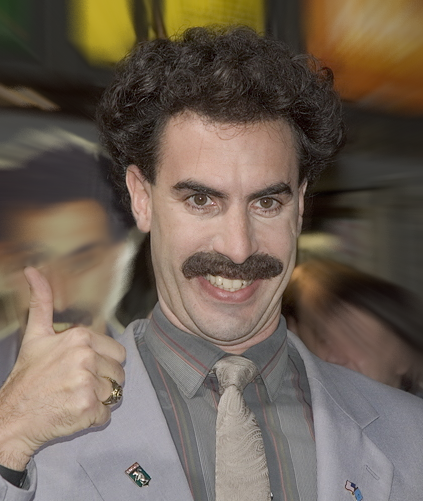 Sacha Baron Cohen is known for his comedic presence throughout the globe.  Being among the highest-earning British actors in the world with the likes of Daniel Radcliffe, Rowan Atkinson, and a plethora of other successful actors, it is no surprise that Cohen's new movie has attracted widespread attention.
One of Cohen's most successful projects in his career is Borat (2006).  Borat brought in 262.6 million dollars at the box office.  Other works include Bruno, The Dictator, and Ali-G.  Borat has become a widely known character throughout the U.S.  appearing on talk shows regularly.
An element of all of Cohen's work is using different cultures, beliefs, and values to create his characters and plots for his movies.  He then will use the different aspects of his convincing characters to get real interviews with unsuspecting people.  Borat is a Kazakh journalist who travels to the United States to document the lives of Americans and often their controversial views.  When people meet Borat in his movies they are often shocked at Borat's crude language and actions, leading to a hilarious scene.
While the first Borat movie was centered around Borat traveling across the country in pursuit of Pamala Anderson, his true love, "Borat Subsequent Movie film" was centered around President Donald Trump and First Lady Melania Trump.  This plot is not a big surprise coming from Cohen who often speaks out against not only Trump but also Conservative in general as seen in his recent show "Who is America?".
The beginning of "Borat Subsequent Movie film: Delivery of Prodigious Bribe to American Regime for Make Benefit Once Glorious Nation of Kazakhstan" brings viewers back to the original Kazakh village that Borat is from where he describes all the hatred he received from Kazakhstan.  This opening scene seemed like a joke toward the people that believed he was making fun of the country of Kazakhstan in his original "Borat" movie.
A refreshing aspect of this movie is the timeline when it takes place.  This whole movie was shot during the pandemic so much of the movie contains very recent events.  Cohen kept this movie a secret until mid-September when this movie was still being made with only a month until the release date.  This secrecy was so important for this movie because Borat is a massive character in the comedy world, and if people knew their was another movie in the making it would compromise Cohen's character.
Cohen had an extreme dedication to his character taking extreme risks for his scenes.  In one part of the movie, Cohen actually stayed with two men for five days at the beginning of the COVID-19 pandemic.  He also allegedly sat in a bathroom for five hours just so he could crash a Mike Pence event disguised in a Donald Trump costume.
In one of the main scenes towards the end of the movie, Cohen took his Borat character to the extreme.  Borat was disguised as a different man before this interview with the former mayor of New York City, Rudy Giuliani.  Borat had his daughter talk to Giuliani as the interviewer and casually flirting with Giuliani which he seemed to like.  Later on in the scene, Tutar, Borat's daughter, takes Giuliani back to the bedroom.  Giuliani is then seen reaching down his pants while laying on the bed just before Borat intruded on the situation.  Giuliani later just claimed he was fixing his shirt which many believe is false.
Overall, "Borat Subsequent Movie film" has many funny scenes that leave viewers reminiscing about the original "Borat" film.  There are some scenes, though, that seem forced with acting to fit the plot which contrasts from Cohen's other films.  "Borat Subsequent Movie film" has received mixed reviews from critics receiving an 86% on Rotten Tomatoes.  Some people did not like the comedy in this film with one top critic on Rotten Tomatoes saying, "A feature-length exercise in gratuitous insult and unpleasantness, it illuminates almost nothing about America that we don't already see in mainstream and social media every day."
Unfortunately, this is probably the last time we will see the beloved "Borat" character in a full-length film.  While this film likely triggered some viewers because of the plot, Cohen always finds a way to make viewers smile.  Sometimes comedy is important to take the stress of the current situation and Borat was able to successfully do that.