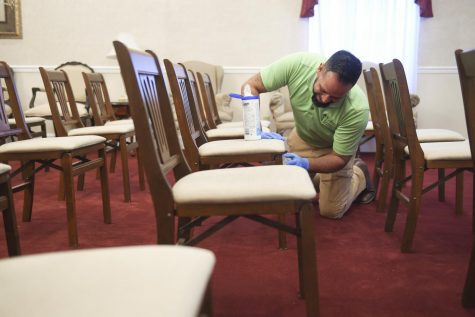 Covid-19's impact on the funeral industry
January 28, 2021
Covid-19 has greatly impacted the lives of individuals all around the world, but some of the most drastic changes during this unusual time are in the funeral industry. Grieving is a usual part of losing a loved one. While the act of grieving is usually normalized differently from culture to culture, Western society strongly accepts and encourages public grieving. This is done today in many ways such as monuments and Facebook posts, yet with social distancing and state laws, we miss out on the most common and important way of public grief: funeral services.
Although laws stepped in the way of normal funeral traditions, a pandemic only led to more bereaved families than in previous years. With this, the funeral industry had to adapt to new laws rapidly over a very short time period.
The state of Michigan limited indoor services to ten people and outdoor burials to a socially distanced one hundred. Other places like Italy simply chose to outlaw funerals all together to avoid discrepancies among families.
These extreme and strange circumstances led to lots of additions and shifts in the way funeral services and visitations were able to take place. For starters, live-streaming funerals became a bigger deal than ever with restrictions. Even though a lot of funeral homes had previously offered these services, they quickly became normalized and are an easy way for loved ones living far away and those of the older generation to have a sense of presence and support while they were unable to physically be there. This addition to the funeral industry could very likely continue onward into the future past the pandemic as our reliance on and acceptance toward technology has grown heavily in recent months.
Despite funeral services and visitations having a history of strong religious affiliations, a majority of services shifted back to the churches during covid. Each church varies in their direct response to how they choose to handle the pandemic with their services, but the separation between church and state in the first clause in the Bill of Rights allows for religious exceptions to state laws. This provides services with a more spread-out concept as well as the opportunity for families to have more physical support from friends when they need it most.
Above all, morticians have definitely seen an increase in the workloads over the past year.
James Jefferson, owner of Mississippi's oldest black owned funeral home, said, "The funeral home has seen at least a thirty percent increase in services since the outbreak began last March." The owner even had to go as far as purchasing an extra refrigerator to keep up with the unexpected demand.
The embalming process ensures that all diseases, including corona, are terminated from the body; however, the job is still very hazardous with contact possibilities during this time. This is especially bad for smaller funeral homes that have as little as one funeral director helping them operate. If a short-staffed funeral home loses just one vital employee, they could be forced to have to close down for two weeks, which is very problematic in an area experiencing such high demand right now.
While so much has changed over the course of the past year, the funeral industry will likely be affected for many years to follow and does not seem to be appearing back to the normal we once had any time soon.