Tom Brady gets his seventh Super Bowl ring
February 10, 2021
When asked, "What's your favorite Super Bowl win?" Tom Brady always responds, "The next one." Well, he's done it again. Whether we finally started to realize the next few years may be dominated by a super team or we see history made with most Super Bowl rings in possession, we all knew that Super Bowl LV was going to be special. As it was head to head against two of the arguably best quarterbacks in the NFL, fans were all assuming a shootout. The Tampa Bay Buccaneers bested the Kansas City Chiefs, 31-9, on Feb 7 at Raymond James Stadium. Buccaneers quarterback Tom Brady had himself a heck of a game, throwing 21-29 for 201 yards and three touchdowns.
Chiefs Quarterback Patrick Mahomes had himself a wild night, but not in a good way. While he did throw for 270 yards, Mahomes had no touchdowns. Not just that, but he also threw two interceptions, one to former Minnesota Gopher alumnus Antoine Winfield Jr. and the other to linebacker and captain Devin White. In the first half alone, the Chiefs committed eight penalties for 95 yards, and Mahomes accounted for only 67 passing yards in the first half.
Mahomes definitely had some struggle with the defense almost all night, in fact, Mahomes actually ran for a combined 497 yards. While scrambling shows how prevalent the Buccaneer defense was in both pass rush and pass coverage. Mahomes wasn't going out without a fight, but was continually looking for help from his receivers, as he threw multiple incompletions that touched the receivers hands, and a few of them through the hands to the face mask. It seemed as if Kansas City didn't come to play. "Obviously I didn't play the way I wanted to play, but I mean what else can you say, all you can do is leave everything you have on the field," said Mahomes at a post-game interview.
"
Obviously I didn't play the way I wanted to play, but I mean what else can you say, all you can do is leave everything you have on the field,
— Mahomes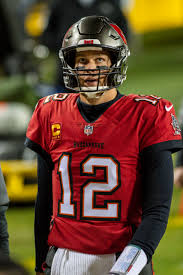 He was almost shocked after the game by the way everything happened and the performance of him and his team. He said it's "the worst I've been beaten in a long time " and that's true, as that was the first time since high school that Mahomes' team has been unable to score a touchdown during a game where he was a starter. You know what they say, never bet against Tom Brady. Want to know why he's called the GOAT? Well, there's a few reasons, to give you an understanding of how good this man is, I'll throw out a few stats.
Without counting the season Brady missed due to a torn ACL, this was his twentieth season, and tenth Super Bowl Appearance, that's a 50% chance his team is one of the two. Steph Curry, arguably the best 3-point shooter in the NBA, has a 43% chance of making a three. This means Tom Brady has a higher likelihood of making it to a Super Bowl than Steph does of making a three. In his first season with the Buccaneers, he is already the franchise leader in playoff passing touchdowns at seven, and has just as many postseason wins as the Buccaneers entire franchise history. When head coach Bruce Arians recruited Brady, he may have been in for a surprise at what comes along when you get him on your team. Brady was quickly able to get former NFL star Rob Gronkowski (who had two, first-half touchdown passes) to come out of retirement and down to Tampa.
Along with Gronk, Tom was able to get former Pittsburgh Steelers star Antonio Brown (who also had a touchdown catch in Super Bowl LV) to play alongside and catch passes from Brady. Tom really moved into Tampa and started treating it like his new home, as that's exactly what Arians wanted. For Tom to do his thing. Brady let the public know after his win that he plans to return next season and can see himself playing past age 45.