College Basketball is Back
December 1, 2021
It has been about a month since college basketball has been back and there have already been crazy games, crazy stories, and the best part crazy atmospheres. 
The first week of college basketball had some big-time games with tournament implications. The unanimous number one team the Gonzaga Bulldogs looked to pick up right where they left off beating Texas and handling number two UCLA by twenty points.  Another top team the Duke Blue Devils look to hang a banner in legendary coach Mike Krzyzewski's last season. Duke handled number ten Kentucky in the first game of the season and looks like a team that can definitely make a deep run in the tournament. 
Duke has had a hectic first month off the court as well with star player Paolo Banchero and Michael Saverino being pulled over for driving under the influence. Saverino is Krzyzewski's grandson and no punishments have been handed out as of yet.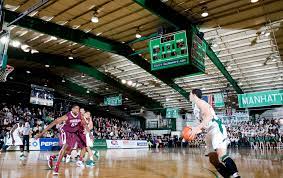 Purdue has remained perfect throughout the month and looks like the unquestioned top team in the Big Ten. Their frontcourt will be a challenge for anyone they play this season.
Reigning champ Baylor looks like they reloaded after losing many key players from their championship season but their defense is stifling and they will definitely be in the consideration for a number one seed by tournament time.
A dark horse team that is looking to make a name for themselves this year is the Memphis Tigers. The Tigers are coached by former NBA superstar Penny Hardaway and brought in one of the top recruiting classes in the nation led by the 2022 number one recruit Emoni Bates and five-star Jalen Duren. They will need to find consistent guard play in order to make a run but if they can they will be a tough out for any team they play in the tournament. 
We have already seen some fantastic games this month and none were better than number one Gonzaga vs number three Duke. The game was headlined by freshmen superstars Chet Holmgren for Gonzaga and Paolo Banchero for Duke. The game was back and forth the entire way and Duke surprised a lot of people by showing that they can take Gonzaga's punches and keep fighting. Every time Gonzaga would go on a run Duke would answer right back and eventually became too much for Gonzaga to handle and won the game 84-81 in what many were already calling the game of the year. 
Not to be upstaged by Gonzaga-Duke on Tuesday, November 30th Syracuse battled Indiana in a double-overtime thriller. Syracuse looked dominant in the first half and took a sixteen-point lead at the half. Indiana bounced back in the second half shooting much better from beyond the arc to battle back and tie the game with 0.8 seconds left to send it to overtime. Syracuse jumped to an early lead and Indiana again battled back to tie the game at the buzzer in the first overtime to send it to a second. But in the second overtime, Buddy Boeheim became too much for Indiana scoring 8 straight points to finally put this game to an end with Syracuse on top 112-110. 
There are some big-time stars playing in college basketball this year but not all of them have had the start to the season that many expected. Gonzaga big man Chet Holmgren was the number one recruit in the nation for the class of 2021. His skill set is something that has never really been seen before in college basketball. He is a seven-footer with extremely long arms who is a tremendous shot blocker but he is also a ball-handler who can shoot the ball beyond the arc. Chet has struggled a bit this year on the offensive end of the floor, he is not looking to be assertive and be the team's top scorer which could be Gonzaga's plan but it leads to Holmgren sometimes getting lost on the stat sheet. He also does seem to have a little trouble with legit big men, physicality was a worry for Holmgren coming out of high school and he is going to have to get a bit stronger to be able to defend some of the big men that are in college basketball this year.
"
There are some big-time stars playing in college basketball this year but not all of them have had the start to the season that many expected
— Jake Miller
Dukes freshman star Paolo Banchero has had an excellent start to the season and looks like a bonafide lottery pick. He is a big man who plays like a guard and has elite athleticism. He has had some injury concerns this year and has dealt with cramps almost every game. He said that he loses about 8 pounds a game when he plays so that will be a concern for Duke in big-time games if he has to come out with cramps. 
College basketball is already off to a crazy start and there will no doubt be more craziness to come as the season progresses.