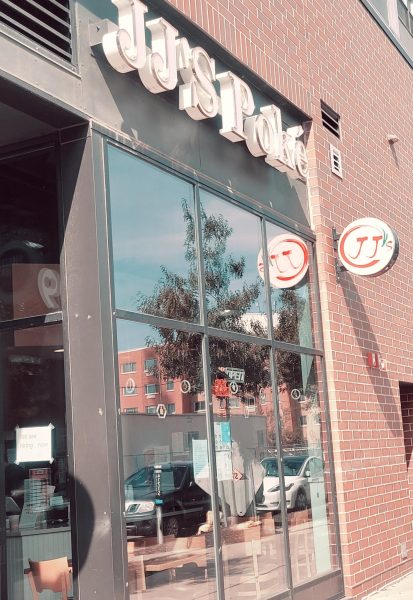 JJ's Poke is a Hawaiian poke restaurant located in Dinkytown. It's located adjacent to the Target department store, at the corner of 5th street and 14th Avenue.
JJ's Poke is definitely on the north end of Dinkytown, but it's still right next to campus! Plenty of bus lines are able to take you only a few blocks away from JJ's Poke as well!
As advertised by the restaurant's website, the Hawaiian word "poke" means "chunk". This is because of the cubed fish that accompanies a poke bowl. A poke bowl commonly comes with a base, such as white rice, a variety of toppings, protein in the form of seafood, and sweet or creamy sauces.
A poke bowl often comes with a bed of rice, fish, and then a variety of vegetables, all mixed into a bowl. Poke bowls can be a healthy and convenient meal. This can be a refreshing change of pace from grilled or fried fast food options located around campus. JJ's offers a variety of great combinations. However, you can also make your own bowl with the ingredients that you like.
JJ's Poke offers a wide selection of fresh fish. Some options include salmon or ahi tuna, staples of poke bowls, but JJ's also offers a diverse selection of scallop, shrimp, yellowtail, and tofu. On top of that, JJ's offers an even more diverse selection of toppings. Common toppings include cucumber, avocado, or cabbage, but these are just some of the fifteen options. Oftentimes people will add sauces to help spice up their poke bowl, such as garlic soy yuzu sauce or creamy wasabi mayo.
If you're lost in the variety of combos one could make, JJ's has five signature bowls with great combinations. I really enjoyed the "Season Lover Bowl", which included rich seasoned tuna and their spicy Cajun mayo.  Otherwise, I know I love getting cooked shrimp and scallops if I want to build my own bowl towards my own preferences.
On top of that, JJ's also offers warm bowls of ramen. These include staples such as tonkotsu ramen and miso ramen. On top of all these, JJ's offers plenty of vegetarian and vegan options for their ramen dishes, poke bowls, and appetizers. If you're not vegetarian and you're not interested in seafood, JJ's Poke is also able to make rice bowls with chicken, steak, and pork. These rice bowls are just as tasty as their poke bowls, but provide a more hardy option.
Compared to other restaurants in Dinkytown, JJ's Poke offers a quality and healthy option. JJ's also finds itself filling a delicious and much needed niche. Poke bowl restaurants can be found around the cities, but none are as conveniently located to campus as JJ's Poke is.
Additionally, JJ's has been able to fill the need for a convenient ramen location, as Ichido Ramen, an old Dinkytown staple has been gone for some time now and other ramen restaurants are not nearly as close.
My experience with JJ's Poke has been excellent! They offer a refreshing alternative to greasy fast food, unsatisfying salads, or regular sit down restaurants. I've consistently enjoyed quality dishes at JJ's Poke.
In conclusion, JJ's Poke is very fast and efficient.  I'm able to order my bowl and get it in only a few minutes. They also serve JJ's Poke in convenient little take out bowls, so you can take your poke bowl on the go if dining in isn't what you're looking for. Overall, I would definitely go again!