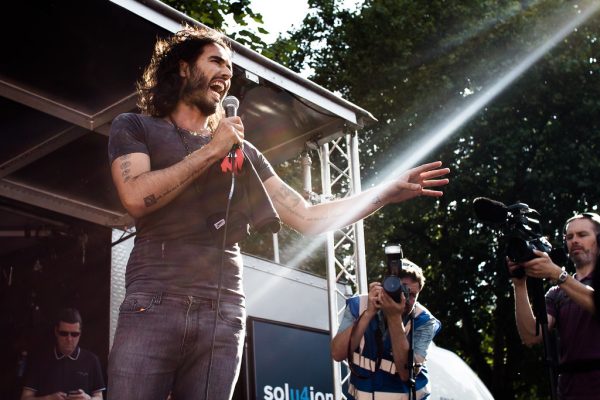 Recent news has brought prior actor and celebrity Russell Brand to the forefront of many media outlets. Brand has been accused of rape and sexual assault dating as far back as 2007. This took place when Brand was in the midst of working for the BBC, Channel 4, as well as starring in several Hollywood films, including one of my favorites: Bedtime Stories. After abandoning his time in Hollywood, Brand moved on to amass a very large social media following, including over 6.5 million subscribers on YouTube. 
Brand has denied the allegations, yet many of the media outlets he uses have banned him from receiving any ad revenue off of his channels. Interestingly, Brand received an email notification moments prior to the news breaking and released a three minute YouTube video describing what was going to happen to him. Sure enough, only hours later, legacy media had the story blasted across the web. Additionally, Channel 4 released a documentary titled Russell Brand: In Plain Sight. The description of the documentary reads "Dispatches investigates Russell Brand's treatment of women." Quite the opportune to release a documentary like this. 
As one of Brand's subscribers, I hold a few opinions on the matter. In my time at the Minnesota Republic, I have published several articles covering one of Brand's friends and beneficial adversaries, Jordan Peterson. The two have captured my attention because they both speak out on issues that are rarely, if ever discussed on traditional legacy news channels. Peterson has been labeled a Nazi, bigot, and many other derogatory names. Brand has often been described as a conspiracy theorist. So why am I so attracted to the messages of those who have been described as inflammatory or discriminatory? Because they seem to have the experience and evidence to back up their claims. 
I have also published an article on Andrew Tate, who faced the same accusations that now face Brand. Tate is clearly much more provocative than Brand or Peterson, but I would say their messages overlap more than they differ. They all speak about having a healthy sense of skepticism regarding the stories that we are told. They speak on issues that others are afraid to cover. I have listened extensively to podcasts, videos, and short clips from these three men, and although they may not always be correct (who is?), they all have a common thread: think for yourself. 
So why bring these stories together? All of these men have been accused of something that objectively makes their lives harder. Are the accusations true? Maybe, but maybe not. Tate spent 93 days in jail without a charge, on accusations of sex-trafficking and rape. Then he was released on house arrest.
Peterson has been accused of endangering the lives of his clients, and bringing shame to the clinical psychology field, and has been made to take a "re-education" course that will not end until the Ontario psychologists regulatory body deem him "educated" enough to have a voice on social media (and he has to pay for the course). They may also revoke his clinical license.
Brand, who provides alternative information from the mainstream agenda is being accused of sexual assault and rape, will now have to undergo legal battles in order to clear his name. Should the accusations be proved true, then he should do his time. But for now, I believe in innocence until proven guilty. 
"
"I think it is interesting that all of these people would wait this long to formally accuse someone if they actually did it. Combining that fact with the documentary released right after the accusations seems a bit more than coincidental."
— Marko Mirkovic, Student
Maybe I am a conspiracy theorist, and maybe I should believe everything I am told on the news. Everything comes with a dose of skepticism, including my own beliefs. However, I can't help but think that, maybe, someone is after these people. Why would those who overall have inspiring and thought provocative ideas be censored? Are their messages truly degrading, misleading, or dangerous?
After listening to people like this in long form conversations, debates, and solo podcasts, I don't believe that to be true. It seems much more plausible that something deeper is going on, and there are some organizations out there that are pulling strings. The individuals in these organizations may have good intentions at heart but may not realize the depth of the issue. It seems that many people who oppose the "red pill" side of the media rarely have listened for extended periods. They have seen short clips, often out of context, and return to their habits of believing what they are told.
I encourage others to listen to what people on this side of the media are saying. Just listen, don't believe, but think.