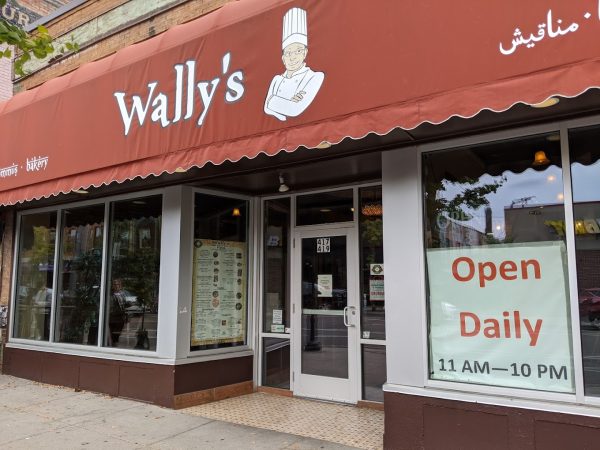 If you are looking for a Mediterranean retreat in Minneapolis, I recommend checking out Wally's in Dinkytown. It offers a range of assorted dishes from shawarma to salads to desserts to satisfy your hungry palate craving for healthy yet delicious and flavorful food at affordable rates. The address of the establishment is 417 14th Ave SE, near the Target store in Dinkytown.
The restaurant opens to its guests with an authentic Arabic setup blended well with the Arabic music that teleports you to an authentic experience for a while. The restaurant is decorated with traditional lamps and the laminated tabletops are adorned with the cuts of the town and marketplaces of the Middle East. Pictures of the beautiful land remind us of its rich history and beauty to appreciate, which the restaurant translates into its food.
What compelled me to write a review on Wally's was its genuine cuisine. Having lived in Abu Dhabi for some time, I can assure you of its authentic taste and quality. I tried The Holy Land in Nordeast when I arrived here, but that failed to impress me due to the Americanization of its food, which is sparse on spices, thus diminishing its flavorful taste.
At Wally's, I tried Saj Chicken Shawarma and a half-grilled chicken plate on two occasions. On both occasions, it well surpassed my expectations in both taste and quality, which I find at par with the ones served in Arab countries. "Saj," which in Arabic, means a cooking grill shaped like a dome with fire underneath it, is traditionally used to cook fresh flatbreads. The half-grilled chicken plate comes with flavorful, yellow basmati rice with well-cooked succulent and marinated bone-in chicken. It is served with garlic and tahini sauce with each. Instead of rice, the chicken can also be combined with either fries, hummus, or two pita breads.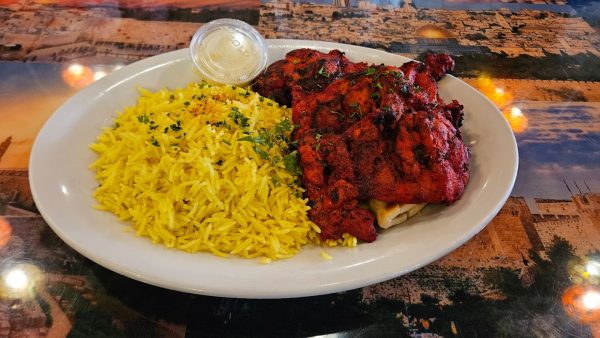 The restaurant is named after its owner, Wally Sakallah, who immigrated from the Middle East and worked hard with his family members to make it a success story in the D-town. He and his family personally believe in maintaining the traditional standards in preparing their food items, so that they taste the same as back in their home country. That's why the restaurant maintains its authenticity.
I interviewed a staff member who suggested trying a chicken shawarma sandwich as a part of the restaurant's best-selling sandwich range. The sandwich is made of sliced chicken shawarma, pickles, fried potato, and garlic sauce wrapped together in a thin pita bread. He also recommended hummus, both plain and deluxe (deluxe includes fried eggplant, potato, and cauliflower). The falafel sandwich was also a vegetarian option. The falafel sandwich is made of falafel balls, hummus, and vegetables wrapped in a thin pita bread.  Chicken shawarma plates and the Wally's feast can be chosen as entrée options.
Kunafa, a traditional Middle Eastern pastry, made of cheese and sugar, garnished with pistachio, is available on special request as it is off the main food menu.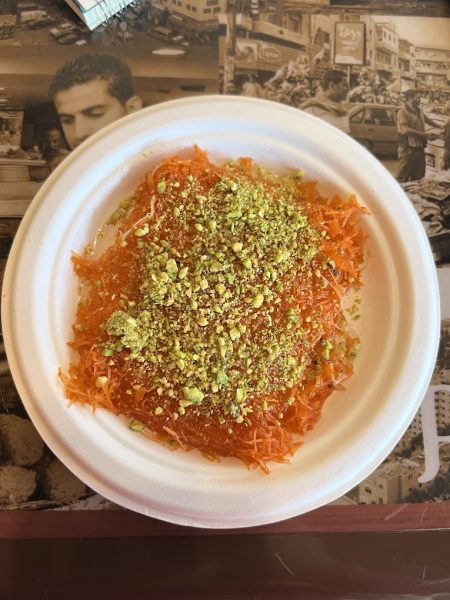 On a lighter note, one can try a refreshing range of salads, like their special Wally's salad.
There is a separate menu for the kids with shawarma, gyro meat, and kebabs mixed with savory potato fries. The place doesn't only offer food but a holistic experience of its culture and hospitality, and the restaurant is a must-visit for people who wish to try something different, delicious, and healthy.
I would rate Wally's five on a scale of five based on taste, authenticity, and price.