Walker Offers Bold Message at CPAC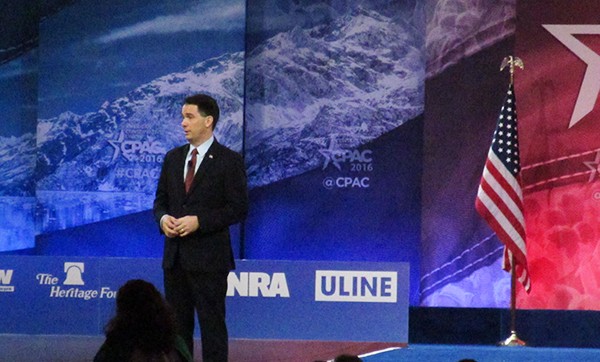 Former presidential candidate and current Wisconsin Governor Scott Walker opened up the 2016 Conservative Political Action Conference Thursday morning in the Potomac Ballroom.
In typical Walker fashion, he offered a bold a message to the audience. He began his speech with a quote by Ronald Reagan, "We should all remember the federal government did not create the states, the states created the federal government, invoking the idea that our founders intended government decisions to be made by those closest to the people.
Walker argues that the conservative movement is alive and well in states across this country. There are currently 33 sitting Republican governors, and he believes that states like Montana, Vermont, and West Virginia could elect Republican governors this coming fall. It is Walker's belief that the reason state governments are full of conservatives is that conservative policies work. Walkerstates: "Good policy makes good politics."
Walker cites his success as governor as due to not running to the middle. "We laid out a clear and common sense plan" and "we got government out of the way," to tackle fiscal problems, stated Walker.
The overall tone of Walker's speech was very positive, despite his very public disdain for the state of the presidential race and current race leader Donald J. Trump.
Walker stated conservatives can't give up because the state of their movement depends on its members continuing to fight for conservative values, principles, ad policies. He ended his speech bolding asserting, "[Democrats] believe in the government, we believe in the individual."
Walker gained national attention in 2010 during his first term when he signed Act 10, a bill dramatically decreasing the power of the what some call the "third rail of government:" public sector unions. Since then, Walker has focused his efforts on being a fiscal hawk, and improving the economic conditions of the dairy state.
Walker's talk resonated well with the audience that packed the Potomac Ballroom at the Gaylord Convention Center. It is clear that optimism, enthusiasm, and boldness is what conservative activists prefer, rather than the dreadful "sky is falling" approach utilized by some individuals in the presidential race.