Cruz Cruises Into Des Moines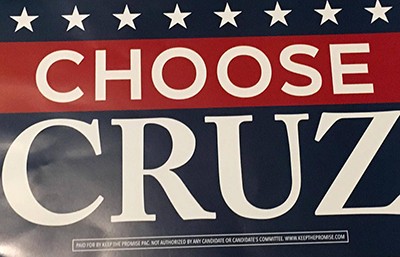 With just one day to the Iowa Caucuses, the Elwell Center at the Iowa State Fairgrounds in Des Moines was completely filled to see GOP presidential candidate Senator Ted Cruz speak Sunday night.
A long list of speakers took to the stage to thank the crowd for coming out and to urge them to caucus tomorrow night in support of Cruz.Representative Steve King of Iowa and Heidi Cruz were the most notable of the speakers who preceded the Texas Senator, and each stressed Cruz's consistency as a conservative.
Once introduced, Cruz focused on conveying to the audience his conservative credentials. Cruz promised that day one of his presidency would be marked by immediate action.
"I'll repeal every illegal executive order President Obama signed," said Cruz, "I'll sign an order instructing Justice Department to investigate Planned Parenthood for criminal violations"
In addition to discussing his conservative record, he told the audience not to judge any candidate by their words. Referencing the Bible, Cruz told his audience to focus on the "fruits" that politicians bear, rather than their rhetoric.
Cruz passionately finished his speech by arguing that the United States can once again be "the city on the hill" and a beacon of light to the world. In a personal plea to the audience, Cruz asked for prayer for his campaign, citing 2Chronicles 7:14 which states: "Then if my people who are called by my name will humble themselves and pray and seek my face and turn from their wicked ways, I will hear from heaven and will forgive their sins and restore their land."
Following his speech, Ted Cruz jumped down from the stage and shook hands and took pictures with attendees for roughly 25 minutes. Country music blared as attendees pushed each other, relentlessly trying to shake the hand of Cruz who was slowly being ushered out of the room by security.
Even though most people were receptive to Cruz's message and the idea of his candidacy at the event, others remained skeptical.
Arden Jurskis, an Emmerson College student stated, "I have a lot of problems with Ted Cruz, and I'm here because I want to laugh."
Jurskis possessed the same dislike for other GOP candidates, stating, "I'm convinced Carly Fiorina is a Robot."
Anthony, who declined to give his last name, is an Illinois transplant now living in Iowa. He took a much different approach to Cruz than Jurskis. Anthony stated that he is supporting Cruz in his first experience as a caucus goer because, "[Cruz] believes in the constitution." In addition, Anthony mentioned that he likes Cruz's stance on ethanol subsidies, asserting, "The government shouldn't be doling out money to companies, and picking winners and losers."