Lil Pump is No More Than a Disappointment
Lil Pump has been some kind of an enigma since his introduction into the rap scene. His short, intense, tasteless music has reached both the top of the charts and the bottom of critics' trash bins. Despite having massive commercial success for someone who has no business even seeing the Billboard charts, Lil Pump is a great disappointment.
I didn't always hate Gazzy Garcia aka Lil Pump. In fact, my friends and I were some of the first people to follow his success and appreciate his wild music, similar to Tay K, Tekashi 69 (6ix9ine), or even Smokepurpp. As silly as it sounds, all of these artists had a certain charm, providing stupidly hype music that captured feelings with absolutely no lyrical depth.
Lil Pump's first major music release, the self titled "Lil Pump", managed to meet a very specific and strange set of criteria that made it the perfect Soundcloud rap album. He had it down to a formula: hold the song's duration under 2 minutes & 30 seconds, have a catchy hook and memorable one liners, and utilize hard hitting bass and unique samples that would literally blow your speakers out at half volume. Meet these requirements and you have yourself a Soundcloud rap song, and Lil Pump consistently provided the best Soundcloud had to offer.
Everyone knows "Gucci Gang", but "D Rose", "Flex Like Ouu", "Boss", "Iced Out", etc. were all better songs that would give you short bursts of pure and ignorant energy. They possessed a special charm and were carried by great production, one liners, catchy hooks, and energy. This was Lil Pump when he was actually good at catering to a specific audience.
Ever since his XXL Freshman appearance, Lil Pump has consistently been absolute garbage, even by Soundcloud standards. Arrested four times in 2018 alone, he has proven his success for his age is too much to handle. His Twitter game has become stale, with funny, off the cuff tweets becoming rare. His music has become almost completely commercial. Essentially, the Lil Pump from 2017 is gone and in his place is a complete disappointment.
Instead of sticking with what worked to get him famous, Lil Pump completely deviated from the Soundcloud course to something unoriginal and tasteless. Besides a few standout tracks, "Harverd Dropout" is Lil Pump, but without the entertaining one liners, unique production, or variety of sounds.
"Nu Uh" is literally three different keys played in a simple sequence for just under two minutes, immediately reaching number one on the garbage charts of 2019. "Racks on Racks", a supposed hit single, is him saying racks on racks for over a third of the song. "Off White" is the only song that actually has all the makings of a classic Lil Pump track.
It is sad to see someone who is just 18 completely blow the chance to become financially set with a devoted fan base in just two years. Considering his legal troubles, his constant controversies with his lyrics and tweets, his poor critical reception of his music, and his garbage album rollout, Lil Pump is in some serious trouble. While it may have seemed obvious this was going to happen based on the outcomes of the other Soundcloud rappers that made it big in recent years, it still is disappointing seeing him make every wrong decision he could make. Perhaps Lil Pump should first focus dropping out of the rap game instead of focusing on Harvard.
About the Writer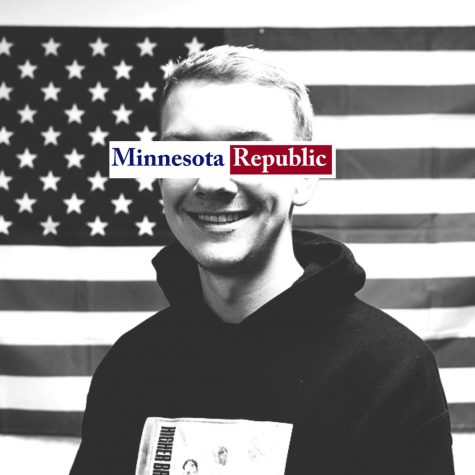 Addison Scufsa, A&E Editor
Addison Scufsa, A&E Editor, is a junior studying geography and supply chain management at The University of Minnesota - Twin Cities. In his free time,...