CUFI Hosts Event on Israel and Africa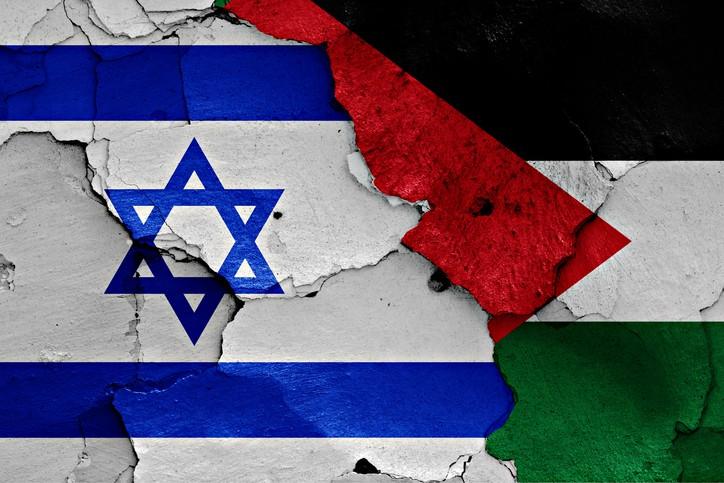 On Thursday, March 23, Dumisani Washington gave a presentation to a group of students and community members in Coffman Memorial Union. The talk centered on Israel's relationship with the African continent, both historically and presently. The event, sponsored by Christians United for Israel, was the third stop on a short university speaking tour by Washington, after speaking at the University of Michigan and Jackson State University.
Dumisani Washington appears to be a busy man.
Washington is Senior Pastor of The Congregation of Zion in Stockton, California. He is also the National Diversity Outreach Coordinator for Christians United for Israel, and he serves as the Director for the Institute for Black Solidarity with Israel. Additionally, Washington is President of the Zion Academy of Music, and he has authored two books—Zionism and the Black Church: Why Standing with Israel Will Be a Defining Issue for Christians of Color In the 21st Century and The Diaspora: Discovering Israel's Multiethnic Identity and Her Prophetic Return to the Land.
Washingtonspoke extensively about the history of relations between African nations and Israel. He went through a detailed history of Israel as it relates to Africa, from before Solomon and Sheba and the Ethiopian Eunuch of the New Testament, to conflicts of the 20th century.
Washington spoke highly of local pastor, Rev. Francis Tabla, whofounded the Africa Night to Honor Israel, which has been held in Minneapolis for several years. He also mentioned San Antonio mega-church pastor John Hagee, who founded Christians United for Israel in 2006. Hagee is quite controversial in the Christian community, as he has run counter to traditional Christian teaching in implying that Jewish people have access to salvation apart from Jesus.
In a Houston Chronicle interview,Hagee said, "I believe that every Gentile person can only come to God through the cross of Christ. I believe that every Jewish person who lives in the light of the Torah, which is the word of God, has a relationship with God and will come to redemption."
Washington then provided a history lesson of Israel from its foundation in 1948. Major events he cited included the Suez Crisis of 1956, the Six-Day War of 1967, the Yom Kippur War of 1973, and the "Zionism is Racism" UN Resolution.
Washington asserted, "Every time you hear about an Arab-Israeli Conflict, it's the same war. What started in '47-'48 continues now. It's not about land; it's not about settlements— it's about the fact that there's a Jewish state."
Washington also spoke out against the Boycott, Divestment, and Sanctions movement and noted that it is currently the largest non-profit organization in South Africa. BDS is a movement devoted to punishing Israel until it meets certain criteria. The movement positions itself as an equality-seeking, humanitarian cause.
Referring to the BDS movement among college students in South Africa, Washington said, "[BDS] is using them as black props while they demonize the only free democracy in the Middle East."
Washington concluded his presentation with a video clip of Israeli Prime Minister Benjamin Netanyahu praising Africa and speaking diplomatically about strengthening the ties between Israel and the continent of Africa.
On this, Washington said the African-Israeli relationship, "is thousands of years old, that God himself is rebirthing and reorganizing and reconstituting in a very real way."
Kelsey Hasz, a UMN student who recently visited Israel, attended Thursday's event and shared her thoughts.
"I think events like this are important because people are apathetic about a majority of things. If something doesn't directly affect their life or disrupt the comfort they are living in, then it is of no value to them," Hasz noted.
She continued, "I am not even saying you need to agree with the side the speaker was on, but to engage and form opinions, become involved in world issues, and to just be aware of what is going on is so important."
While global conversation often revolves around peace between Israel and Palestine, Hasz does not seem too optimistic about that possibility.
"If peace is what both parties were looking for, I think peace would be an option. But that isn't the case. People are looking for the eradication of not only the countrybut of the Jewish people as a whole," Hasz said.
However, Hasz was optimistic when looking back at Israel's history.
"I want people to know how much of a miracle the country is. Everything in their history says they should not exist today… They are advanced in technology, in their military strategy, in their democracy, and in their humanitarian aid," she explained.
Dumisani Washington certainly sharesHasz's sentiment, as he envisions a bright future for Israel, and he sees Africa playing a major role in this future prosperity.