Ferguson and the college campus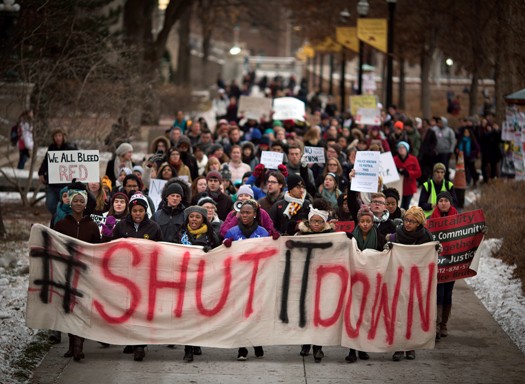 On Aug. 9, Officer Darren Wilson shot and killed African American teenager Michael Brown. This sparked a variety of movements that protested police violence against minorities as well as race tensions within many facets of society. Perhaps nowhere has this debate been more prevalent than on college campuses. Are the questions and demands that college students are making the right ones in response to this event?
At the University of Minnesota, a variety of protests relating to Ferguson and race relations took place, with a mass rally on Nov. 25 and the seizure of Morrill Hall by Who's Diversity? on Feb. 9. On March 2015 the Student Union at University of California Irvine banned the American flag within certain areas of the campus, due to its "inflammatory" symbolism. At the University of California Berkeley, the Black Student Union demanded that a variety of changes take place, including the renaming of a campus building in honor of Assata Shakur, 1960's "activist" charged with a variety of violent crimes, including the killing of a state trooper in New Jersey. While many of these protest appear not to be directly linked to Ferguson, there are many indicators that show Ferguson has indirectly caused a greater focus on race relation in the United States and on college campuses.
The media are very much responsible for bringing this issue to the forefront, due to the coverage seeming to show a characterization of violence by whites against African Americans. The media rely on events such as Ferguson and the Trayvon Martin shooting to prove this characterization, and that the lack of "diversity" in society is a causation of this characterized violence. However, these correlations are not causations. This connection has no more validity than the existence of the Second Amendment causes more violence in society or that the Muslim religion is the reason for religious extremism. So, how should Ferguson be viewed then?
Perhaps the bigger questions that should be arising on university campuses and across the nation should relate to the display of force used by the police against the protesters(prior to the violence in the aftermath of the court decision). Many people on both sides question whether the police should be armed with some of the heavier equipment they possess, including the Bearcat armored personnel carriers. Politicians on both sides question this heavily, including Kentucky Sen. Rand Paul, who saidthat "I think that the public at large is changing their opinion on [the use of force]. We've just gone to far."(VICE Season 3 Episode 2). This is one of the many questions it seems to have been forgotten and lost within this narrow sighted call for diversity and equality in every facet of society.