President-elect Trump Assembling Cabinet of Insiders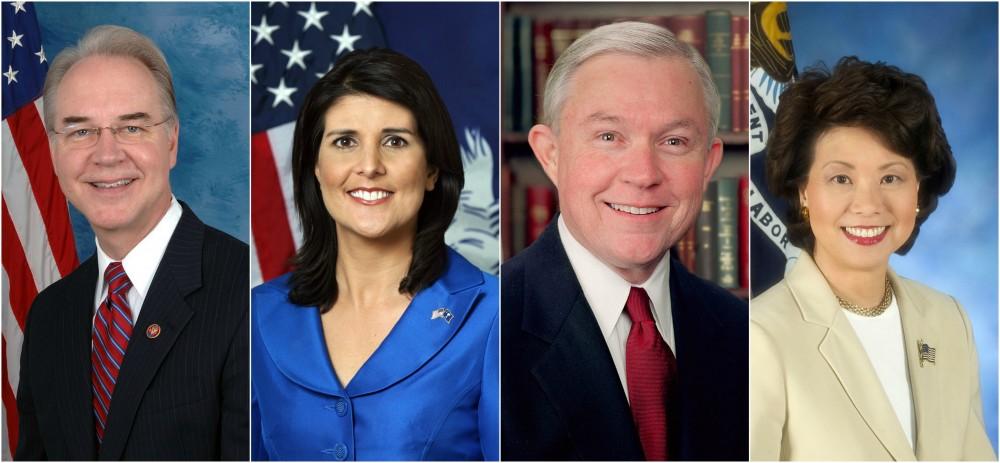 In the weeks following Donald Trump's electoral victory over former Secretary of State Hillary Clinton, the President-elect has began a contentious, secretive, and predictably controversial transition operation.
Donald Trump has thus far announced several Cabinet and high ranking administrative officials. Reince Priebus, the Chairman of the the Republican National Committee, was hired as Chief of Staff. The first Cabinet Secretary appointment came November 18, with the announcement that Senator Jeff Sessions (R-Alabama) would serve as U.S. Attorney General.
Sessions is a very controversial choice to be the nation's chief law enforcement official. Thirty years ago he was nominated for a federal judgeship by Ronald Reagan. Sessions, then a U.S. Attorney, was rejected by the U.S. Senate, on the grounds of potentially racist comments he made. One black colleague said that Sessions called him "boy" and joked about the Ku Klux Klan. He also allegedly attacked the NAACP and the ACLU as being "un-American" and "communist". Sessions went on to be elected as Attorney General of Alabama in 1994, and was elected to the U.S. Senate in 1996.
Recently, Sessions seems to have reversed these positions. He described civil rights groups as being essential to promoting equality. He has worked on bipartisan legislation to address racial issues.
Another controversial hire is retired General Michael Flynn for National Security Adviser. Flynn, a Democrat, served as President Obama's Director of the Defense Intelligence Agency between 2012 and 2014. He has made controversial comments about Islam, calling it a political ideology masquerading as religion. He also has proposed a "Muslim registry" to keep track of Muslim Americans in the United States. Although the Senate cannot have a say on this appointment, many Democrats, including Massachusetts Senator Elizabeth Warren, have called for Flynn's dismissal. Trump appointed Kathleen Troia "K.T." McFarland as Deputy National Security Adviser.
Trump's announcement of Congressman Mike Pompeo (R-Kansas) as Director of the CIA, has drawn little reaction from Democrats.
On November 23, Trump appointed South Carolina Governor Nikki Haley as the United States Ambassador to the United Nations. Haley confirmed on Facebook that she accepted the offer. Haley, 44, is the first non-white and female Cabinet appointment.
Later that same day, Betsy DeVos, billionaire and charter school advocate, was nominated to be Secretary of Education. DeVos has previously served as Chair of the Michigan Republican Party.
On October 29, Trump nominated Congressman Tom Price (R-Georgia) to serve as Secretary of Health and Human Services and former Secretary of Labor Elaine Chao to serve as Secretary of Transportation.
For Defense Secretary, Trump has selected retired General James "Mad Dog" Mattis as his Secretary of Defense. Mattis is a tough talking former Director of U.S. Central Demand. Mattis is seen as a popular choice due to his appeal to a wide variety of conservatives and independents. Recently, Mattis lead Trump to change his support for torture.
On fiscal and financial issues, Trump has put together a team of financial experts. He chose billionaire investment banker Wilbur Ross as Commerce Secretary. Film producer and investment banker Steven Mnuchin was nominated for the top job of Secretary of the Treasury.
The rest of Trump's Cabinet is still unknown. Rumors abound but substance isn't clear. Names like New Jersey Governor Chris Christie and former House Speaker Newt Gingrich have virtually vanished from potential shortlists. Christie was demoted from transition chairman to deputy chairman, replaced by Vice President-elect Mike Pence.
For the top cabinet position of Secretary of State, there are four names in the running. Former New York City Mayor Rudy Giuliani and former UN Ambassador John Bolton have been floated since Trump's victory. Surprise candidates emerged recently with 2012 Republican presidential nominee Mitt Romney and Congresswoman Tulsi Gabbard (D-Hawaii).