Antisemitism Prevalent at UMN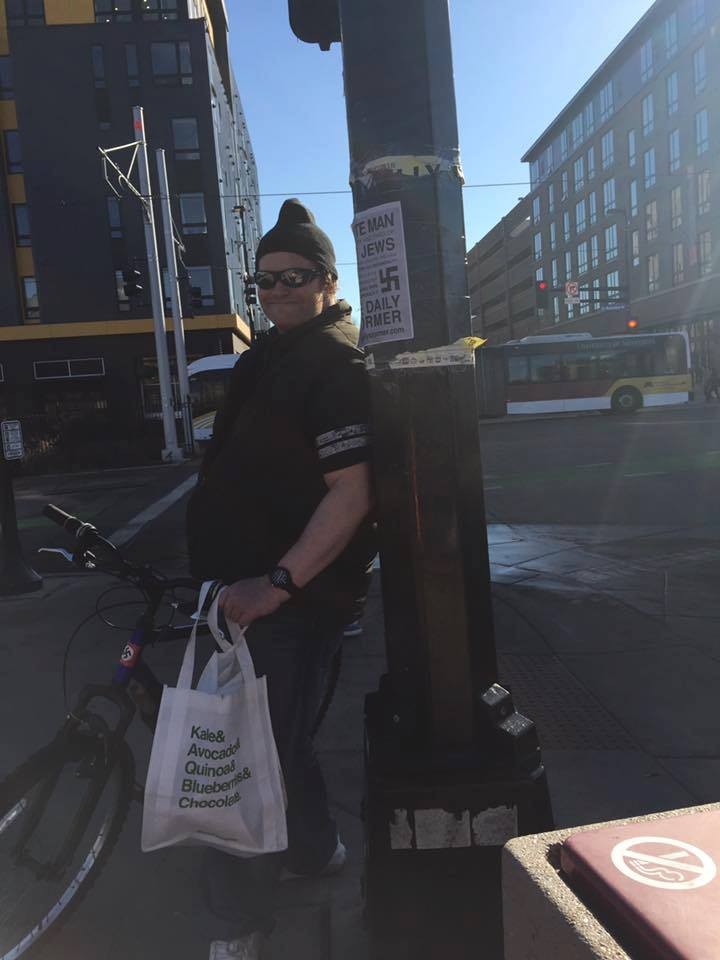 Over the past month, there have been several antisemitic occurrences on the University of Minnesota campus. A Jewish student came home to see a swastika drawn on his dry erase board; antisemitic fliers were posted; a residence hall desk was vandalized with a swastika, and a student posted an antisemitic meme on the "University of Minnesota Class of 2020" Facebook group.
On Wednesday, February 8, University of Minnesota freshman Avi Shaver returned to his room in Pioneer Hall to find the phrase, "Nazis Rule" written on his dry erase board. Above "Nazis," the word "science" was written and crossed out. Below those words was a drawing of what appeared to be a concentration camp.
Shaver posted a picture of his dry erase board with a caption including three points directed towards the perpetrator. His third point was, "Most importantly, why? Why would you do this? Do you feel empowered doing this? What benefit do you gain by making a person feel afraid? Not cool."
Shaver's post has been shared over a thousand times. He posted a follow-up message the nextday thanking everyone for the "overwhelming support" and calling for a loving response to hate. He wrote, "In Judaism, we say that a single candle can dispel a whole room full of darkness. Let us be that candle."
"Chabad UofM," a Jewish student organization, also released a statement on Facebook commending Shaver's resilience, and committing to "fight hatred by increasing our efforts in spreading Jewish pride and the beauty of our heritage."
Eric Kaler, the president of the University of Minnesota, wrote a letter to Chabad following these events, discussing his sadness and anger towards the events. He wrote, "I stand with you against such dangerous hatred."
Kaler continued, "That is not the University of Minnesota I know or want to lead."
The University and Police are investigating the incident.
The University of Minnesota Police Department made an arrest on February 16 for yet another antisemitic act. According to the Star Tribune, 18-year-old student Matthew Gruber of St. Cloud was arrested after he allegedly drew a swastika on a desk in a common area of the 17th Avenue Residence Hall on February 7. He was charged with Criminal Damage to Property with Bias, per the University's public safety page.
A third incident took place on February 17 when at least three antisemitic posters were found hanging on poles on Washington Avenue, near the edge of campus and the East Bank Light Rail Station. These posters, with two swastikas printed on them, read, "WHITE MAN / are you sick and tired of THE JEWS destroying your country through mass immigration and degeneracy? Join us in the struggle for global white supremacy at THE DAILY STORMER."
The web address for The Daily Stormer, a white supremacist website, is found at the bottom of the poster.
In one picture that's been making the rounds on social media, a man dressed in black with a bicycle is leaning smugly on a pole displaying the white supremacist poster. He is holding a bag with the words, "Kale& Avacado& Quinoa& Blueberries& Chocolate" written on it.
It is unclear who the man in the photo is, but user "Whitelash" has taken credit on the Daily Stormer forum for hanging the antisemitic posters. Among a plethora ofracist, hateful comments, the same user later posted, "I try to cover my tracks, it's not like I have a life for them to destroy though."
A fourth antisemitic episode appeared on the "University of Minnesota Class of 2020" Facebook group. Facebook user "Averroes Rushd" posted a meme which read, "WATCH PORN BACKWARDS / ENJOY SCENE WHERE DUDE GETS THE MONEY BACK." The post has since been deleted, and "Averroes Rushd" is nowhere to be found on Facebook.
Jeremy Cantor, a member of Minnesota Hillel, shared his thoughts on these recent events.
"I was wondering how [these events] could ultimately impact the rest of the community. There's been a lot of fear but I think people should remember that were all part of a larger community. It's really important that we all remember that we belong here and nothing can stop us from believing in our opinions and thoughts," Cantor said.
Following these events, Minnesota Hillel put four messages in the front windows of its building. They poster read, "Rise Above Intolerance," "Stand Up to Injustice," "Respect Everyone Every Day," and "Strive to Be Inclusive." At the bottom of each poster reads the message in asmaller font, "We all belong here."
All these instances followed what happened on inauguration day, when a swastika was drawn in the snow on the University of Minnesota football practice field, according to the Jewish Press.
Organizations like the Anti-Defamation League, which says it has been "monitoring the proliferation of racist and anti-Semitic graffiti and vandalism," claim that there has been a "sharp spike in reports of racist and anti-Semitic graffiti and vandalism."
Los Angeles Times writer Michael Memoli wrote about the "documented rise in episodes of anti-Semitism."
Jeremy Cantor shared similar ideas: "I just can't believe that amount of fear and hatred that has escalated on campuses across this country. [It is] really sad to see all of these terrible things happening to us Jews on campus ever since the election and inauguration—it's just very sad."
Others question whether the assertion that Donald Trump's election has led to a rise in antisemitism is based on fact.
Mark Oppenheimer of the Washington Post writes, "It is not clear that we can accuse the president of ushering in a new era of heightened anti-Semitism. While there is real anti-Semitism, we have no reliable statistics available to show there's been a rise in anti-Semitism since Trump's election."
Regardless of whether the recent antisemitism is related to President Trump or not, the University of Minnesota has reiterated several times that it is committed to fighting hatred.
A statement from the office of UMN President Eric Kaler read:
"The University of Minnesota condemns all acts of hate on our campus. We are a community that values respect, inclusion and diversity. We are disturbed by this trend as well as other acts of vandalism and graffiti that have been reported to us over the last months that target people based on race, religion, sexuality, gender identity or immigration status. Hate is not welcome here."
The statement continues, "Our differences drive our greatness. We all belong here."