Governor Huckabee Rallies in West Des Moines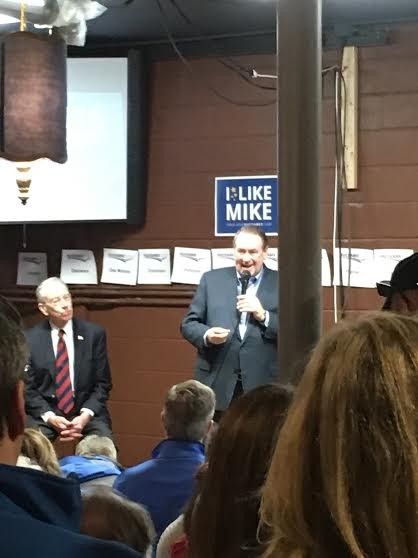 Inspired Grounds Café in West Des Moines, Iowa was jam packed this afternoon with supporters of 2016 GOP presidential candidate Mike Huckabee. Joining Governor Huckabee onstage was Senator Chuck Grassley of Iowa who commented on Huckabee's character and conservative record as the Governor of Arkansas.
Huckabee utilized his speech to convey to audience that he cut taxes 94 time. In addition, he took a strong pro-life stance and has worked with an overwhelmingly Democrat controlled legislature. In addition, he commented on his support for Renewable Fuel Standards. Huckabee quipped that the standards "have worked," noting that few things in Washington do. Huckabee also focused on the need for Iowan energy, which will help Americans stop being"slaves to foreign oil."
For campaigning in Iowa, Huckabee has taken a grassroots approach. He has visited and held events in each of Iowa's 99 counties. He asserted that his strategy to win Iowa was "hard work and handshakes."
The speech was influenced by strong biblical undertones, as Huckabee mentioned that he trusts God to help deliver positive results for his campaign in tomorrow's caucuses. Also, Huckabee invited all attendees to join him at a special screening of "Gods Not Dead 2."
As Huckabee concluded his speech, he made time for each supporter and attendee to shake his hand and introduce themselves. He posed for pictures and fielded questions from media outlets, all the while focusing on portraying himself as a man of the people.
After Huckabee's speech, the Minnesota Republic had the opportunity to speak with Hogan Gildey, Huckabee's Sr. Communications Advisor and former Executive Director of HuckPac (Huckabee's Super Pac). When asked about Huckabee's crowded gathering today, despite low standings in the polls, Gildey explained that, "In Iowa you have to work hard, Iowans expect hard work" insinuating that Huckabee was that guy. Hogan also commented that "[Iowans] want someone authentic, they want someone who they can trust."
Mike Grayson, an attendee helping to distribute Huckabee stickers and pamphlets at the rally declared that he will be caucusing for Huckabee on Monday. When pressed further, Grayson simply asserted that "He's got experience many of the other candidates' lack," and "he has a proven record."