State of the Union Unifies, Divides, and Unifies Again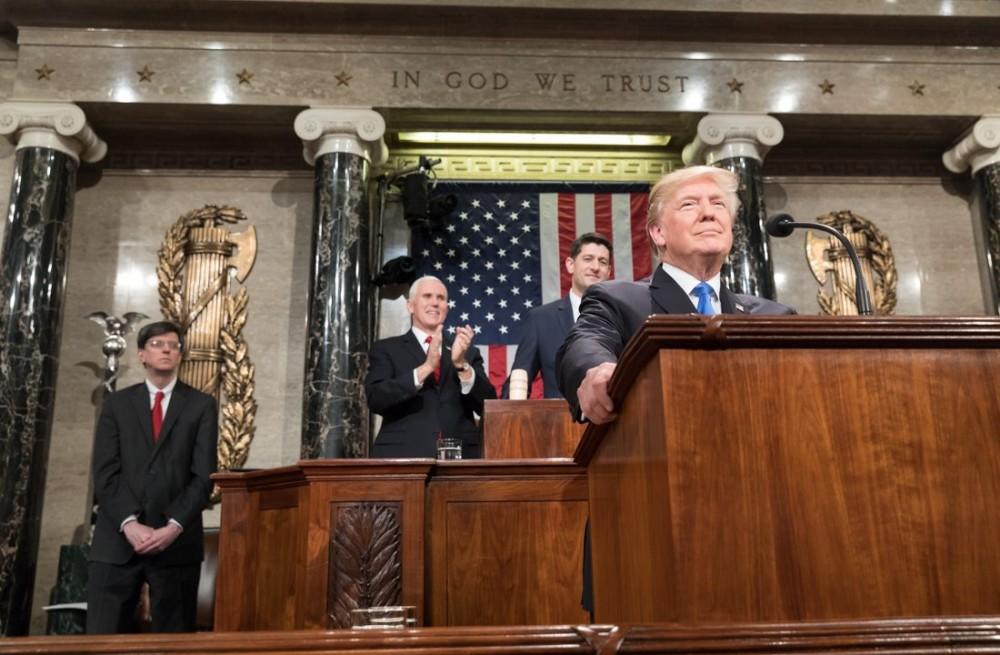 President Trump's first State of the Union address polarized both people in attendance and elsewhere last month, as he laid out his vision for the country's future. His supporters rallied behind his strong rhetoric, while even some critics conceded that Trump's speech was surprisingly measured.
Throughout the speech, Trump peppered in many grandiose statements about the American Dream. To begin, he invoked his campaign slogan when he said, "There is a new wave of optimism, a righteous mission to Make America Great Again." This was met with thunderous applause from the Republican side of the chamber, the first of many for which the Democrats mostly sat on their hands and scowled.
Immigration took a large portion of time and was the topic most specifically discussed. Echoing his campaign promise of America First, he declared a want for "immigration focused on American workers and families." After recounting the stories of some guests, including the families of two girls brutally murdered by the MS13 Gang, Trump laid out his four priorities for an immigration reform bill:
A pathway to citizenship for DREAMers
Fully securing the border, including "building a great wall"
Ending the visa lottery and moving toward a merit-based system
Ending chain migration in an effort to "protect the nuclear family."
When the president finished his last point on chain migration, audible boos were heard from a handful of legislators on the Democratic side. In response, Trump pointed out that recent terrorism in New York City was caused by the criminals in the country because of the visa lottery and chain migration.
In an awkward moment near the beginning of his remarks, Trump boasted about new jobs, rising wages, and falling unemployment. He specifically referenced the fact that black American unemployment was the lowest ever recorded, which was met by stone-faced stares from the Democratic members of the Congressional Black Caucus. Trump then proudly declared the same was true of Hispanic unemployment, which prompted no response from Texas representative Joaquin Castro. While Trump is correct that black and Hispanic unemployment are at record lows,
Foreign policy was also a key part of Trump's speech, albeit the policy details were somewhat vague. In the spirit of his statement that "weakness is the surest path to conflict," Trump called on Congress to fund the military fully, as well as modernize and rebuild America's nuclear arsenal. In a reversal of the Obama administration, Trump pledged that the Guantanamo Bay detention center will remain open. Trump also stated his intention to "totally eradicate ISIS" and institute new rules of engagement in Afghanistan.
In what was perhaps the most powerful part of the speech, Trump brought up his frequent online sparring partner, Kim Jong-un, saying, "No regime has oppressed its own citizens more totally or brutally than North Korea." In the crowd sat the parents of Otto Warmbeir, the Ohio student who was arrested, imprisoned, and mortally wounded by the Kim regime before his release and untimely death shortly upon being returned to the United States.
Sitting in front of them was Ji Seong-ho, a North Korean-defector-turned-human-rights-activist. Trump told Ji's story to the crowd: a harrowing journey of near starvation, loss of an arm and a leg after being hit by a train, and eventual escape into China ten years later. Ji, now living in South Korea with new prosthetic limbs, still has the crutches from his days in North Korea to remind him of how far he has come. "Your great sacrifice is an inspiration to us all," Trump remarked. "A testament to the yearning of every human soul to live in freedom."
Trump touted his tax reform bill, calling it "our new American moment." He also doubled down on backing the interest of his conservative base, promising that he will "totally defend (the) second amendment and religious liberty." On infrastructure, Trump said it is "time to rebuild our crumbling infrastructure" and introduce a bill to fix the growing problem permanently. During his brief remarks on reducing the price of prescription drugs, Trump ad-libbed, "Prices are gonna go down substantially, watch," as he winked and smiled.
To be sure, there were bipartisan moments of the speech when Trump seemed to advocate reaching across the aisle. After honoring Steve Scalise, the Republican congressman who was shot last summer and recently returned to work, Trump called on Congress to "set aside differences and find the unity for the people we were elected to serve." In finishing his section on immigration, Trump also remarked, in reference to immigration reform, that it was time to "set politics aside and finally get the job done."
Since the address, Trump caused a stir when he suggested that the Democrats, who largely refrained from standing and applauding most of his statements, were Even though these comments were clearly made in jest, Trump's underlying assumption is incorrect. The State of the Union is the president's time of free expression to Congress, which have the right to free expression to respond as its members see fit. The Democrats chose silence and occasional tepid applause as their response.