Tim Pawlenty Mulls Another Run for Governor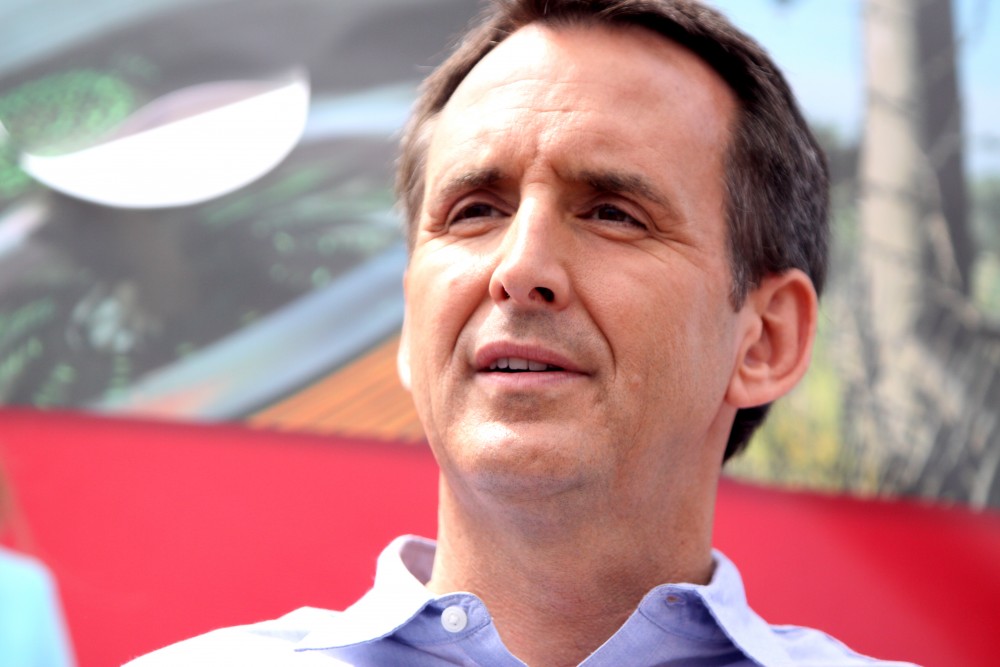 Tim Pawlenty served as Governor of Minnesota from 2003 to 2011 and appears to be eyeing a run at the state's top job again. Pawlenty recently quit his job as a lobbyist for major American banks and is reportedly speaking to donors and local politicians to see what kind of support he has going into the upcoming gubernatorial election. Pawlenty, the last Republican to win a statewide election in Minnesota, can make the case that he has a political brand appealing to this Democratic-leaning state, though he won both of his elections by a plurality, and the second one narrowly.
He did, however, manage to resist a nationwide Democratic wave in 2006, even as Republicans lost the other statewide offices by large margins and the congressional delegation flipped from even to majority DFL. This gives him credibility against other major Republican candidates like Jeff Johnson, who lost the gubernatorial election in 2014 despite a large statewide shift toward Republicans, especially in the State House, which flipped to Republican control by a large margin. Johnson is seeking the nomination again for 2018, as Governor Mark Dayton is retiring at the end of his second term.
But the question is whether Pawlenty's brand of politics, last put to a statewide election in 2006, will play well in Minnesota 12 years later. He has a great deal of experience in fiscal restraint and government oversight, navigating the state through two recessions without raising taxes and maintaining the balanced budget, much to the chagrin of his DFL-controlled legislature.
Pawlenty's tenure as governor was controversial for several reasons, however, including noticeably fumbling education during the Great Recession, where he used an accounting trick to balance the state's budget deficit, inadvertently causing schools to lose a few million dollars in funding for several years until the accounting trick was corrected by his successor after tax increases.
Some of Pawlenty's other better-known accomplishments include obtaining funding for massive transportation projects, from freeway expansions to rail projects, such as work on the Northstar Commuter Rail Line and what would later become the Green Line light rail project, though both seemed to be in response to the urging of the Bush Administration. He changed his position on raising the gas tax after the I-35W bridge collapse in 2004, though it did not immediately happen, nor was the increase drastic.
His post-governorship, however, is where the true controversy lies. He served as a CEO of a Washington-based lobbying group after an unsuccessful presidential run in 2012. With the recent anti-establishment fervor overtaking both political parties, someone who has spent the past few years lobbying the federal government on behalf of large corporations. For a state known for its populist and anti-corporate political culture, this may not play particularly well, especially given that Pawlenty's last term ended just after the conclusion of the Great Recession.
Recently, Pawlenty held an unofficial meet and greet with some of the richest and best-connected Republicans in the state of Minnesota. This could be the best group of donors available for any GOP candidate for office. He managed to put together this meeting without even declaring a campaign committee or expending any funds. While the donor list may be top-notch, its elite nature may come back to haunt Pawlenty should he declare his candidacy for a third non-consecutive term as governor.
While not officially a gubernatorial candidate yet, Pawlenty has formed both a campaign committee with the state elections board and a website declaring that he is testing the waters. While this does not mean that he is officially a candidate, it is a step in the direction of an official run, and a much more decisive one than we have seen prior to now.
One thing is certain for Pawlenty's political future. If he chooses to make another go at politics, he will certainly be the center of attention.