Big Money in Politics: Koch Network vs. Democracy Alliance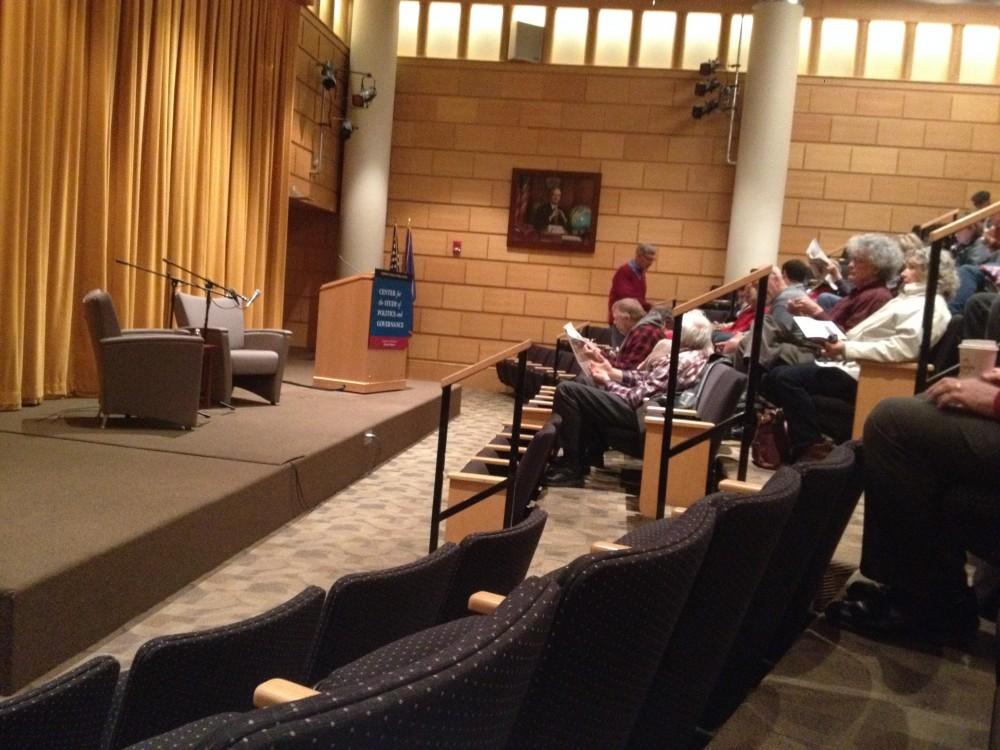 On Thursday, April 6, the Center for the Study of Politics and Governance hosted Harvard scholar Theda Skocpol to talk about "big money" in politics at the Humphrey School of Public Affairs. The event originally promoted speaker Jason Flohrs, the State Director of Minnesota's Americans for Prosperity chapter, but he was unable to attend. Instead, political sociologist Theda Skocpol discussed her work on the subject for roughly twenty minutes, followed by a question and answer session, moderated by University of Minnesota Professor Larry Jacobs.
Theda Skocpol earned her Ph.D. from Harvard University in 1975. Since then, she has spent the majority of her career at the school, earning many awards and honors. She has also published many books, including States and Social Revolutions.
The crux of her talk focused on the impact of "big money" in politics. Throughout the talk, she cited research she has conducted on the Koch Network and the Democracy Alliance, a left-wing big money group.
The Koch Network Skocpol referred to is a group of wealthy donors who meet bi-annually at a resort. According to NBC News, a donor must donate at least $100,000 to be invited to this retreat. This event is hosted by Charles and David Koch and involves several days of lectures.
Skocpol spoke about the event in greater detail. "The Koch seminars gather four to five hundred people twice a year, put them through a pretty disciplined two or three days of lectures." Skocpol says that after the lectures, "They lay out the political strategies very carefully. They expose people to about eight to ten Koch-directed political organizations—above all, the Americans for Prosperity."
Skocpol asserts that the Koch Network raised between $750 million and $1 billion over the last election cycle.
In contrast, the Democracy Alliance is a group of liberal donors who contribute to Democratic groups. According to The Washington Free Beacon, partners must pay $30,000 in dues and contribute at least $200,000 to groups the Democracy Alliance supports. However, the list of approved groups is much longer than the Koch list.
Skocpol explained, "Each individual chooses which of those many organizations they will contribute to. The result is that the Democracy Alliance raises much less money—more in the order of $300 million over a two-year election cycle—and dissipates it over hundreds of organizations."
Skocpol referred to the Koch method of fundraising as "free-market Leninism." The reason she gave for this label was that both Leninism and the Koch Network involve organizing wealthy people to talk about the current state of affairs and propose ideologically-based solutions.
On the other hand, Skocpol called the Democracy Alliance's fundraising habits "progressive market anarchy," due to the wide and loosely directed destinations of donations.
Following the prepared talk, Skocpol spoke briefly about the election of Donald Trump in response to an audience question.
Skocpol was careful to point out that Donald Trump was not a product of the Kochs. She noted that the Koch brothers did not endorse him, and most of their donors chose not to as well. She indicated that one of the causes of Trump's rise was that many of the"Never Trump" Republican voters, who many predicted would stay home or vote for Hillary Clinton ended up voting for Trump. Skocpol made note of a personal conversation in which a middle-class white woman told her that "she wasn't paying attention to that stuff on the bus, and she cared about the Supreme Court," hinting that the open Supreme Court seat may have swayed votes that would not have otherwise gone to Trump.
Interestingly, Professor Larry Jacobs referred to the Kochs as libertarians several times, while Skocpol never used this label, instead referring to the Kochs and their benefactors as free-market, right-wing, or conservative.
Since the Citizens United Supreme Court decision of 2010, money in politics has become an especially hot topic. Pundits and politicians both await the next election cycle during whichit will be seen if this big-donor trend continues.