Trump's Detractors Spar With Celebrity Endorsements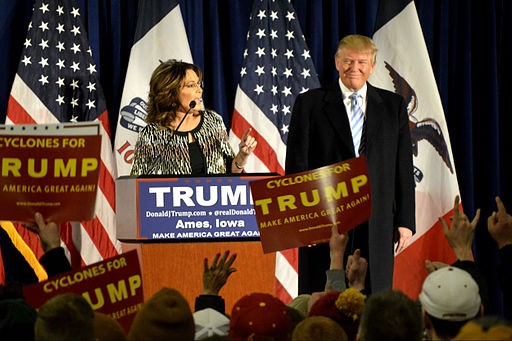 Less than 11 months before the 2016 United States Presidential Election, wealthy businessman Donald Trump remains the frontrunner of Republican nominee polls by a significant lead.
Trump recently acquired three important endorsements. The endorsements come in addition to an already immensely long list of celebrities, politicians, and other well-known names and faces who want to "make America great again." Within about one week at the end of January, Trump received support from Duck Dynasty star Willie Robertson, the National Black Republican Association, and former governor of Alaska Sarah Palin.
Perhaps the most noteworthy endorsement for Donald Trump comes from the National Black Republican Association (NBTR,) as liberals and conservatives alike do not shy away from criticizing Donald Trump's comments about nonwhite communities and calling him a racist.
On January 22, the NBTR wrote a new post on its blog announcing the endorsement.
"We, the grassroots activists of the National Black Republican Association, are pleased to announce our endorsement of Donald J. Trump for President of the United States of America.As citizens who happen to be black, we support Mr. Trump because he shares our values," begins the post.
The blog post continues with the NBTR elaborating its endorsement ofTrump, mentioning one of the presidential candidate's most controversial talking points: illegal immigration.
"We are deeply concerned about illegal immigration, a major cause of high black unemployment, especially among black youth," the post reads.
Earlier that same week, former Alaskan governor Sarah Palin endorsed Donald Trump, as well. Palin was made famous during the 2008 Presidential Election season, during which she became the running mate of Republican Senator John McCain.
"He's got the guts to wear the issues that need to be spoken about and debate on his sleeve," Palin said of Trump during her endorsement speech in Iowa.
Palin's endorsement received reviews ranging from happiness to laughter, as her unique Alaskan idiosyncrasiesin combination with Trump's strong personality make for two big personas.
Trump's week of important endorsements did not rest with Palin; at the 16th Annual Outdoor Sportsman Awards in late January, Duck Dynasty star Willie Robertson endorsed Trump for president.
Robertson, the CEO of the Duck Commander company, and his family attained fame when their lives became the subject of the 2012-present reality show Duck Dynasty.The show profiles the Robertsons as hardworking and family-oriented Christian outdoorsmen and women.
On Fox's "Outnumbered," Robertson discussed his love for Trump, especially when compared to Hillary Clinton. As an avid hunter, Robertson appreciatesTrump's support of the Second Amendment. Robertson commented on the freshness Trump conveys byshowing his true colors rather than masking his personality with political rhetoric like so many other politicians do.
Despite Trump's various endorsements and praise from public figures, many members of the GOP do not support his campaign at all. A plethora of young adult Republicans and National Review, a conservative commentary, can not comprehend why Trump is leading by such a substantial amount when he may not even truly be a conservative.National Reviewrecently released an editorialagainst Trump. The editorial went far enough as to call Trump "a menace to American conservatism."
Some young Republicans agree withNational Review.
"If Trump wants to win us over, he needs to come to us on a platform of trust and communication. That's what young adults are seeking in all aspects of our lives–and that's what a candidate needs to display to us," said Rebecca Dorin, secretary of the College Republicans at the University of Minnesota. In her response, Dorin made sure to include that the College Republicansexpect trust, communication, and honesty from all candidates.
Despite Trump's highly mixed reviews, his approach to politics certainly has not gone unnoticed. Aside from Robertson, Palin, and the NBTR, Trump also has the support of multiple state representatives, current and former professional athletes, successful business people, and celebrities. As of early 2016, Trump's chances at winning the GOP nomination seem likely.