Keep your lip service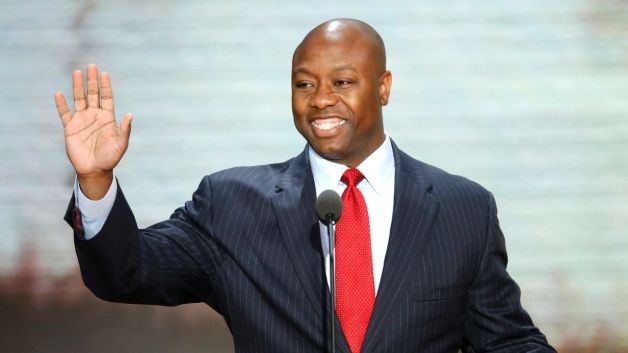 The 2014 midterm elections saw numerous historic elections for minorities, especially amongst the Republican Party's candidates.
Tim Scott's victory in South Carolina made him the first African-American elected from the South to the Senate since reconstruction. Mia Love in Utah's 4th Congressional District became the first African-American Republican woman elected to Congress, and she's a Mormon as well. Governors Nikki Haley and Susanna Martinez both won reelection, in South Carolina and New Mexico, respectively, and are of Indian and Hispanic descent, respectively.
"The Republican Party has clearly shown they vote for what the person stands for, not their race." said Becca Dorin.
Dorin, Secretary of the College Republicans chapter on campus, is of mixed-race heritage. Her mother was born and raised in Lima, Peru, and came to the United States to attend the University of Minnesota, while her father comes from Gary, Indiana, and is of European descent. A staunch Republican, she exemplifies the portion of minorities the media doesn't talk about much, those of conservative mentalities. According to Pew Research's Hispanic Trends Project, Hispanics voted 62 percent to 36 percent in favor of Democrats in 2014, but that gap has shrunk six points from 2012.
"The Democrats are very much taking minorities for granted. There's a lot of things that Democrats do that don't sit well with me." said Abdisamed Aden Awed, a Sociology of Law, Criminology, and Deviance major at the University of Minnesota.
Awed is from Fairfax, Virginia, is ethnically Somali, and is a devout Muslim. He had criticisms of both parties' platforms and actual intents towards minorities.
"I think as long as the Republican Party can really branch out and say… 'how can I make sure to include people of the same mind?' I think as long as they can do that they'll be successful in liberal and conservative states alike." said Awed.
Both Dorin and Awed were critical of Republicans' ability to articulate their ideas. There was consensus between them that Democrats are altogether too good at depicting themselves as the party of minorities. Dorin called for greater focus on economic issues, lower taxes, and a free market economy, saying they are beneficial for the economy and small business owners. Awed called for a rejection of the idea that the right is exclusively a coalition of Christians.
"Once [Republicans] see that Muslims are in favor of flat taxes, Muslims don't believe in contraceptives or abortion, gay rights is very much aligned, the only thing that they differ on is foreign policy, and that's because most of that foreign policy is targeted in the areas that are concentrated heavily on Muslim people," said Awed. "I think that the paradox is ironic. But as long as Republicans can be inclusive of other faiths when it comes to conservative values then I think they'll have a larger reach."
Awed also criticized the DFL for its lack of knowledge of the Twin Cities' Somali community's politics. He pointed out the contradiction between DFL party line and Somali values as particularly coming to a head in the case of Mohamud Noor. Noor challenged Phyllis Kahn, a 21-term legislator, in the DFL primary for house district 60B, which includes the University of Minnesota. Moor had previously run for the State Senate in 2011, winning 26 percent of the vote in the primary and the Stonewall DFL endorsement along the way. The Stonewall DFL is the LGBT caucus of the DFL, and Moor's stance on gay marriage turned away Awed and many other members of the Somali community.
"He basically downplayed [gay marriage] and endorsed it. That got a lot of backlash in the Somali community. He didn't get support," said Awed. "The reason he lost that election in the primary was because the Somali community split into two ranks. One said that 'We're going to back him automatically because he's a Somali guy and this is good for the Somali community.' The other side said, 'No. He undermines Somali principles and Somali values. We don't stand for gay rights. And the simple fact that he would have the audacity to do that, what makes you think he won't sell us short when he comes into office?' And I think those are the type of dilemmas the Democrats are going to be running into."
Awed criticized Democrats for trying to slot minorities into a box. He said his goal for the future is to educate Somali communities on what their interests are. He cited education as a key for African-Americans and other minorities to look past the "lip service" of the Democratic Party and to see where their interests are. Awed believes that Africans are generally more culturally conservative, and that with a greater rate of higher education in minority communities, successes such as Tim Scott and Mia Love will become more commonplace.
While the Left has demonized Republicans' push for stricter voter identification laws as racist, neither Awed nor Dorin had any problem with an ID requirement to vote.
"The attacks coming from the Democrats were a little offensive," said Awed. "I have an ID, and I've always assumed that you need an ID when you're voting, and that's always how I've taken it."
Dorin was emphatic in her support of these policies.
"Voter ID is the Republican Party attempting to prevent voter fraud," said Dorin. "That's it!"
In the 2012 elections, Tennessee, Georgia, and Indiana – states with some of strictest voter ID laws – saw the turnout rate of African-Americans eclipse that of white voters. In Tennessee the difference was more than 6 percent, while in Kansas, another state with strict voter ID laws, the difference was statistically insignificant.
The media depiction of minorities was also out of favor. Awed criticized the media and both parties as perpetuating the idea of a homogenous minority voter block, when in reality each group has its own issues and priorities. Dorin also was vocal in her criticism of the media's portrayal of minorities.
"We are not victims. We are leaders, speakers, storytellers," said Dorin "The real victims are the innocents dying in the countries we still have families in."
"This is the hard thing about it. Minorities aren't this big chunk of just one homogeneous thing. Minorities are Hispanic, minorities are Christian, minorities are Atheist, minorities are Muslim, minorities are Jews," said Awed. "To think that there's just a magic bullet that'll encompass all of minorities' interests— that's just not reality."
In all, both Becca Dorin and Abdisamed Awed seemed to view Republicans slightly more favorably than Democrats. They both think the GOP could do more to reach out to minorities, but both are also tired of the hypocrisy of Democrats' rhetoric towards minorities compared to their actual actions.
"Lots of people think the American Dream means buying a golden retriever, speaking English, and wearing a suit that matches all the other white people," said Dorin. "This is not it. The American Dream is the ability to fully live out one's values. The American Dream is being able to worship freely, live safely, have opportunity, and honor responsibility. I wish every country had these freedoms."