Trump Threatens DACA Reversal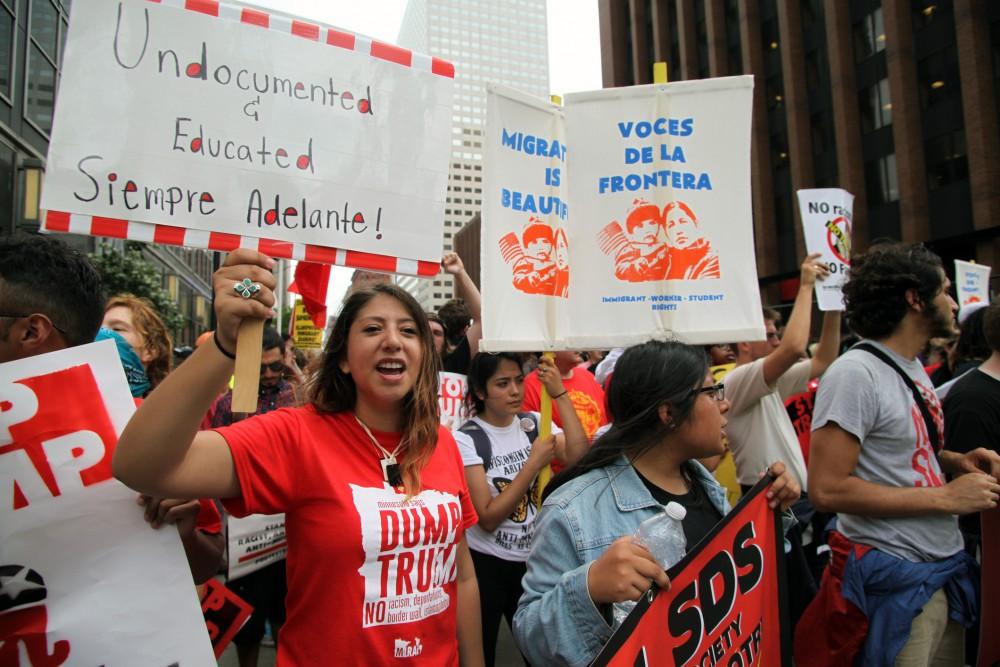 Since Trump launched hisbid for president two years ago, immigration (specifically, illegal immigration) has been one of the most pivotal issues in the political arena. While immigration has always been an important issue in politics, Trump has increased its significance even more. Whether it was regarding his rhetoric toward the influx of Mexicans, or the blank ban on a group of people because of their religion, Trump's stance on immigration has constantly been the center of attention. This week, Trump's administration announced its plan to end DACA (Deferred Action for Childhood Arrivals), a program that permits immigrants who came to the United States illegally as children to remain in the country.
President Barack Obama created DACA in 2012 through an executive order. Since its establishment, approximately 800,000 so-called "Dreamers" have been beneficiaries of the program, which has allowed them to remain in the country without any legal immigration repercussions. The term "Dreamers" is derived from the 2001 Development, Relief, and Education for Alien Minors also know as the DREAM Act, which would have granted legal status to undocumented immigrants who arrived in the country as kids if it had passed Congress. It failed. In order for the applicants to be eligible under Obama's order, applicants had to have arrived in the country while under the age 16, be younger than 31 as of June 2012, and have never been convicted of a felony. Trump's decision to reverse this policy by Obama will have a significant impact nationwide.
While DACA has had the support of millions of Americans nationwide, it has also received backlash. President Obama used powers to proceed with this policy. DACA critics saw this policy put forward by Obama's administration as a violation of checks and balances and a unilateral implementation. Jeff Sessions denounced the "lawlessness" in the country and that "the compassionate thing is to end it." The lack of enforcement of immigration laws has been a strong concern with some of the members of the Republican Party and Union Democrats.
Since Trump's announcement, various leaders of our state have already spoken out against the decision. President Kaler of the University of Minnesota said, "DACA has changed lives and allowed young people to attend college, pursue graduate degrees and launch careers," Mayor Betsy Hodges stated on Facebook, "In addition to challenging both the Justice Department's action on sanctuary cities and the administration's travel ban, I will continue to work with the city attorney to make sure all DACA recipients in Minneapolis have the legal support and resources they need, as well as explore ways to support legal challenges to the administration's actions." Senator Al Franken stated on Twitter, "POTUS reported the decision to end DACA is a disgrace, & I promise that I will fight to protect Dreamers in Minnesota and across our nation."
Thousands of young immigrants were brought to Minnesota illegally by their parents when they were kids. According to the Minnesota Compass, Minnesota is home to approximately 457,000 foreign-born residents, of which about 6,000 are Dreamers. Of those 6,000, about 63 percent are Hispanic and about 76 percent have been here for at least five years. The economic and fiscal impact that DACA has on our state is massive. In 2016, the Humphrey School of Public Affairs released a study that Minnesota young people in DACA pay almost $7 million annually in taxes. The majority of the unauthorized workers in Minnesota work in the service industries, managerial and professional, and operators, fabricators, and laborers. Minnesota is also one of the few states where DACA students are eligible for in-state tuition and the fourth state to cover health coverage for DACA recipients.
Following this announcement, millions of Americans raised their voices to oppose the reversal of this policy. Prominent nationwide organizations like National Immigration Law Center and American Civil Liberties Union (ACLU) immediately condemned the actions taken by the administration. Leaders like Mark Zuckerberg, Cardinal Timothy Dolan (archbishop of New York), and Steve Jobs also publicly condemned this decision, calling it "un-American" and a betrayal of our values. Millions of protesters took on the streets of major cities, including Minneapolis, across the country to protest this announcement. While Congress still has time to address the issue and an opportunity to pass an immigration reform, the future of the lives of these individuals is at stake. Overall, the American public has expressed sympathy with these individuals who did not voluntarily choose to come here illegally and only by circumstance break the law. President Trump seems to be willing to sign the DREAM Act in return for other immigration reforms, including a southern border wall. If Congress is incapable of finding a solution and the full repeal of DACA ends up succeeding, there will be various factors of change in our state and in our nation.