Professors silence Israeli voices at the U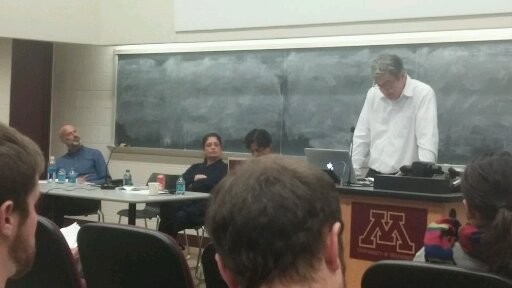 University professors have recently hosted a "Teach-in" to promote and call for a Boycott of Israel on September 29th. Whereas the event itself, titled "Gaza, Neocolonialism, and the case for a Boycott," was hosted only by five professors, multiple large departments, including the Anthropology and Political Science department, took it upon themselves to use their official social media accounts andLISTSERVsto promote the event. As an example, Anthropology majors in the University received the following email from the department:
Please join us for "Gaza, Neocolonialism, and the Case for Boycott," a teach-in addressing the blockade and bombardment of Gaza.Five professors from the University of Minnesota will each present a set of discussion points on Gaza, onthe larger context of neocolonialism, and on the practice of boycott in social struggles."
Whereas the event was initially framed to be a strictly academic discussion; it was blatantly clear from the first words of the event that this will likely be one that appeals to emotion to demonize the lone Jewish state- and call for its isolation. Even the name "teach in" took upon itself the connotation of the famous anti-war "sit-ins" of the past few decades in an attempt to draw a parallel between the anti-Israel movement and the anti-war movement. The strategy has been used in street theatrics known as die-ins, where students protest by playing dead in the center of campus.
Before the event, Professor Vinay Gidwani wrote in an email to an anonymous student that "To be honest, at this stage I am not at all sure what I intend to say. There is so much to grieve. Perhaps a day or week in the life of a young person who has grown up in Gaza since 2005?"
As depicted in this email, the professor read an unverifiable letter from a Gazan child to his American Jewish friend named Yakov.
Another professor, Timothy Brennan, wrote in another email to an anonymous student that "I myself plan to address the issue of why Israel — why caring about this issue, or doing something about it, does not unfairly single out Israel in a world of other injustices."
In his speech he claimed that giving academic freedom to Israeli professors is absolutely instrumental to human rights.
Freedom of speech is a right that is cherished by students throughout, and a University's tenant of academic freedom is what has given it the opportunity to challenge so many schools of thought. However,in the case of the advocacy of these University professors, they are explicitly using their freedom of speech to advocate for thesilencing of the freedom of speech of others. It is also important to point out that cultural studies professors were at the heart of the movement to culturally boycott the Jewish state. At the event, members of Jewish groups stood up in protest- but the boycott loving crowd was quick to mock them and dismiss their views.