Students Supporting Israel Holds Third Annual September 11 Memorial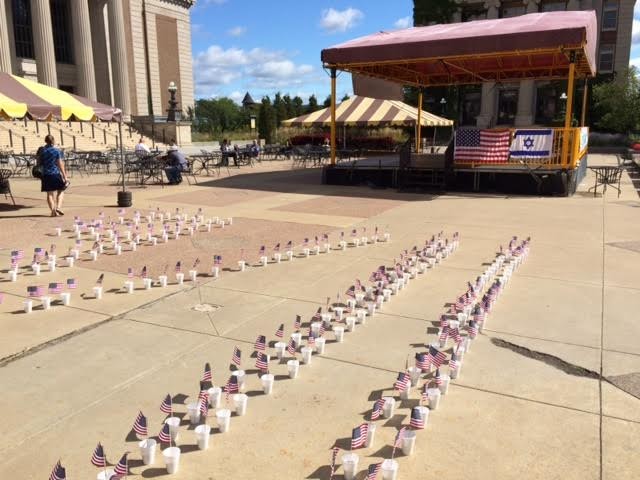 Friday, September 11 marked 14 years since Islamic extremists hijacked four American planes in a series of coordinated attacks that killed nearly 3,000 people. This year, University of Minnesota student group Students Supporting Israel (SSI) held a memorial as a celebration of the lives lost in the 9/11 attacks and as a stance against terrorism.
"Students Supporting Israel has done this for three years in a row now," Sami Rahamim said.
Rahamim serves as president of the university's chapter of SSI, which is a nonprofit group with chapters at 27 different universities.
Ilan Sinelnikov, the President of SSI's national organization, said that 22 of these chapters took part in a memorial similar to the one at the University of Minnesota.
The memorial consisted of cups with sand in them; the cups spelled out "9/11." Attendees of the event could take American flags and place them in the empty cups in remembrance. They also wrote letters to soldiers thanking them for their service.
Rahamim said SSI originally decided to hold a September 11 memorial to remember, "the worst terrorist attack in American history."
"We noticed that no one else was doing such a memorial and so, as a group of people that has faced our own terrorism, we know it is important to remember the victims and the heroes," Rahamim explained.
He added that many students did not recognize the anniversary of 9/11, and that SSI therefore feels proud, "to provide a reminder to students of what happened on this day and that we shouldn't forget."
SSI also feels personally connected to what happened fourteen years ago due to Israel's subjection to terror.
"Our country Israel has faced its share of terrorism, and we know how that affects not only individual people, but the psyche of a nation and its society," Rahamim said. "Israel and the United States are allies…we've both overcame adversity in the realms of terror and global conflicts, and we're united in our commitment to the ideals of democracy and freedom."
SSI's 9/11 event has met with some negative feedback in the past. Sinelnikov said that within the last two years, someone came with chalk to where the group had set up for the memorial in Minnesota and wrote negative comments about Israel all over the area of the event. Included in the chalk messages, the perpetrator wrote, "9/11 was an inside job."
Sinelnikov also said that a professor once spoke negatively about Israel to SSI activists in Nevada during their 9/11 memorial. The professor used the negative comments to claim that the pro-Israel group should not be the one to host the memorial.
Most of the reactions to the event, both this year and in years prior, have been of a positive nature.
DJ, who did not give his last name, stopped by the memorial and positively remarked at SSI's memorial.
"This is a beautiful thing to do, especially amongst people who were pretty young when it happened," he said.
Mike, who also did not give him last name, accompanied DJ. He said he enjoyed the "visual indicator" of the memorial, as it reminded students of what September 11 should be about.
"Apart from this (memorial) being here, it would just be another day on campus," Mike said.
Editor's note: Mark Mizrachi contributed to this report.

Editor's note: A pervious versionwas published prior to Ilan Sinelnikov beingable to respond to The Minnesota Republic.The current version has been updated to include his comments.