Vice President Joe Biden Will Not Join 2016 Race for President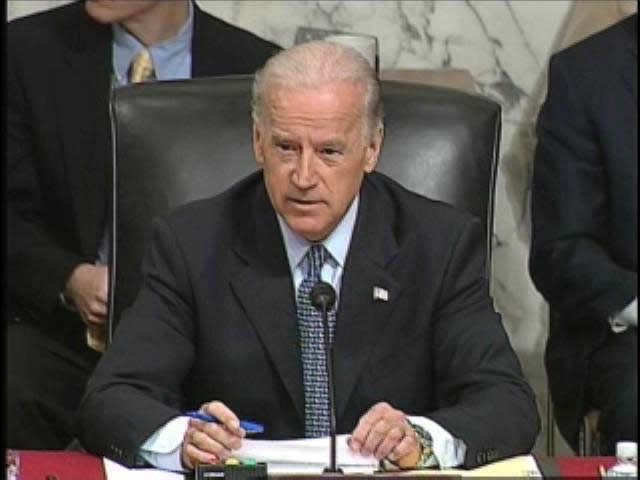 Before Vice President Joe Biden's son Beau–who had long suffered from brain cancer– died on May 30, he made a dying plea for his father to run for the presidency in 2016.
In the wake of his son's request, Vice President Biden spent several months following Beau's death contemplating campaigningagainst frontrunner Hillary Clinton for the Democratic nomination. Nevertheless, on October 21, Biden announced that he would not be joining the 2016 presidential race.
Biden made thepublic announcement alongside his wife Jill and President Barack Obamain the White House Rose Garden. He said the tough decision ultimately came from a realization that time was too scarce; with the election just one year away, Biden did not believe he would have the time needed to form a campaign that could rival Clinton's.
Specifically in his Rose Garden announcement, Biden said, "I've concluded (that the window to put together a realistic campaign) has closed. I know from previous experience that there is no timetable for this (mourning) process. The process doesn't respect or much care about things like filing deadlines or debates and primaries."
Biden mentioned the difficulty of his choice, particularly due to grieving his late son, who felt confident his father could and would beat Clinton.
To Biden, Beau's assumptions were not incorrect. Biden said he does feel he could do the best job as the president's successor; if he had the time to put together what he needed, he would have gone along with running.
Although Biden will not run for president, he adamantly states that he will speak up and do all he can to influence the United States for the positive in the coming months.
Biden's choosing not to join the presidential race prompted a question amongst liberals and conservatives alike: If his decision were different, might Biden have stood a chance against Hillary Clinton?
Biden has accumulated many more years working in politics than Clinton, which could have given him an advantage over her. Deleware voters first elected Biden to the U.S. Senate in 1972.This first election came nearly 30 years before that of other recent political figures.President Obama began serving as an Illinois State Senator in the late 1990s. Hillary Clinton joined the U.S. Senate in 2000.
In an interview with "60 Minutes," the Vice President said he disagrees with liberal Washington about its relationship with Republicans. While Hillary Clinton speaks out about her dislike of GOP candidates, Biden says he would have intended to budge the bipartisan divide if he were to run for the presidency.
Although Biden's decision will not change the number of candidates seen onstage at the next 2016 Democratic presidential debate on Saturday, November 14, itwill affect the upcoming election, as it almost guarantees Hillary Clinton the nomination. Many fans of Hillary Clinton favor the Obama administration and Biden to the same degree as or even more than Hillary; thus Biden could have pulled multiple followers of Clinton to his side.
Biden may have stolen a predicted 20 percent of Clinton's supporters, essentially making for a three-way tie between Biden, Clinton, and Bernie Sanders. Biden's choice not to run changed the Democratic nomination from being potentially anyone's game to making Hillary Clinton a shoo-in.
At the age of 72, Biden added in his "60 Minutes" interview that he will not run for office again.