How to Ace Your Friendsgiving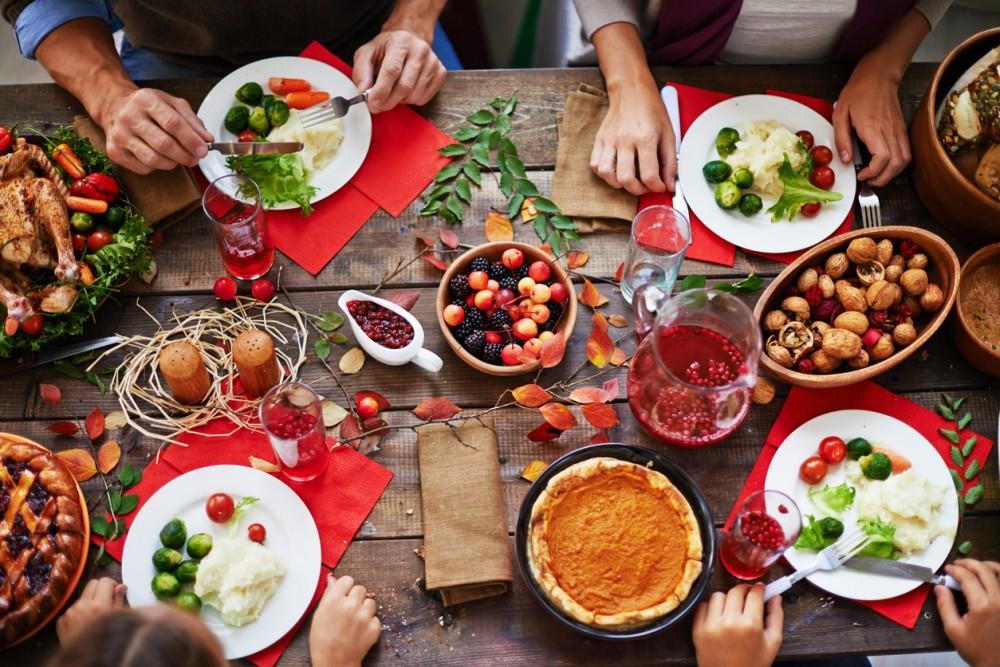 The key to any good Friendsgiving is a large amount of delicious food. After all, allowing your friends to gorge themselves into exhaustion is an amazing bonding opportunity.
Everyone makes things slightly differently for their Friendsgiving but this article will center on turkey, stuffing, mashed potatoes, gravy, baked mac and cheese, and green bean casserole.
On Friendsgiving, timing is everything. All the dishes must be hot and ready at the same time.
First things first: making the turkey. To do this, send one of your less-skilled friends to the grocery store to pick up two or three rotisserie chickens. No one has the oven space or the time to cook a whole goddamn turkey for their friends. The oven will be reserved for baked mac and cheese and green bean casserole—the things that really matter.
The foods that take the longest are mashed potatoes, baked mac and cheese, and green bean casserole, so start with these.
Mashed Potatoes
Ingredients
10-12 peeled and cubed potatoes
2 T. butter
½ t. Salt
Dash pepper
¼ C. cream cheese
¼ C. sour cream
¼ C. milk
Directions
Put cubed potatoes in a saucepan and cover with water. Bring to a boil and cook until tender when checked with a fork. Drain off water and return to low heat for 1-2 minutes to remove any excess water. Remove from heat and mash with potato masher. Add butter, salt, cream cheese, and sour cream and begin mixing. Add milk gradually to aid in mixing. Some milk may not be used. If you have enough left over, pour the milk over ice and add 2 oz ofBénédictine liqueur, and you have a "milk and honey"—nectar of the gods—to fuel you on.
Baked Mac and Cheese
Ingredients
1 ½ C. elbow macaroni
3 T. butter
3 T. flour
2 C. milk
½ t. salt
½ t. pepper
2 C. cheese of your choice
½ C. bread crumbs
1 T. butter
Instructions
Preheat oven to 350°F. Bring a pot of water to boil. Add pasta and cook until al dente. While the pasta cooks, melt butter in large pot. Whisk in flour and cook for 1-2 minutes or until mixture is slightly browned. Whisk in milk until well combined with flour mixture and no lumps remain. Cook until the sauce simmers and thickens and then stir in the cheese. Remove from heat and add in cooked pasta. Grease an 8×8 glass baking dish and add in the macaroni and cheese. Microwave 1 T. butter and mix with breadcrumbs. Evenly spread on top of the mac and cheese and bake for 30 minutes or until breadcrumbs are browned and the macaroni and cheese is bubbly.
Green Bean Casserole
Ingredients
1 can cream of mushroom soup
½ C. milk
½ t. salt
Dash paper
4 C. cooked green beans
1 C. French fried onions
Instructions
Preheat oven to 350°F. In an 8×8 glass baking dish, combine mushroom soup, milk, salt, pepper, and cooked green beans. Bake 20 minutes and then top with French fried onions. Cook an additional 5 minutes or until bubbly.
Once all of these things are in the works, it's time to finish making the rest of the dinner. Gravy and stuffing are the two least complicated parts of the dinner. Use boxed stuffing as making real, homemade stuffing is quite the endeavor. The gravy, however, is very easy to make from scratch, and you can start about 15 minutes before you're ready to eat.
Gravy
Ingredients
½ C. butter
½ C. flour
4 C. chicken stock
Salt and pepper to taste
Instructions
In a large saucepan, melt butter over medium heat. Whisk in flour and cook for 1-2 minutes or until mixture is slightly browned. Gradually whisk in chicken broth until well combined and smooth. Cook until gravy thickens to desired consistency and serve immediately.
With these recipes and a healthy amount of time management, this will be the Friendsgiving your friends never forget!