UMN Students Hold Candlelight Vigil for Paris, Baghdad, and Beirut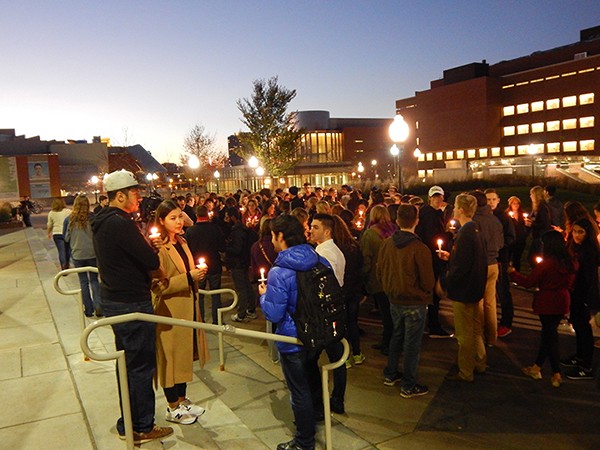 Approximately 100 people gathered in front of the University of Minnesota (UMN) Coffman Memorial Union on the evening of Saturday, November 14 for a peaceful candlelight vigil to think of, pray for, and remember those affected by recent terrorist attacks.
UMN student Rajesh Satpathy initially organized the vigil following terrorist attacks by the Islamic State that killed at least 129 people in Paris, France on the night of November 13. Satpathy called what Paris experienced, "One of the most horrific events in recent memory."
At the vigil, Satpathy, fellow organizers of the event, and attendees sent peaceful thoughts to civilians affected by the terror attacks in Paris and similar recent terror attacks in Baghdad and Beirut. Satpathy said that the tragedies in Paris, Baghdad, and Beirut, in combination with recent conflicts between people all over the world, prompted him to want to do something.
"I'm actually from Columbia, Missouri," Satpathy said, "The whole situation (at the University of Missouri) has really been a hard-hitting issue in my life."
Satpathy added that he organized the vigil because, "Something like this is a way to recognize that we do stand with people that are affected by things around the world, you know, France was integral to the foundation of America."
Satpathy spoke about the three major recent terrorist attacks and how people should be coming together rather than separating from one another during difficult times. He also pleaded with attendees to be kind, respectful, and try to combat negativity, saying that peaceful gatherings like the one he organized are intended to bring people together and not let devastating events drive different groups apart.
"We really are all in this together," Satpathy proclaimed.
Hannah Bender, a junior at UMN and a member of its Multifaith Student Council, spoke for a short while after Satpathy.
"Emotion is a really, really powerful thing," Bender said.
Bender led the crowd in three separate moments of silence: one for Baghdad, one for Beirut, and one for Paris.
"There really are no words," said Sami Rahamim, president of UMN's chapter of Students Supporting Israel (SSI). Rahamim stressed the importance of the peaceful gathering at Coffman.
"This is exactly what we needed," Rahamim said, "We have to show that we will not be scared of (terrorists.)"
Following the three moments of silence led by Bender, Satpathy thanked students and community members in attendance for coming together in a peaceful and compassionate way.
"The ultimate goal is to grow stronger, to become closer to one another, to love instead of to hate," Satpathy said.
Following the vigil, Satpathy invited those in attendance to coffee and hot chocolate, provided by UMN's chapter of SSI.