Egyptian Peace Activist Hussein Mansour Joins Students Supporting Israel on Campus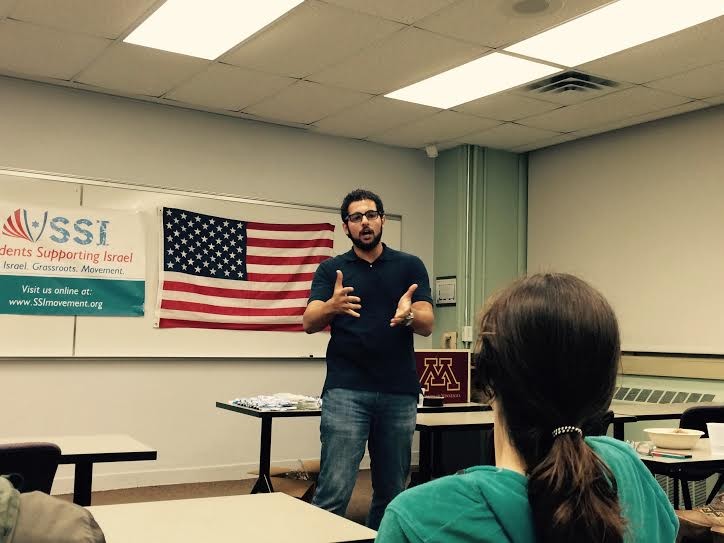 On October 8, Students Supporting Israel (SSI) hosted Egyptian peace activist Hussein Mansour on campus, who spoke to approximately 20 students.
Mansour, a man born and raised in Egypt under Muslim values, currently works as an Assistant Professor of Hebrew Language and Jewish Culture at the Defense Language Institute in Monterey, California.
Mansour said that as a child, he lived as a typical middle class Muslim-Arab youth. His family was very religiously observant. When it came to understanding the world, however, Mansour said, "The story I was introduced to was bizarre."
Mansour said he learned Egypt was a, "Super nation: the best nation that ever came to history. The best. Period."
After growing up hearing the stories of good-hearted Arabs and malevolent Jews, Mansour decided he wanted to do what he could to help Egypt. Around the age of 16, he decided he would, "Learn Hebrew (and) decode the evil plan of the Jewish people" to help his country.
In his research, however, he came across material which made him question his culture's anti-Jewish dogma.
"(It) shocked me. I was introduced for the first time to the concept of anti-semitism," Mansour said.
He gave up his religion and began a new life of learning. He wanted to know all he could about outside cultures, particularly Judaism. The road to reach Mansour's goal was not without bumps, however. While diving deeper into learning about Jewish culture in his teens, Mansour was repeatedly arrested and eventually disowned by his family. He nevertheless continued to study.
Shortly after his family disowned him, Mansour was again arrested and spent three months in a military camp, where he was tortured. The head of prison would, "Get me out, strip me naked, make me crawl around, hit me with buckles, with belts, sticks, you know, horrible things," Mansour said.
In 2012, Mansour came to the United States, where he pursued his passion for education.
"The one thing that my family, my society, my country, my government tried to stop me from doing, eventually I succeeded in doing it, because I believe in education. I believe that people need to be educated and that's why I'm here," Mansour said.
Sami Rahamim, President of SSI at The University of Minnesota, called Mansour's story, "Eye-opening" and, "One of the most incredible stories I've ever heard first-hand in my life."
At the beginning of the event, Rahamim said that over the last several days, Israel has been subject to an abundance of terror attacks.
Mohamed Ashmawy, President of the Egyptian Student Association on campus, is attending the university to finish up his Bachelor's Degree. Like Mansour, Ashmawy lived in Egypt all his life.
"I mean, I can't say that I agree as much, but it's definitely a different perspective," Ashmawy said, "A lot of the stuff he said really did make sense."
Ashmawy also added that he did not want attendees to think badly about all Arabs.
"We really need to make sure that we're hearing all voices and seeing all perspectives," he said.
Ilan Sinelnikov, Founder and President of SSI's national organization, feels it is important to have someone like Mansour speak on campus.
"If we want to represent Israel on campus, we can always bring Israelis or someone who's Jewish," said Sinelnikov. "But if you bring someone like (Mansour,) who comes from a country that is sort of friendly with Israel, you know, and he gives his perspective about it, there's nothing more influential than that."