Criminal Justice and Conservatives: It's Actually a Thing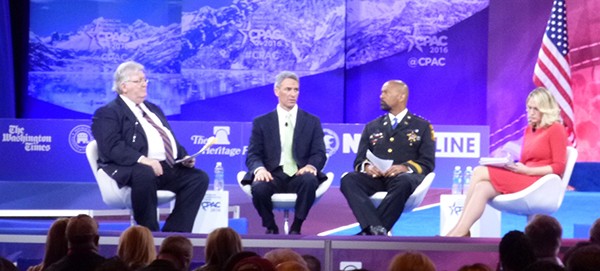 "I Walk The Line Reforming The Criminal Justice System," focused on varying solutions to the issue of criminal justice.
The panel included Sheriff David Clark of Milwaukee, former attorney general of Virginia, Ken Cuccinelli, and Pat Nolan of the American Conservative Union Foundation.
Clark made clear from the beginning that he took a strong stand against crime. In Clark's opinion there are, "three lies of criminal justice reform."
First is that it will only involve low level criminals and that this was in fact a large percentage of prison populations. According to Clark this is false, and only about 18 percent of the prison population is made up of non-violent criminals. The second lie is the notion that lesser sentences will reduce crime. People aren't going to change their criminal actions because criminal justice is less strict. Finally, that less harsh criminal sentences will reduce the cost of crime to the government. The falsity of this, in Clark's view, has to do with the fact that crime culture will only increase and cost more money later.
Cuccinelli took a much more moderate stance on criminal justice. He believes reform is necessary, but that the, "broad brush approach by Clark" is wrong.
"Crime exists all over this country because evil exists all over this country," Cuccinelli said.
He praised the Texas system of criminal justice, who used state and federal resources to target a top down approach in pursuing criminals. This system resulted in the "reduction of the Texas public safety budget" while also reducing crime rates. For Cuccinelli this proves success. The limits of criminal justice laws should be state based, not developed and executed at the federal level Cuccinelli explained.
Nolan spoke on the need to reduce mandatory minimums and to reduce sentencing. With Nolan's statistics it appeared that most people who were targeted by the current criminal justice system operating in many states were low level criminals, not the big time distributors and drug kingpins. Nolan believes money should be given to the rehabilitation programs for junkies and to help case officers deal with those in custody. However, these statistics were harshly disputed by Clark.
"Criminal populations aren't arbitrary," Clark said, "You don't arbitrarily commit crimes. You choose to do so."
One area where criminal justice could be preventative and successful in Clark's opinion is educating and stopping people at the age of 15 to 25. Clark defines these as the "crime prone years."
Clark closed the panel by stating that "We know this about criminals locked up in prison. They are not committing crimes."