The Most Vulnerable Senators of 2016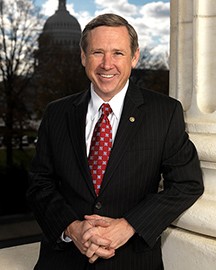 Republicans claimed nine U.S. Senate seats in the 2014 elections, giving them the majority for the first time in eight years. 2016 will have Republicans playing defense for 24 seats, six of which were picked up in a 2010 Republican wave. Here are the seats most likely to switch hands:
Wisconsin:
In 2010, Democrat Senator Russ Feingold was defeated by Republican Ron Johnson. Johnson is seeking a second term, but it appears to be an uphill battle. Feingold is seeking a rematch against Johnson. Polls show Feingold beating Johnson by a slim margin.
Illinois:
Mark Kirk claimed the Senate seat once held by Barack Obama in 2010, narrowly defeating his Democratic opponent. This year, the likely Democratic nominee, U.S. Congresswoman and Iraq War veteran Tammy Duckworth will be a strong threat to Kirk. Polls show Kirk and Duckworth neck-and-neck at this point.
New Hampshire:
Republican Kelly Ayotte won a landslide victory in 2010, taking 60 percent of the vote. Although polling shows that Ayotte has a slight advantage, her likely Democratic opponent is the recently re-elected Governor of New Hampshire, Maggie Hassan. Hassan is seen as the biggest threat to Ayotte's reelection.
Florida:
First-term Republican Marco Rubio has opted not to seek reelection, choosing instead to run for President. U.S. Congressmen Ron DeSantis and David Jolly along with Florida Lieutenant Governor Carlos López-Cantera are the main candidates for the GOP nomination. The main Democratic candidates are U.S. Congressmen Alan Grayson and Patrick Murphy. There are no clear front-runners in either primary. No poll conducted at this point shows any candidate with more than 41 percent support in the general election.
Nevada:
Republicans will be on the offense in Nevada. Incumbent Senator and Senate Democratic Leader Harry Reid will be retiring. Republicans appear to have an advantage in Nevada, due to the immense popularity of Republican Governor Brian Sandoval. The likely Republican nominee is U.S. Congressman Joe Heck. The only Democratic candidate is former Nevada Attorney General Catherine Cortez Masto. Polling shows Heck has a slight lead.
A major factor that has yet to be determined is which candidates will obtain ballot access. The popularity of the major party nominees may tip the balance towards either side.