PROTEST! at the MN Capitol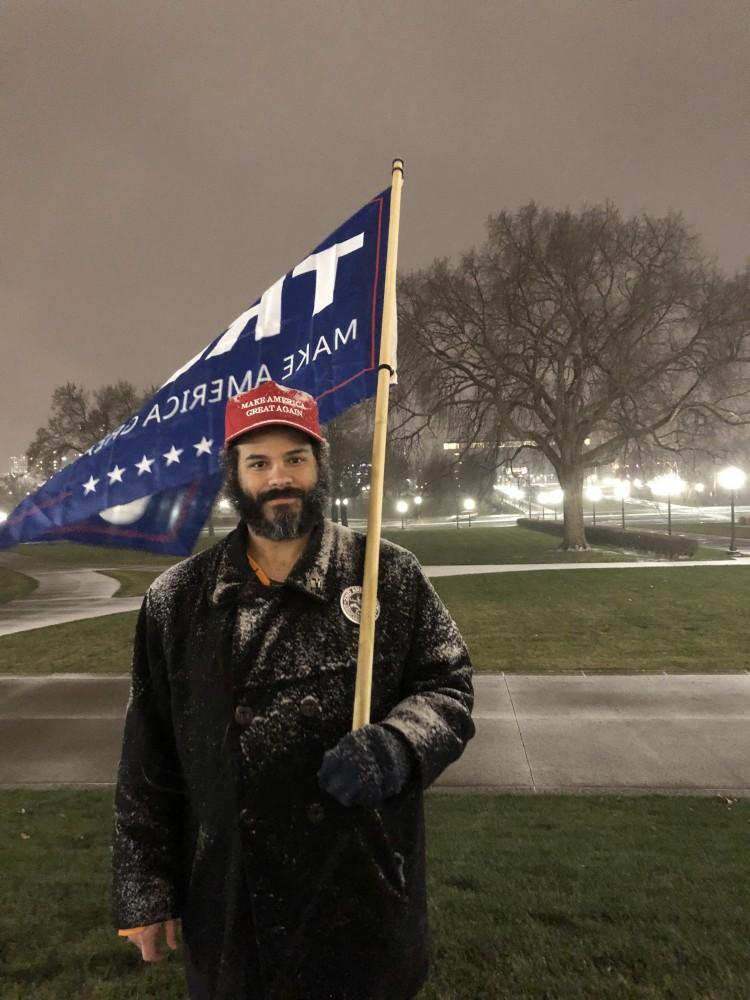 On Thursday, November 8, protests erupted across the United States.
The protests were triggered when, on Wednesday, Nov. 7, Jeff Sessions was pressured to resign as Attorney General. The protests were organized by TrumpIsNotAboveTheLaw.org, a subgroup of Moveon.org and subsequently the Move On PAC.
Move On is a historically far-left political action committee was established amid President Bill Clinton's' impeachment hearings and introduced a petition defending Clinton that called for "Congress [to] Immediately Censure President Clinton and Move On to pressing issues facing the country," thus their namesake.
In 1999, Move On founded their own political action committee. They raised over $250,000 in their first five days and over $2,000,000 in the 2000 election. Their role in the political landscape was solidified, and the PAC became extremely influential and turned its focus to fighting and organizing protests for causes such as the Mueller probe.
TrumpIsNotAboveTheLaw.org exists to organize "Mueller Firing Rapid Response" protests – events planned in each of the 50 states that call for people to mobilize after the firing of Robert Mueller or whenever Trump crosses another one of their "red lines."
Robert Mueller served as the director of the Federal Bureau of Investigation from 2001 to 2013, and Mueller was appointed by the US Justice Department as special counsel to overtake the investigation of possible coordination between associates of President Donald Trump and Russian officials in the 2016 election. President Trump has repeatedly expressed his frustration with the investigation, referring to it as a "witch hunt" while many Americans consider the investigations to be a valid and colossal controversy worthy of being extensively looked into.
Why does the forced resignation of Jeff Sessions signal President Trump crossing one of the organization's "red lines"?
The U.S. Attorney General typically has oversight of any special counsel investigation such as Mueller's. However, Sessions recused himself from the Russia probe in March, passing oversight to Deputy Attorney General Rod J Rosenstein, a supporter of the Mueller probe.
Issues arose when Sessions resigned due to the fact that President Trump could appoint an Acting Attorney General. Since the Acting Attorney General outranks the Deputy Attorney General, oversight of the Mueller probe was passed to the man President Trump appointed, Matthew G. Whitaker.
Of course Trump would appoint somebody who is fair, balanced, and unbiased, right?
Unfortunately, that is not the case. Whitaker, siding with the president, has long been opposed to the Mueller probe. Whitaker, who was a legal commentator for CNN and former US Attorney at the time, wrote an op-ed for CNN that called on Rosenstein to limit the scope of the probe saying that Trump was "absolutely correct" when he denounced it.
Therefore, the appointing of Whitaker was seen as a threat to the Muller probe – one that could potentially trigger a constitutional crisis. Rapid response protests were triggered, and the night before the protests were scheduled, over 4,500 people had registered to show up to the Minnesota State Capitol Building in St. Paul.
While 4,500 registered to protest, we found only a few hundred people in St. Paul on November 8. The protest was surprisingly and unfortunately bland with many of the protesters leaving about a half hour after the protest began due to the weather. However, amid occasional "Show me democracy looks like!" chants and a sea of signs with statements written on them such as, "Protect Mueller" and "Trump is not above the law", we got a chance to speak with a few demonstrators to inquire about their motivations for attending.
Most of the anti-Trump rhetoric was generalized and vague. Buzzwords like "constitutional crisis," "impeach," and "racist" were thrown around with no regard for accuracy. A mob mentality was adopted and it was abundantly clear that supports of President Trump were not welcome.
That is until one man stood alone in the cold rain and snow holding a giant Trump 2020 flag and wearing a MAGA hat. When we asked him about his motivation for showing up alone to a demonstration where he was obviously not welcome, he stated that he was attending simply for the reactions. According to him, most had actually lead to productive dialogue, although he was yelled and cursed at multiple times.
He also stated "I'm open to the investigation, but I don't think [Trump] colluded" which is rather surprising based on the president's own comments about the probe. He took a very level-headed approach and continued on by saying that if Trump did in fact collude, he would no longer support him.
This is a far cry from how the media and other liberals portray Trump supporters.
Just in front of him, on the steps of the capitol, the real protest was taking place.
One man held a sign with the word "Impeach" written neon claimed he was protesting because he sees Trump as a threat to democracy in the United States. He remarked, "I'm out here to protect our democracy. It's time we stand up to Trump."
Another protestor repeatedly expressed his disapproval of the President. He remarked, "I don't even call him by his name anymore. You know what I call him? 'T-Dump!"
During every protest where the Mueller investigation has been brought up, a dichotomy exists between supporters of Trump feeling threatened by the "witch hunt" and Trump's critics feeling that the investigation is absolutely necessary. It was refreshing to see that this was not the case here. The protest was civil while the Trump supporter stood up for what he believed in.
The future of the Mueller investigation and Whitaker are uncertain, but there will definitely always be protests surrounding every action Trump takes. We can only hope that they remain civil and elicit thought-provoking discourse.