LGBT Immigrant Stories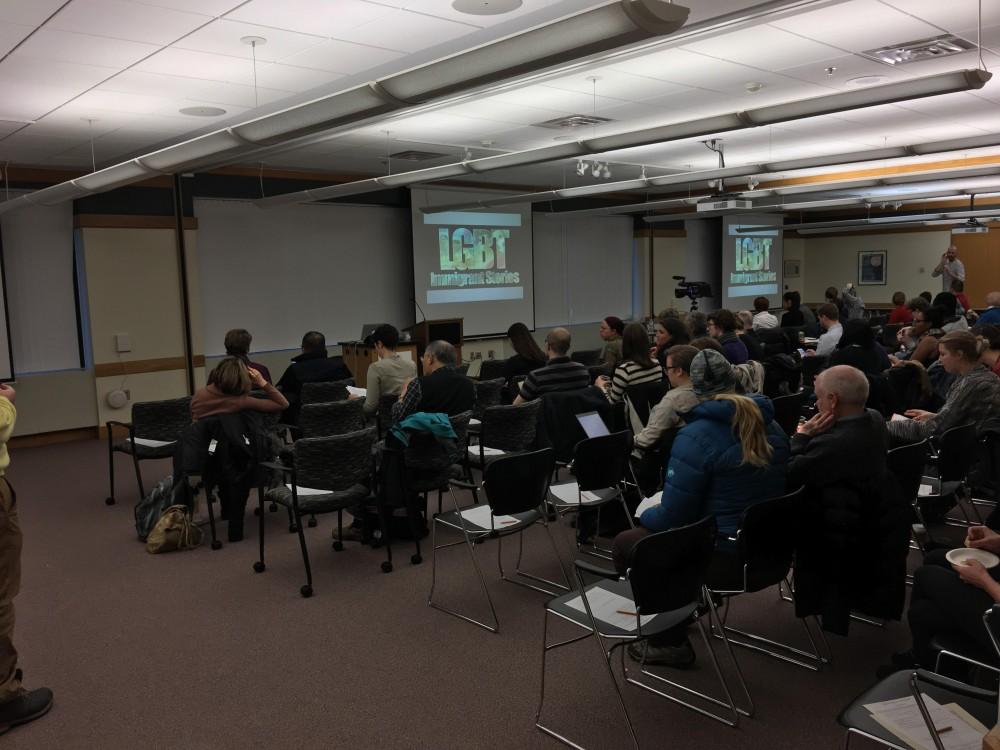 As Donald Trump assumesthe presidency, many Americans are worried that the rights of the LGBT community and immigrants are being put in jeopardy. On January 23, students and professors from all sexual orientations, nationalities, and ethnicities gathered at Elmer L. Andersen Library to attend the "LGBT Immigrant Stories" event. Packed into a room of about 50 people, attendees congregated to listen to the stories of Deyaneira Garcia, Jennicet Gutiérrez, and Jorge Gutierrez. Since these three activists reside in California, they shared their stories via video.
According to Eithne Luibheid from the Dept of Gender and Women's Studies at the University of Arizona, 267,000 undocumented LGBTpeople live in fear in our country. Luibheid states that these people live in fear not only because of their legal status, but also because of their sexual orientation. In 2011, countless numbers of complaints were filed in the U.S. Immigration Detention centers due to inhumane treatments. LGBT Immigrants were being placed in solitary confinement, did not have access to adequate medical care and experienced physical abuse. The city of Santa Clara, where one of the "pods" was located, saw this as a way to generate revenue for the city, which lead to mass incarceration. Many human rights activist groups, such as the Human Rights Watch, immediately became involved.
Annika Homstad, a junior at the University of Minnesota, was one of the many students that attended this event. When asked why she attended this event, Annika responded "The reason why I went to the event is because it was an issue I had never thought of. Also, with the new incoming administration, these two groups are vulnerable so we must be aware of their current situation and acknowledge their rights."
A panel of five, including three LGBT immigrants, was present in the event expressing their current situation. The panel continually expressed how it is critical for youth activists to reach out to the community and support one another. Two of the three LGBT immigrants in the panel, whom are students at the University of Minnesota, advocated to create a space where individuals can be free to share their stories without fear of any sort of discrimination.
The message of this event, as with many held since the election, was clear: As human beings, it is essential that we are kind with one another and treat every single person with dignity and respect. Whatever your political stance is or your opinion on this issue is, these people are worthy of respect and human affection.